About
The Minnesota Historical Society preserves and makes available a wide range of materials chronicling Minnesota's history and culture. The goals of the Collections Department are to collect and preserve; provide access and interpretation; and engage in education and outreach. This blog is a tool to share these stories and let people know what is happening in the department.
 Subscribe in a reader
Memories from a Prisoner of War

This letter from Bernard Gallagher, written on January 12, 1919, details the events that occurred while he was a prisoner in a German POW camp. Even though he had been released in November, Gallagher explains he waited until this date to write about his experiences because he was "so steeped in the bitterness and depression which that experience brings upon nearly everyone who goes thru it, that it was impossible for me to write about it in anything like a sane manner." This letter provides eye opening first hand accounts of what Gallagher saw and experienced behind enemy lines. The German army had dirty, understaffed medical facilities that caused most of the men to develop infections. Very little food was provided, and what was offered was generally moldy. The horses that Gallagher saw were very skinny and he notes that the Germans lacked supplies overall in almost every department. By the end of the letter, Gallagher comments, "A gun for me next time, if I must go to war."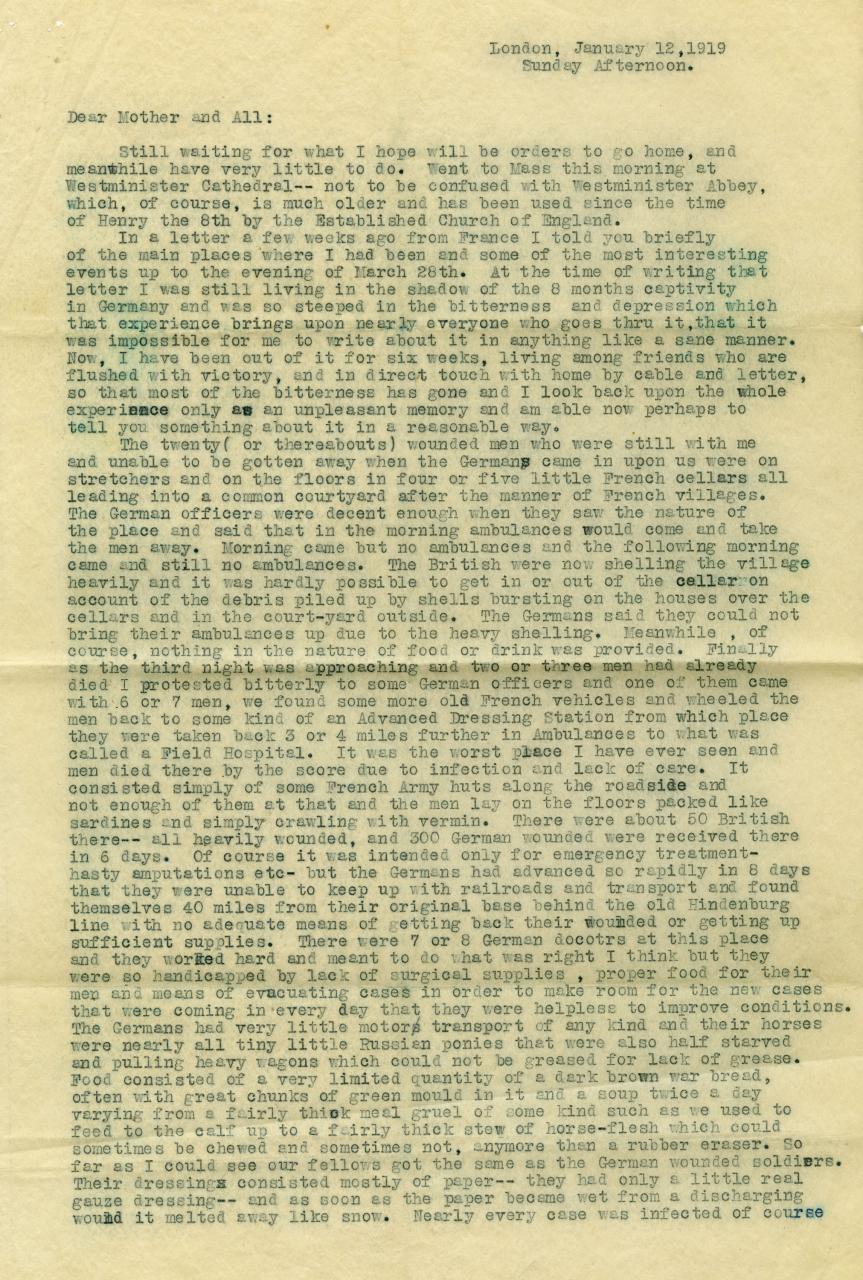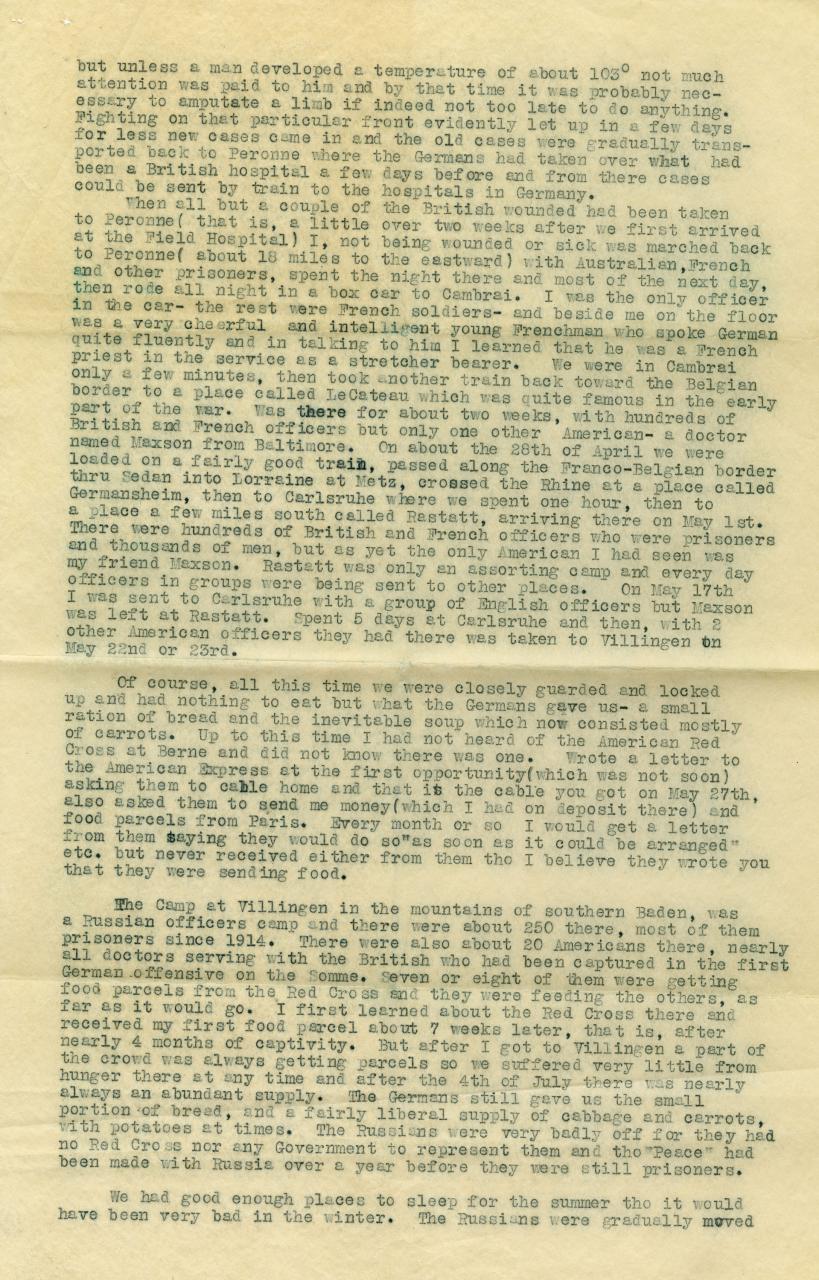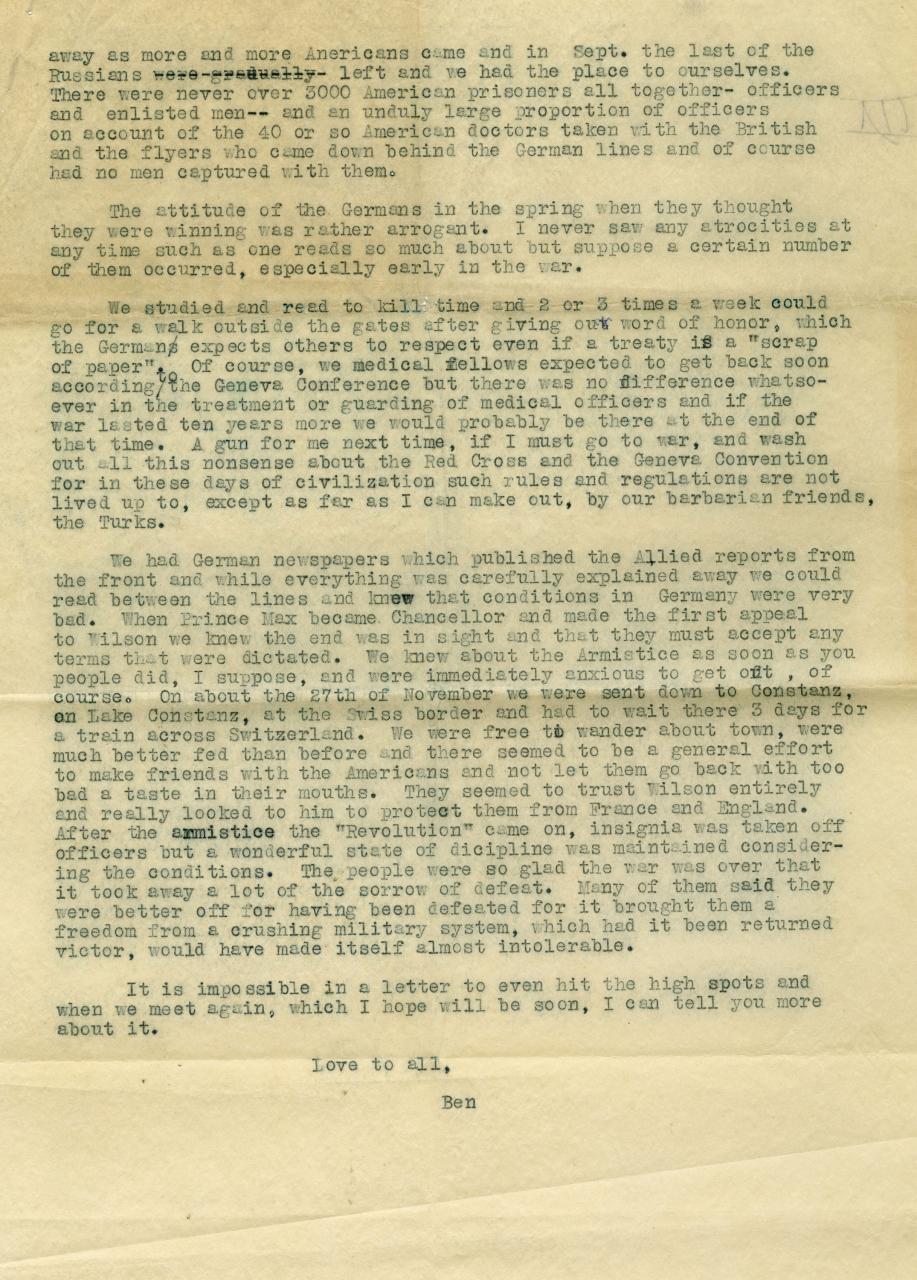 London, January 12, 1919
Sunday Afternoon
Dear Mother and All:
[…] In a letter a few weeks ago from France I told you briefly of the main places where I had been and some of the most interesting events up to the evening of March 28th. At the time of writing that letter I was still living in the shadow of the 8 months captivity in Germany and was so steeped in the bitterness and depression which that experience brings upon nearly everyone who goes thru it, that it was impossible for me to write about it in anything like a sane manner. Now, I have been out of it for six weeks, living among friends who are flushed with victory, and in direct touch with home by cable and letter so that most of my bitterness has gone and I look back upon the whole experience only as an unpleasant memory and am able now perhaps to tell you something about it in a reasonable way. The twenty (or thereabouts) wounded men who were still with me and unable to be gotten away when the Germans came in upon us were on stretchers on the floor in four or five little French cellars […] The German officers were decent enough when they saw the nature of the place and said that in the morning ambulances would come and take the men away. Morning came but no ambulances and the following morning came and still no ambulances. The British were now shelling the village heavily and it was hardly possible to get in or out of the celler [...] Meanwhile, of course, nothing in the nature of food or drink was provided. Finally, as the third night was approching and two or three men had already died I protested bitterly to some German officers and one of them came back with 6 or 7 men, we found some more old French vehicles and wheeled the men back to some kind of an Advanced Dressing Station from which place they were taken back 3 or 4 miles further in Ambulances to what was called a Field Hospital. It was the worst place I have ever seen and men died there by the score due to infection and lack of care. It consisted simply of some French Army huts along the roadside and not enough of them at that and the men lay on the floors packed like sardines and simply crawling with vermin. There were about 50 British there—all heavily wounded, and 300 German wounded were received there in 6 days. Of course it was intended only for emergency treatment- hasty amputations etc. […] Nearly every case was infected of course but unless a man developed a temperature of about 103 degrees not much attention was paid to him and by that time it was probably necessary to amputate a limb if indeed not too late to do anything. […] Spent 5 days at Carlsruhe and then, with 2 other American Officers they had there was taken to Villigen on May 22nd or 23rd. Of course, all this time we were closely guarded and locked up and had nothing to eat but what the Germans gave us- a small ration of bread and the inevitable soup which now consisted mostly of carrots. […] The attitude of the Germans in the spring when they thought they were winning was rather arrogant. […] We studied and read to kill time and 2 or 3 times a week could go for a walk outside the gates after giving our word of honor, which the Germans expects others to respect even if the treaty is a "scrap of paper". […]
Love to all,
Ben
 
Citation: 
Bernard Gallagher and Family Papers. Minnesota Historical Society, St. Paul, Minnesota. P487