About
The Minnesota Historical Society preserves and makes available a wide range of materials chronicling Minnesota's history and culture. The goals of the Collections Department are to collect and preserve; provide access and interpretation; and engage in education and outreach. This blog is a tool to share these stories and let people know what is happening in the department.
See Collections Up Close Blog Archive
 Subscribe in a reader
Soldier's Housewife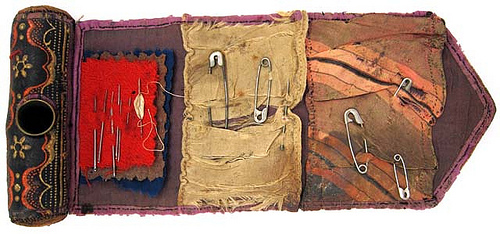 This is a "soldier's housewife" sewing kit, made of cloth that has been lacquered black and stenciled with a floral design. The name "soldier's housewife" indicates that while sewing was normally done by women in the home, soldiers needed to be able do it for themselves in the field.
The kit was used by Private Marcus Daniels during the Civil War.  The kit rolls closed around a cylindrical pin cushion containing a tinned iron thimble with a brass rim.  The interior of the kit has three wool flaps of sewing needles and two fabric patches of safety pins.