About
The Minnesota Historical Society preserves and makes available a wide range of materials chronicling Minnesota's history and culture. The goals of the Collections Department are to collect and preserve; provide access and interpretation; and engage in education and outreach. This blog is a tool to share these stories and let people know what is happening in the department.
 Subscribe in a reader
2008 Republican National Convention

For four days in September, the political spotlight shown on the Twin Cities as they hosted the 2008 Republican National Convention. Delegates, reporters, protestors and police officers descended upon Minnesota to take part. In the months since, we've collected approximately 120 different objects associated with the event.
Highlights from the convention itself include the Minnesota delegation's floor standard, two delegate chairs, informational signs that guided delegates through the Xcel Energy Center, and 56 pieces of the confetti - each piece bearing a color photo of John McCain - that fell over the crowd after the nominee's acceptance speech.
From the media, we collected eight different credential cards – two for each day of the convention – used by staffers with Minnesota Public Radio and KARE-11 TV. We also collected a photojournalist's camera that was broken beyond repair as he covered protests near Mears Park on September 2.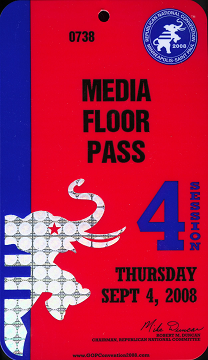 Two protestors donated handmade anti-war signs they carried on the John Ireland Boulevard bridge during the September 4 demonstration, as well as a pocket guide to protestors' civil rights issued by the ACLU. We received a "Peace Keepers" T-shirt worn by one of the volunteers who formed a nonviolent barrier between protestors and police officers. We also collected one of the disposable "PlastiCuff" wrist restraints used by police officers to secure arrested individuals.
Our week at the center of American political life was a thrilling one. I'd like to think that we've preserved a little bit of that excitement along with these objects.
Matt Anderson, Objects Curator
Learn More: