About
The Minnesota Historical Society preserves and makes available a wide range of materials chronicling Minnesota's history and culture. The goals of the Collections Department are to collect and preserve; provide access and interpretation; and engage in education and outreach. This blog is a tool to share these stories and let people know what is happening in the department.
 Subscribe in a reader
Diary entry by Mary T. Hill - April 2, 1917

Mary Hill of St. Paul kept a series of diary entries that give insight into the home front of the First World War. As the wife of railroad magnate James Hill, she often writes of trips to New York and luncheons typical of the elite. However, she was also active in the American Red Cross and other charities, and she paid attention to political and military developments overseas. Her diary entry from April 2nd, 1917 references President Woodrow Wilson's now famous war address. In a special session of Congress, President Wilson paints a picture of the United States as a reluctant participant in the war, compelled to military duty only by Germany's highly unethical behavior. Germany had recently resumed unrestricted submarine warfare, the practice of sinking non-belligerent ships that were delivering supplies to its enemies. This move was widely viewed as contrary to the laws of war. President Wilson also cites the Zimmermann telegram as evidence of the German government's poor character and the Russian Revolution as evidence of the Triple Entente's proper character. To Wilson, U.S. involvement in the war would have the effect of standing up for democracy in the face of aggression, and Congress agreed. Four days later, on April 6, 1917, Congress voted 455-56 to declare war on Germany.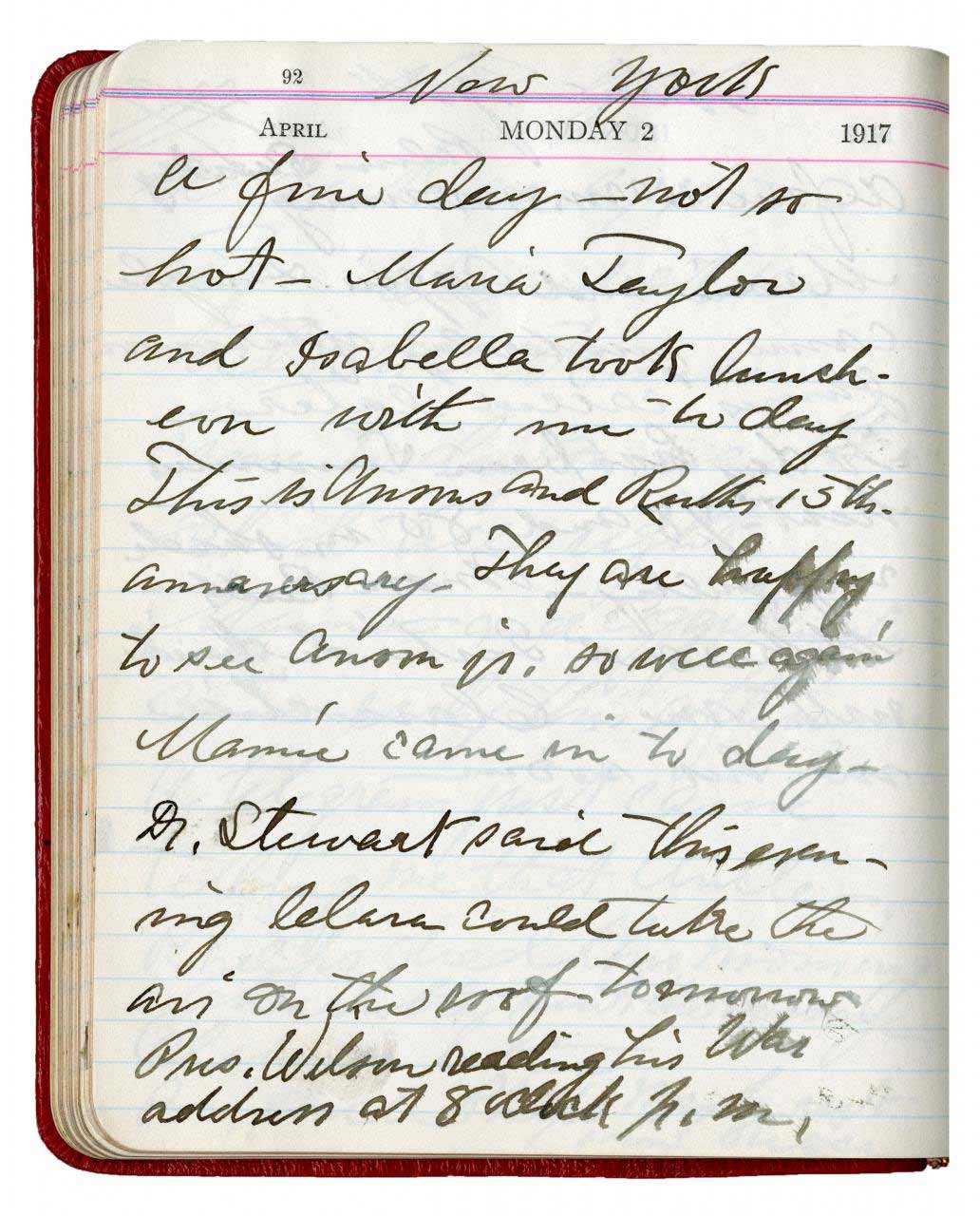 Transcription:
New York. A fine day not so hot. Maria Taylor and Isabella took luncheon with me today. This is Ansons and Ruths 15th annaversary [sic]. They are happy to see Anson jr. so well again. Mamie came in today. Dr. Stewart said this evening Clara could take the air on the roof tomorrow. Pres. Wilson reading his war address at 8 oclock p.m.
Citation:
1915-1920. Mary T. Hill Papers. 64. C.5.6 Minnesota Historical Society, St. Paul, Minnesota