About
The Minnesota Historical Society preserves and makes available a wide range of materials chronicling Minnesota's history and culture. The goals of the Collections Department are to collect and preserve; provide access and interpretation; and engage in education and outreach. This blog is a tool to share these stories and let people know what is happening in the department.
 Subscribe in a reader
Letter from the American Red Cross to Camp Fire Girls Representative

On April 13 this letter was sent by the Minneapolis branch of the American Red Cross to Miss Ruth Dale, the representative of a relatively new organization: the Camp Fire Girls. Founded in 1910, the Camp Fire Girls sought to serve and care for themselves, and their surroundings. Dale, who ran a group of Camp Fire Girls, ages 14-16, in Renville, Mesota, wrote a letter offering assistance to the Minneapolis branch of the American Red Cross. Instead of offering to send instructional pamphlets for making supplies, the Red Cross responded with a plea for two representatives of the Camp Fire Girls to attend a certificate program in bandage-making.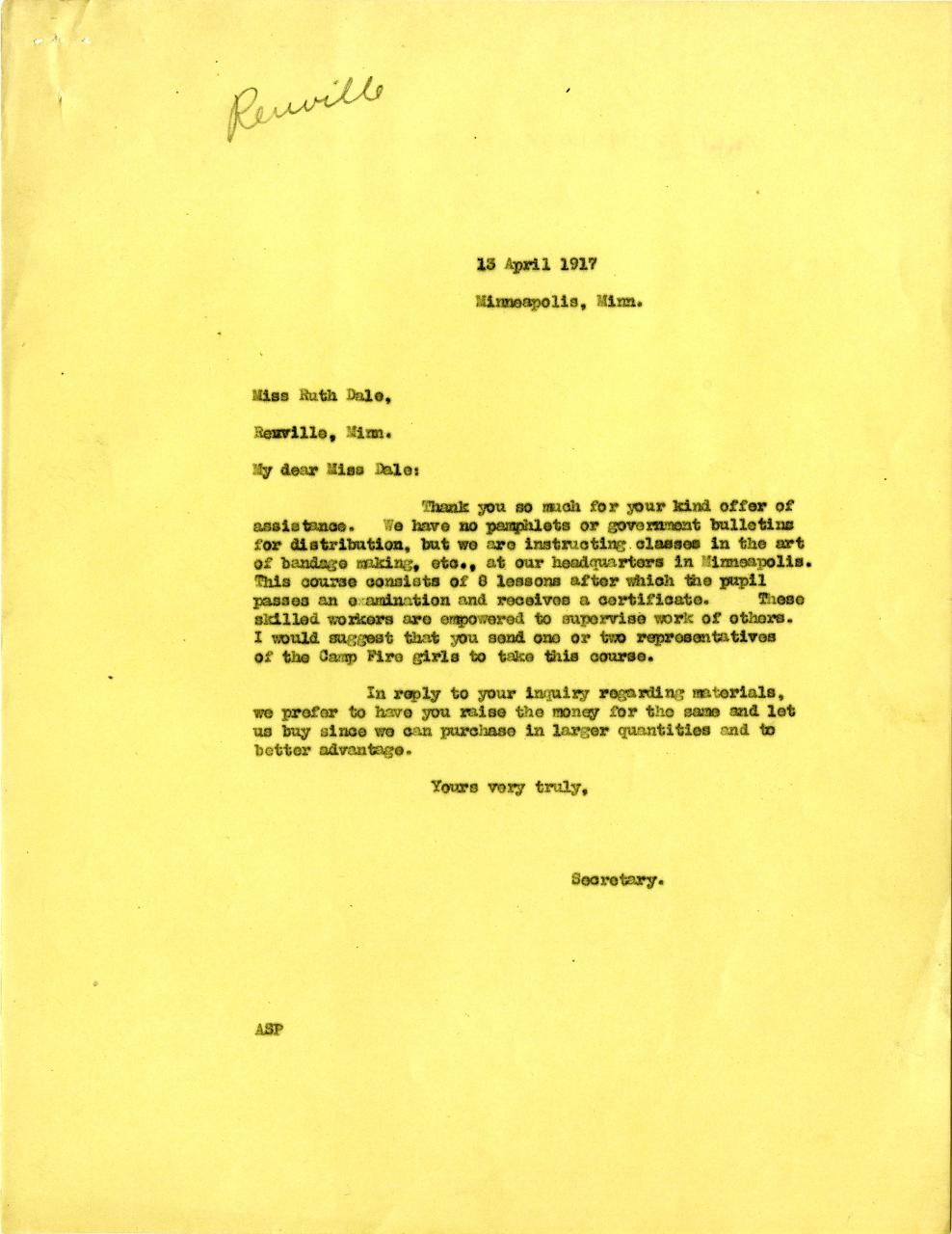 13 April 1917
Minneapolis, Minn.

Miss Ruth Dale,
Roseville, Minn.

My dear Miss Dale:
Thank you so much for your kind offer of assistance. We have no pamphlets or government bulletins for distribution, but we are instructing classes in teh art of bandage making, etc., at our headquarters in Minneapolis. This course consists of 8 lessons after which the pupil passes an examination and receives a certificate. These skilled workers are empowered to supervise work of others. I would suggest that you send one or two representatives of the Camp Fire girls to take this course.
In reply to your inquiry regarding materials, we prefer to have you raise the money for the same and let us buuy since we can purchase in larger quantities and to better advantage.
Yours very truly,
Secretary.

Citation: American Red Cross, Northern Division, records, 1915-1921. Minnesota Historical Society, St. Paul, Minnesota. [P781]