About
The Minnesota Historical Society preserves and makes available a wide range of materials chronicling Minnesota's history and culture. The goals of the Collections Department are to collect and preserve; provide access and interpretation; and engage in education and outreach. This blog is a tool to share these stories and let people know what is happening in the department.
 Subscribe in a reader
Anti-Suffrage Notes - June 12, 1917

This pamphlet from the Minnesota Woman Suffrage Association archives takes a firm anti-suffrage position and attempts to convince its readers that votes for women would be America's downfall. Organized efforts to gain equal suffrage for women in Minnesota began as early as 1881 and, as this pamphlet demonstrates, the movement was still fighting staunch opposition over three decades later.

This pamphlet exemplifies arguments made in opposition to women's suffrage during the World War I era. The writer argues that woman suffrage would weaken the government, be too costly, and cause the U.S. to lose the war. The pamphlet warns that women suffrage would "increase the power of the socialists and pacifists who are opposing the draft and doing everything in their power to make our country weak and ineffective." It claims that Germany has financed the suffrage movement in England as a way to weaken its enemies. Fears that women's influence on the government would weaken the military through anti-conscription and pacifist positions dominate this leaflet, along with sexist assertions like the idea that suffrage leaders are involved in the movement because they enjoy the public fame.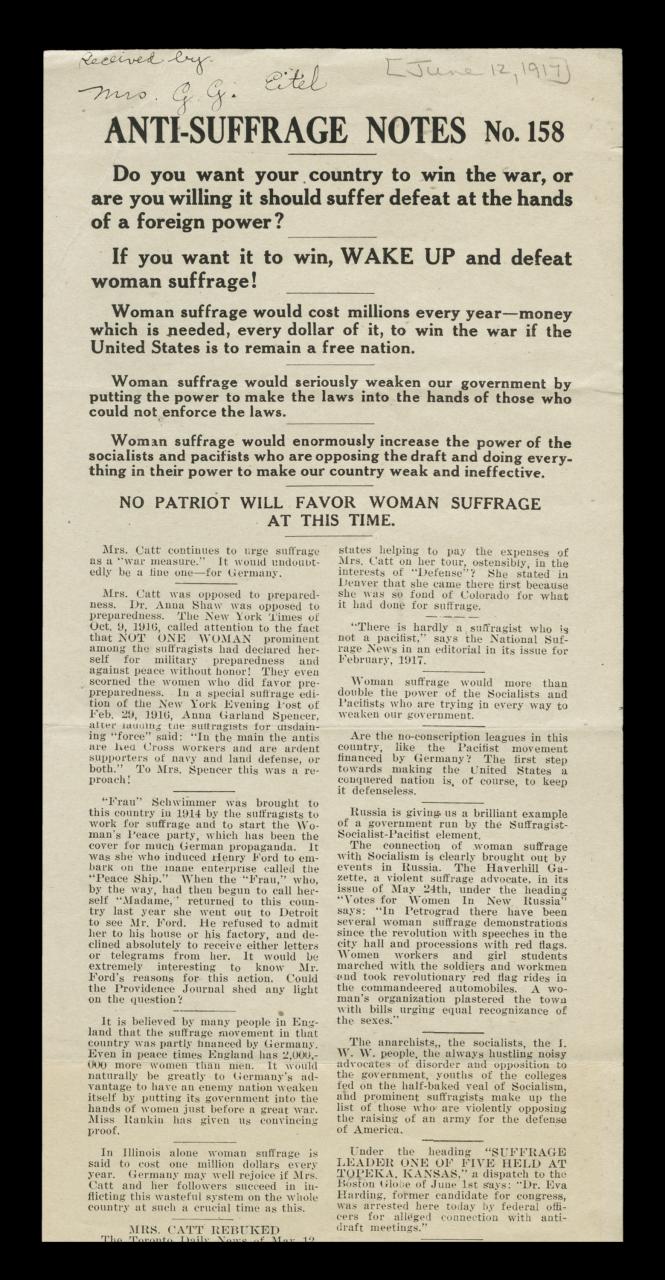 ANTI-SUFFRAGE NOTES No. 158
Do you want your country to win the war, or are you willing it should suffer defeat at the hands of a foreign power?
If you want it to win, WAKE UP and defeat woman suffrage!
Woman suffrage would cost millions every year—money which is needed, every dollar of it, to win the war if the United States is to remain a free nation.
Woman suffrage would seriously weaken our government by putting the power to make the laws into the hands of those who could not enforce the laws.
Woman suffrage would enormously increase the power of the socialists and pacifists who are opposing the draft and doing everything in their power to make our country weak and ineffective.
NO PATRIOT WILL FAVOR WOMAN SUFFRAGE AT THIS TIME.
[...] Are the no-conscription leagues in this country, like the Pacifist movement financed by Germany? The first step towards making the United States a conquered nation is, of course, to keep it defenseless. [...]

Citation: Minnesota Woman Suffrage Association, P1519