About
The Minnesota Historical Society preserves and makes available a wide range of materials chronicling Minnesota's history and culture. The goals of the Collections Department are to collect and preserve; provide access and interpretation; and engage in education and outreach. This blog is a tool to share these stories and let people know what is happening in the department.
 Subscribe in a reader
Ghost Poems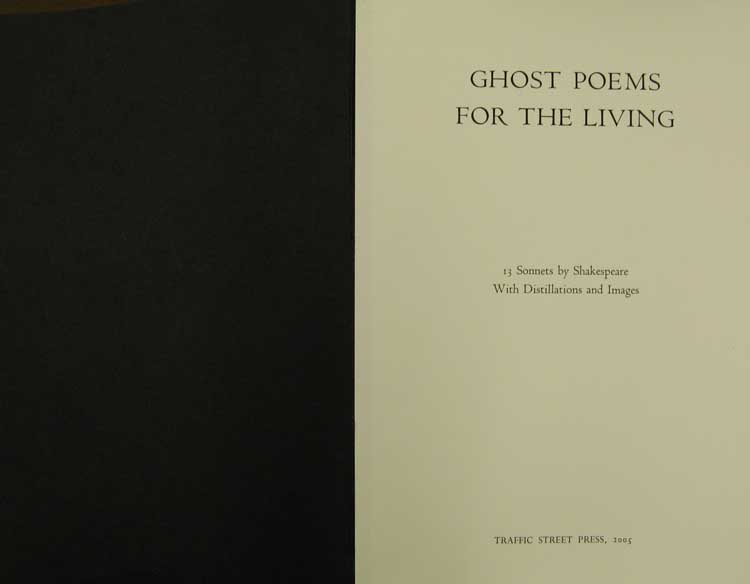 Myers-Rich, Paulette. Ghost poems for the living: 13 sonnets by Shakespeare with distillations and images. Saint Paul: Traffic Street Press, 2005.
One of my favorite things in the MHS Library Collection is a fine press book by Paulette Myers-Rich,
Ghost poems for the living: 13 sonnets by Shakespeare with distillations and images.
The beauty of this work is really beyond description; to hold it in one's hands is a joy. It is perfectly constructed, bound using linen cloth and flax papers created by the artist and letterpress printed on photo rag paper in an edition of 26.
What I love best about it is its simplicity and honesty; the whole design lends credence to its story. The story is the oldest there is, of love and loss and memory. In the book, Paulette presents a Shakespearian sonnet (which is about as good as it can possibly get in my estimation) with a subtle image of a recently dead flower above. On the following page is her "distillation," which consists of a negative image of the flower, and a new poem, which is created by removing carefully chosen words from the Shakespeare sonnet. Paulette's poetic skills shine through her careful choices for removal. The new poems are not Shakespeare, but they are not trying to be; they are something new, and still deeply beautiful. I believe this act gets to the point of dealing with loss; something is removed, yet something new can be created.
Come see it! It is available in our Library for viewing upon request. Not surprisingly, it won the award for the best fine press book at the 2006 Minnesota Book Awards.
Lori Williamson, Acquisitions Coordinator