About
The Minnesota Historical Society preserves and makes available a wide range of materials chronicling Minnesota's history and culture. The goals of the Collections Department are to collect and preserve; provide access and interpretation; and engage in education and outreach. This blog is a tool to share these stories and let people know what is happening in the department.
 Subscribe in a reader
Hill Papers Come to the MHS!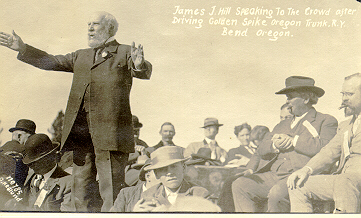 James J. Hill was a business legend. In the last quarter of the nineteenth-century, he transformed the near bankrupt Saint Paul and Pacific into the legendary Great Northern Railroad that ran from Saint Paul, Minnesota to Seattle, Washington by 1893. The man known as the Empire Builder had amassed a fortune of more than $63 million by the time of his death in 1916. Hill's son Louis inherited his father's business acumen and energetically pursued railroad, mining, and development activities throughout the west.
In March 2008, the Minnesota Historical Society happily agreed to transfer 1400 cubic feet of Hill Family records from the James J. Hill Reference Library in Saint Paul to the History Center. These papers cover the family and business concerns of James and Louis, the family and social life of Louis' wife Maud Van Cortlandt Hill, and the activities of the Reed/Hyde family between 1860 and 1920. Together these materials document late nineteenth- and early twentieth-century social, political, economic, and cultural topics. By transferring the materials to MHS, the Hill Reference Library can better focus on its core mission: serving the needs of business owners and entrepreneurs with reference help and online tools. The Minnesota Historical Society, on the other hand, is uniquely suited to meet the needs of researchers, providing care for and access to the papers. The Society already has a number of resources that will complement and contextualize the Hill Family Papers. These include our collection of Great Northern Railroad records, a large collection of state newspapers, and an online database of historical images.
Generous support by the Northwest Area, Jerome, and Grotto Foundations will allow MHS to process the papers, create up-to-date finding aids, and produce a web site that will present web visitors with a single portal to access material relating to James J. Hill and his family. This work will be completed in 2010. In the meantime, limited access to the papers is available at the History Center library in Saint Paul.
Jennifer Jones, Head of Collections
Learn More: