About
The Minnesota Historical Society preserves and makes available a wide range of materials chronicling Minnesota's history and culture. The goals of the Collections Department are to collect and preserve; provide access and interpretation; and engage in education and outreach. This blog is a tool to share these stories and let people know what is happening in the department.
 Subscribe in a reader
White Bear Sno Scooter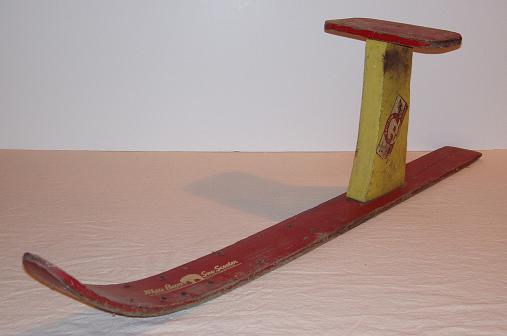 With winter cold and snow abundant, children around the state are taking out their sleds and heading for the hills. Some of them might wish they had one of these beauties: a Sno Scooter built by the White Bear Water Ski Company.
This scooter belonged to a St. Paul family that purchased it in the late 1950s. The donor recalled riding it with his brother and sister for several seasons - and discovering that the scooter worked best in deep snow. In later years, the donor's own children enjoyed the scooter, making it a multi-generation tradition.
Here at the Society, the Sno Scooter will complement a water ski board, made by the same White Bear Lake-based company, already in the collection. The two pieces remind us of Minnesota's contrasting seasons, and the unique recreational pleasures that each one brings.
The White Bear Water Ski Company is gone, but other companies continue to make their own versions of the snow scooter. (Some are even motorized!) This example may have made its last run, but it can still provide some fun, if only in the form of happy winter memories.
Matt Anderson, Objects Curator