About
The Minnesota Historical Society preserves and makes available a wide range of materials chronicling Minnesota's history and culture. The goals of the Collections Department are to collect and preserve; provide access and interpretation; and engage in education and outreach. This blog is a tool to share these stories and let people know what is happening in the department.
 Subscribe in a reader

The First World War saw widespread use of telephones in combat. These telephones, like the German model pictured below, were of tremendous value to armies on the front, since they allowed for covert communication without putting the messenger at risk. In order to operate this particular telephone, a soldier would squeeze the switch on the handle while speaking into a leather-covered "horn" piece. His voice would then travel through the telephone's transmission aperture, which converts his voice into an electric signal to be received by another telephone. This particular phone has a total of four transmission lines, so it would be up to the user to consult the telephone's switchboard map and select the correct line for their purposes. If the connection was imperfect and messages difficult to comprehend, soldiers would use a series of standard words associated with each letter of the alphabet. This method of communication is akin to the NATO phonetic alphabet, which would translate the message, "Squadrons A, B, and C have arrived" to "Squadrons Alpha, Bravo, and Charlie have arrived." This system allows for much clearer enunciation, especially of single letters.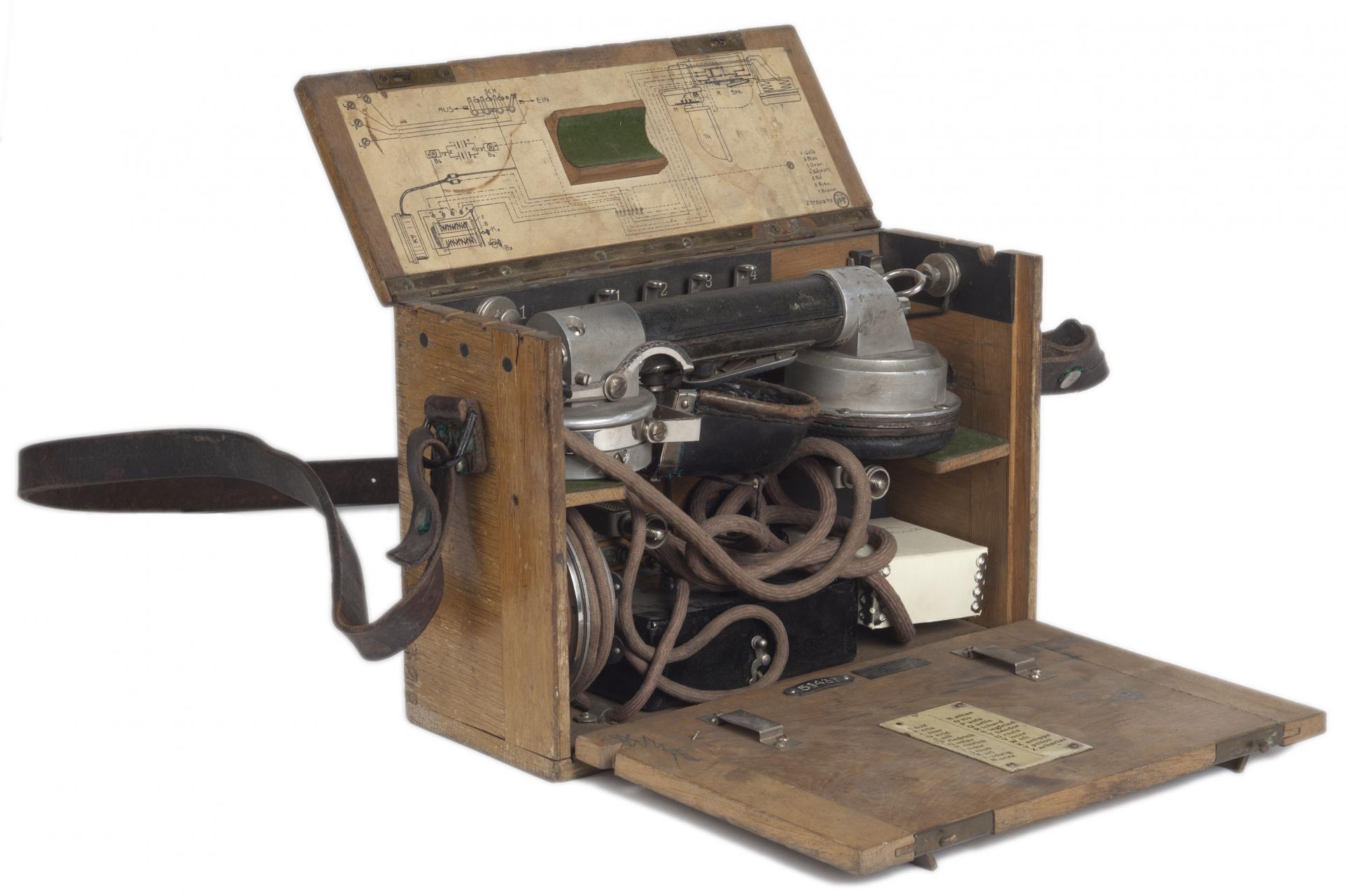 In a letter to the Minneapolis branch of the American Red Cross on April 1, Miss Franke Poe inquires to whom she should send her application to become a nurse in the war. As a circus performer in "excellent physical condition" and having had previous nurse training and practice, Miss Poe feels the strong "call of humanity" after hearing that nurses are needed at the front. Miss Poe is just one of many who felt the obligation and call to become involved in the war effort.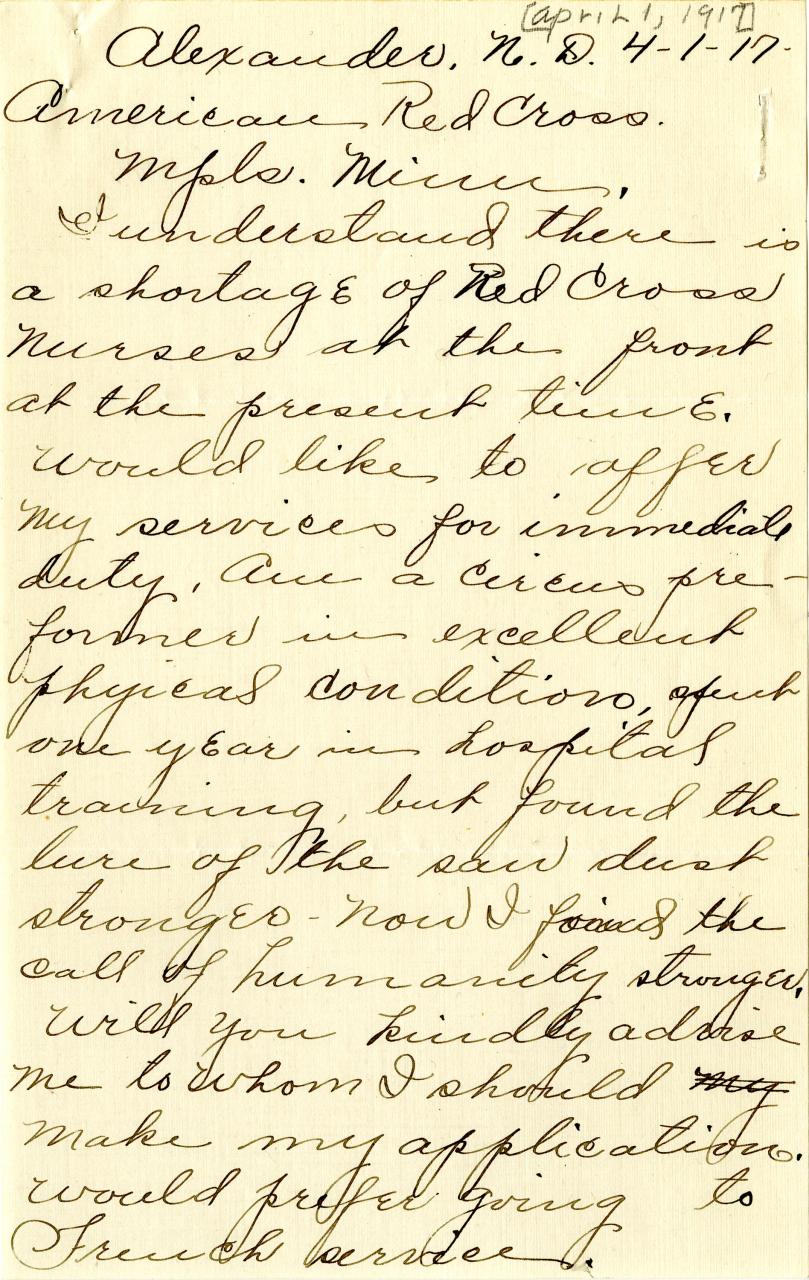 Transcription:

Alexander, N.D. 4-1-17
American Red Cross
Mpls. Minn.
I understand there is a shortage of Red Cross Nurses at the front at the present time. would like to offer my services for immediate duty. As a circus preformer [sic] in excellent physical condition, spent one year in hospital training, but found the lure of the saw dust stronger - Now I find the call of humanity stronger. Will you kindly advise me to whom I should my make my application. Would prefer going to French service. An early reply would be appreciated.
Very truly yours
(Miss) Franke Poe.
Alexander.
N.D.
To enable screen reader support, press shortcut Ctrl+Alt+Z. To learn about keyboard shortcuts, press shortcut Ctrl+slash.
 
Citaiton:
American Red Cross, Northern Division, records, 1915-1921. Minnesota Historical Society, St. Paul, Minnesota. [P781]

Mary Hill of St. Paul kept a series of diary entries that give insight into the home front of the First World War. As the wife of railroad magnate James Hill, she often writes of trips to New York and luncheons typical of the elite. However, she was also active in the American Red Cross and other charities, and she paid attention to political and military developments overseas. Her diary entry from April 2nd, 1917 references President Woodrow Wilson's now famous war address. In a special session of Congress, President Wilson paints a picture of the United States as a reluctant participant in the war, compelled to military duty only by Germany's highly unethical behavior. Germany had recently resumed unrestricted submarine warfare, the practice of sinking non-belligerent ships that were delivering supplies to its enemies. This move was widely viewed as contrary to the laws of war. President Wilson also cites the Zimmermann telegram as evidence of the German government's poor character and the Russian Revolution as evidence of the Triple Entente's proper character. To Wilson, U.S. involvement in the war would have the effect of standing up for democracy in the face of aggression, and Congress agreed. Four days later, on April 6, 1917, Congress voted 455-56 to declare war on Germany.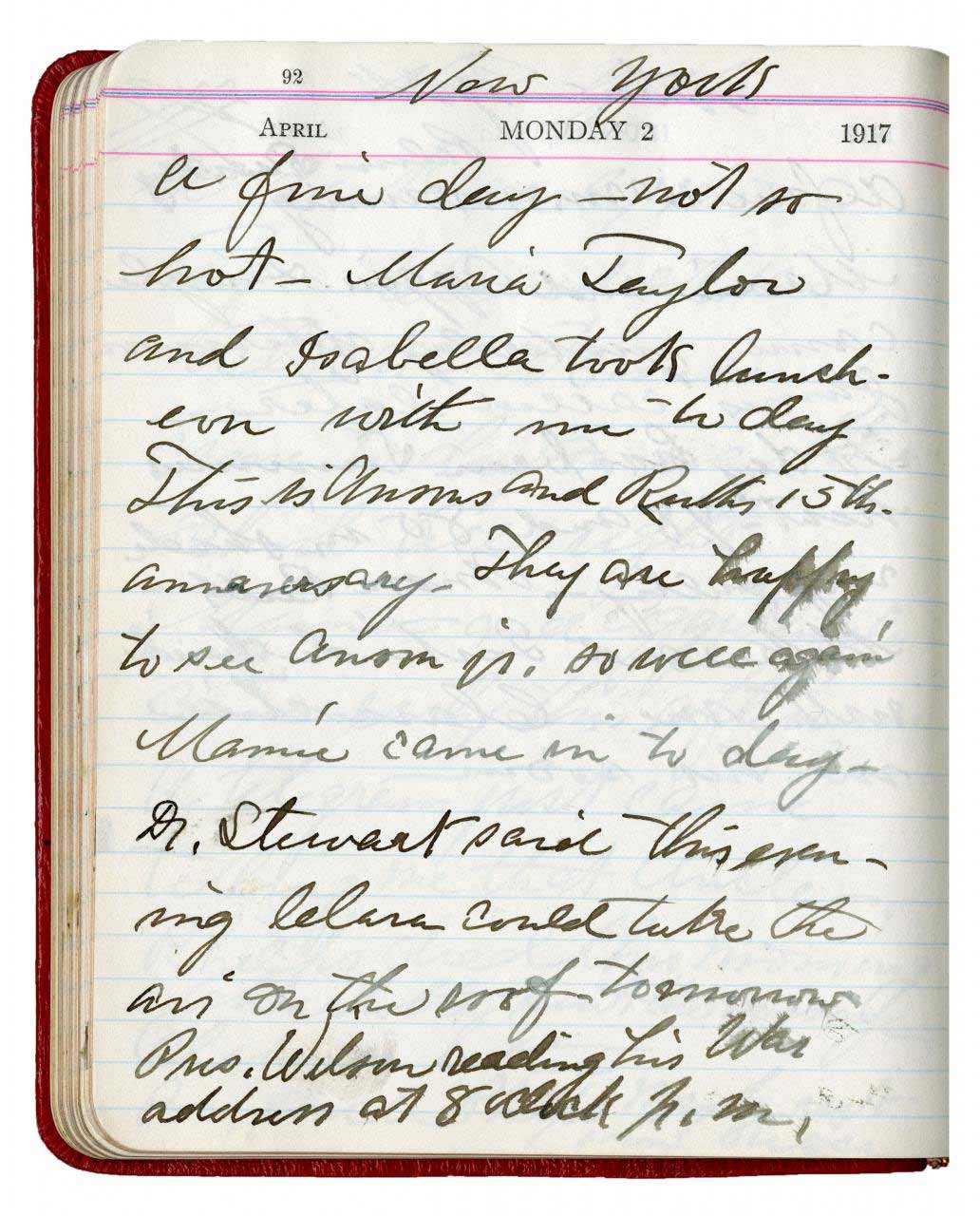 Transcription:
New York. A fine day not so hot. Maria Taylor and Isabella took luncheon with me today. This is Ansons and Ruths 15th annaversary [sic]. They are happy to see Anson jr. so well again. Mamie came in today. Dr. Stewart said this evening Clara could take the air on the roof tomorrow. Pres. Wilson reading his war address at 8 oclock p.m.
Citation:
1915-1920. Mary T. Hill Papers. 64. C.5.6 Minnesota Historical Society, St. Paul, Minnesota
Pages