About
We are living in a historic moment. The Minnesota Historical Society is collecting and preserving Minnesotans' stories related to the COVID-19 health crisis so future generations can learn how the pandemic has impacted our lives. We invite you to read a sampling of these stories here.
Report misuse of collection item
 Subscribe in a reader
Impending furlough
By:
Public contributor
| June 9, 2020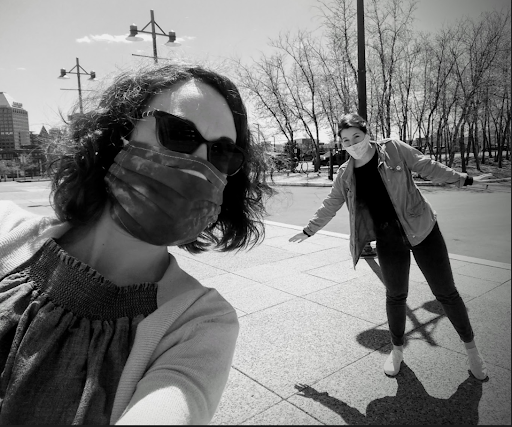 This is my coworker, Anneliese, and myself. We're turning in our badges as we are about to be furloughed for six weeks.  With our face masks it's difficult to see that we're actually really excited, because it's the first time we've seen each other since mid-March.
I've known for several days now that I'm going to be furloughed. At first the news was somewhat of a relief - it's been a struggle to constantly shift gears with balancing work, schooling, and parenting throughout the day (and yes, my husband helps).  The news enabled me to let go of some of the guilt, knowing that soon I'll be balancing two roles, rather than three.
Now that I have three days until my furlough, that relief is giving way to a sense of emptiness.  Despite working from home, away from the collections, my coworkers and I have done a lot of amazing work, cheered for each other's successes, and found new ways to collaborate.  Though not an ideal situation, it provided a small bit of normalcy amidst uncertainty.  
I'm hopeful that the time away will allow me a new perspective, discover new ways to be productive (even on the smallest of scales), and a chance to catch up on my reading (ha!).  See you in July!
~ MNHS employee, 30s white female, mom to two children