About
We are living in a historic moment. The Minnesota Historical Society is collecting and preserving Minnesotans' stories related to the COVID-19 health crisis so future generations can learn how the pandemic has impacted our lives. We invite you to read a sampling of these stories here.
Report misuse of collection item
 Subscribe in a reader
It didn't take long for the public to take notice of what we were doing
By:
Public contributor
| July 30, 2020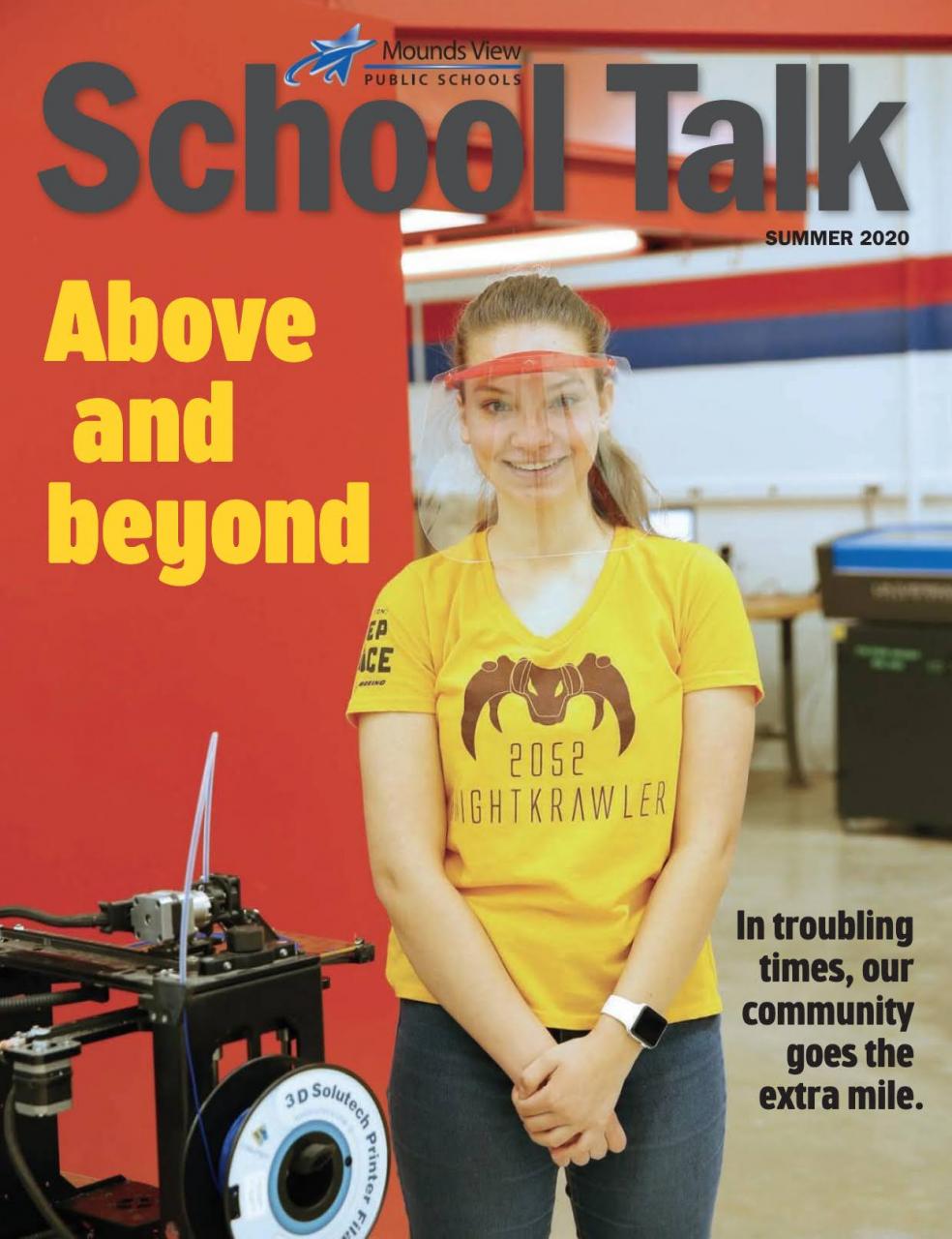 In the past 15 years, robotics has become an increasingly popular high school activity. Spring is generally the competition season for robotics, but it was cut short in 2020 due to the Coronavirus outbreak. Making the most of our canceled season, our team 3D printed over 5000 face shields, while working with other organizations and robotics teams to fulfill orders for over 15,000 shields. This is our story.
It began when one of our coaches asked the local middle school principal if he could pull the 7 printers out of the school to print PPE from his office. The principal took it a step further and said if the robotics team was willing to run a lab, he would consolidate all the unused printers from the 3 middle schools and our high school in a single location. Within 48 hours of the initial request, we had developed a health safety plan and were setting up printers to create a fabrication lab, with support of the high school and district administrators, as well as the school board.
By Monday, April 6th, we were running at full capacity with 24 3D printers. Team KnightKrawler staffed the lab with one adult and 2-4 students per shift. Using morning and afternoon shifts, the printers ran 6 days a week, 10 hours a day.
We spent significant time that first week making adjustments to our printer settings and fixing worn out parts on the school printers.  Soon we were making over 200 3D printed visors each day.
Several people have asked us how hard it was for students to switch from building robots to running a big operation that was delivering thousands of face shields a week. The answer is surprising to many. It wasn't hard at all. KnightKrawler students are taught to work as professionals. We use real-world business processes to manage our work, use professional communication tools, and adjust quickly when unexpected challenges arise.
On the first day, one of our students had completely changed our website to have a new landing page for our COVID-19 response. She included an online order form, which populated a spreadsheet for our order system. The next day, she set up a Scrum board. Scrum is a popular project management technique we use to manage all our tasks in robotics. We used this process to track our orders from the backlog to pickup and delivery.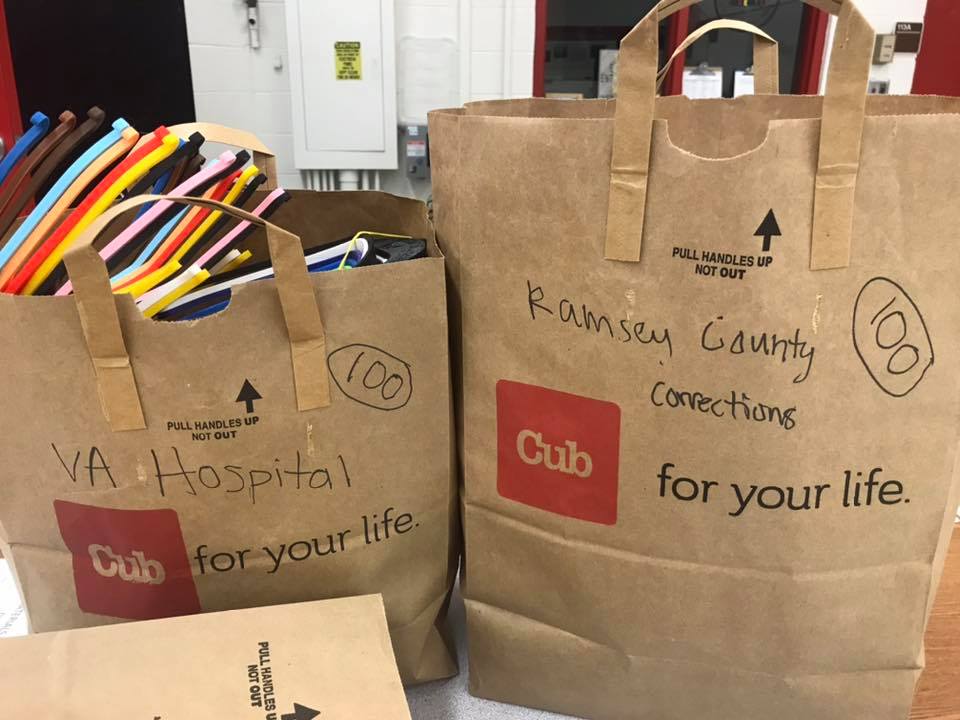 Robotics is a team sport where we divide work, share responsibility, and often jump from one task the next. When we need to solve a problem, for which there is not a ready-made solution, we design and build the mechanism needed to accomplish the task. When something breaks during a competition, we quickly assess the problem and fix it. This year we had multiple situations where our robot had a part break in a previous match and was still being repaired while being positioned on the field for the start of the next match. Our students are trained to work under pressure with a sense of urgency. 
In many ways, the pivot from building robots to making face shields was a familiar undertaking. The students identified a new challenge, created a plan, executed those plans, and made improvements along the way. While the conditions of this pandemic are unfamiliar, the way in which we transitioned our season fell well within the skill sets we use every day at robotics.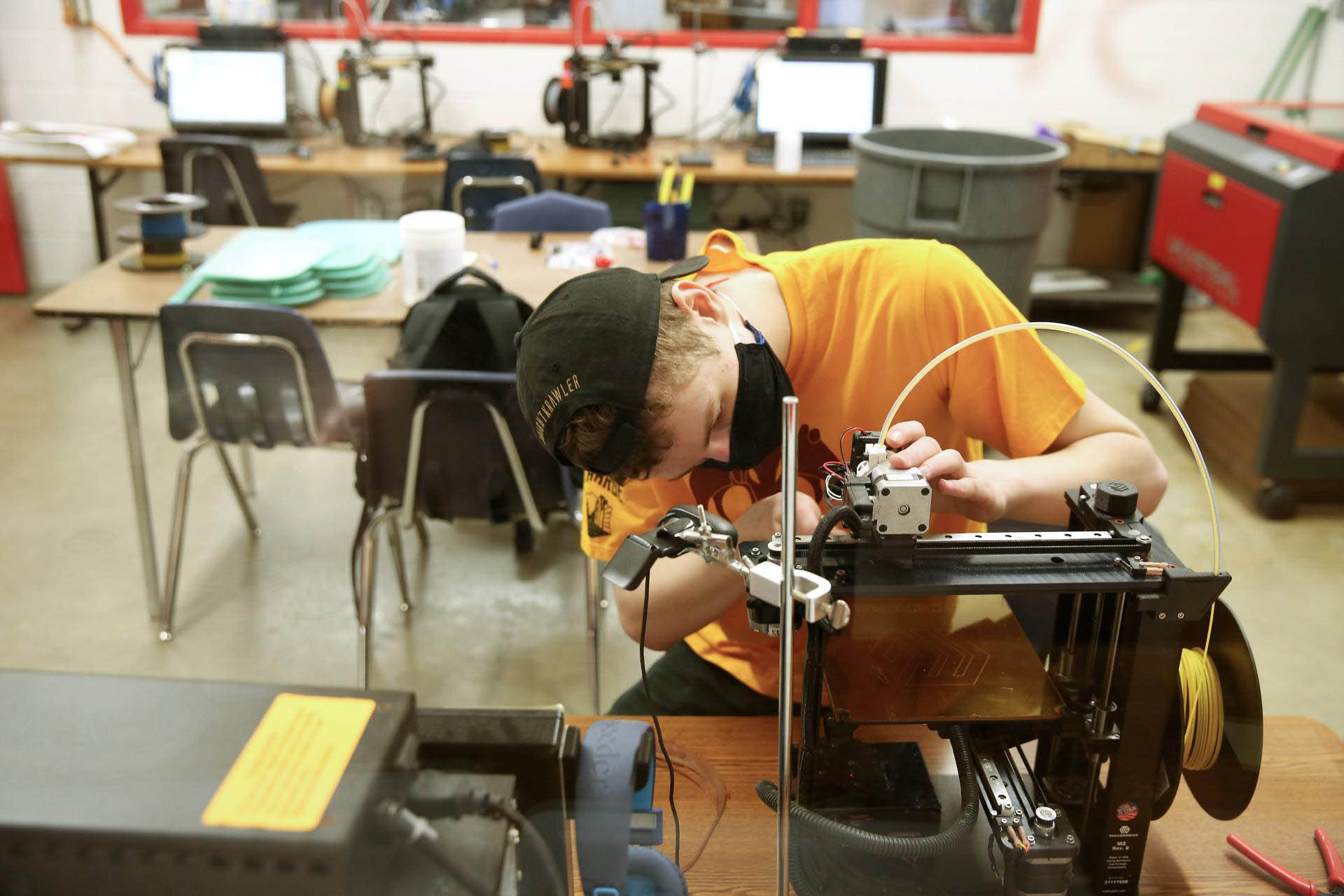 By the time we had optimized our 3D printing process, we discovered obtaining the clear shield plastic was going to be a problem. We started using office supplies such as report covers and overhead transparencies. We soon found that nearly every office supply store was sold out of these products.
The answer to this problem surprised us one day when two rolls of plastic weighing 250lb each arrived on a big truck from 3M, one of our team sponsors. This provided enough plastic to make 11,000 shield parts. In late April, a maker collaborative sent us two additional rolls capable of making 7,000 shields. Finally, in May, we received a 900lb roll from Stratasys that would make an estimated 18,000 face shields.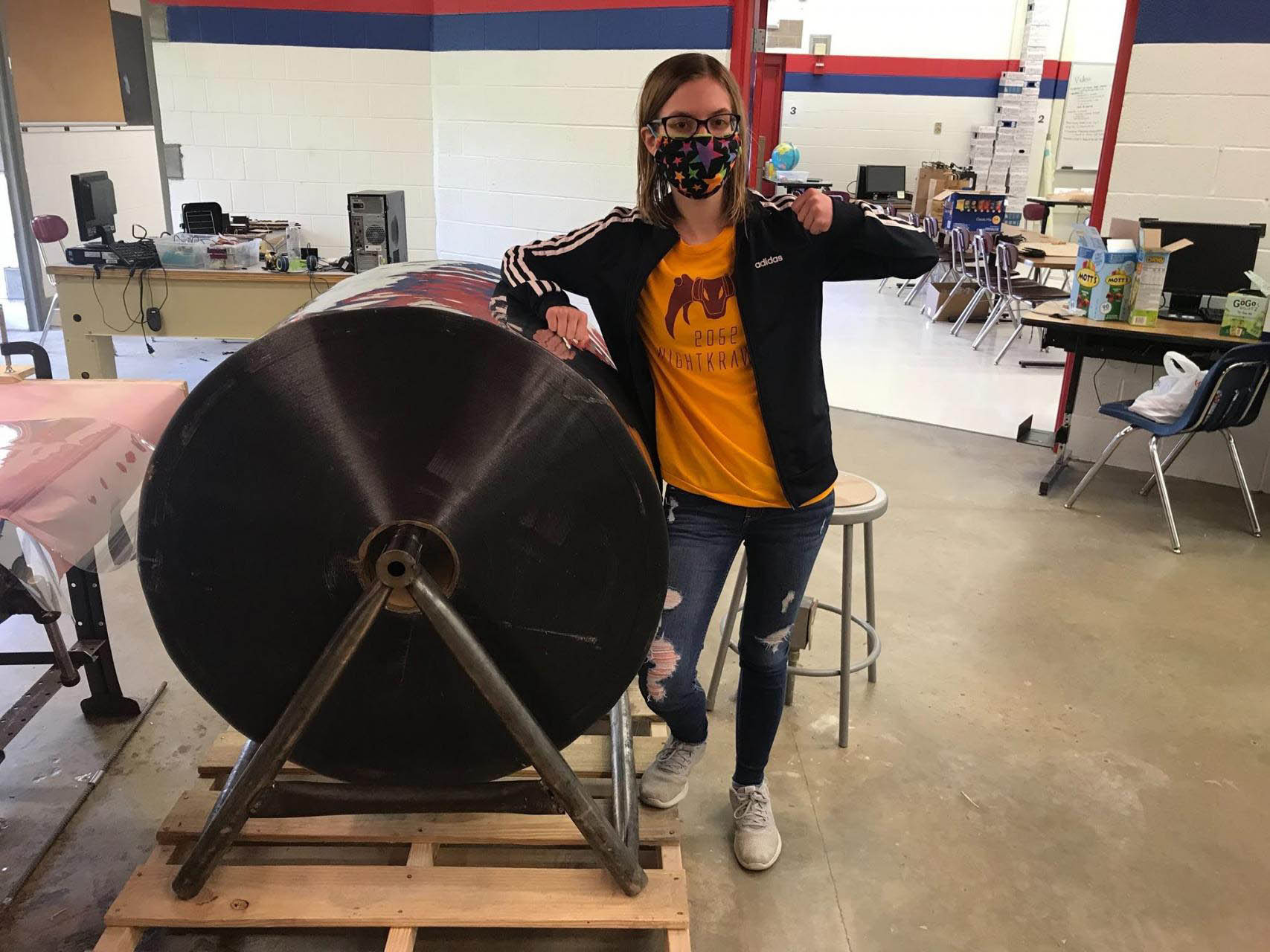 You can't just run to the hardware store and buy something to hold a 900lb roll of material or pick up a cutter for a 24" wide piece of plastic. As with robotics, the problem required us to evaluate the problem and build a custom solution. One of our students created a rail-mounted cutter from robot parts that used standard utility knife blades, then later iterated on his design to make it bigger and capable of cutting it two directions to improve speed.  The principles of design, prototype, test, and iterate naturally flowed into our creation of an assembly line that allowed us to make 2000-3000 shield parts per day.
It didn't take long for the public to take notice of what we were doing. Soon we had thousands of orders in our backlog, far more than we could hope to fill in a month. We created a campaign to get assistance from other organizations and teams to help us create the 11,000 visors it would take to use up our first two large rolls of shield plastic. Within weeks, we had received thousands of visors 3D printed by other teams and organizations. By late April, the industry had finally retooled their manufacturing and we started to receive several thousand injection-molded visors per week. The significant cost and time savings of injection molding over 3D printing led us to stop all printing at the end of April, relying solely on the injection-molded visors to fill orders.
Television reporters and newspapers picked up the story and further spread the good news of what we were doing. We received orders from intensive care units, neonatal departments, maternity wards, cardiac units, cancer treatment centers, police departments, fire departments, dentists, daycare workers, senior homes, assisted living centers, and those who were caring directly for COVID-19 patients.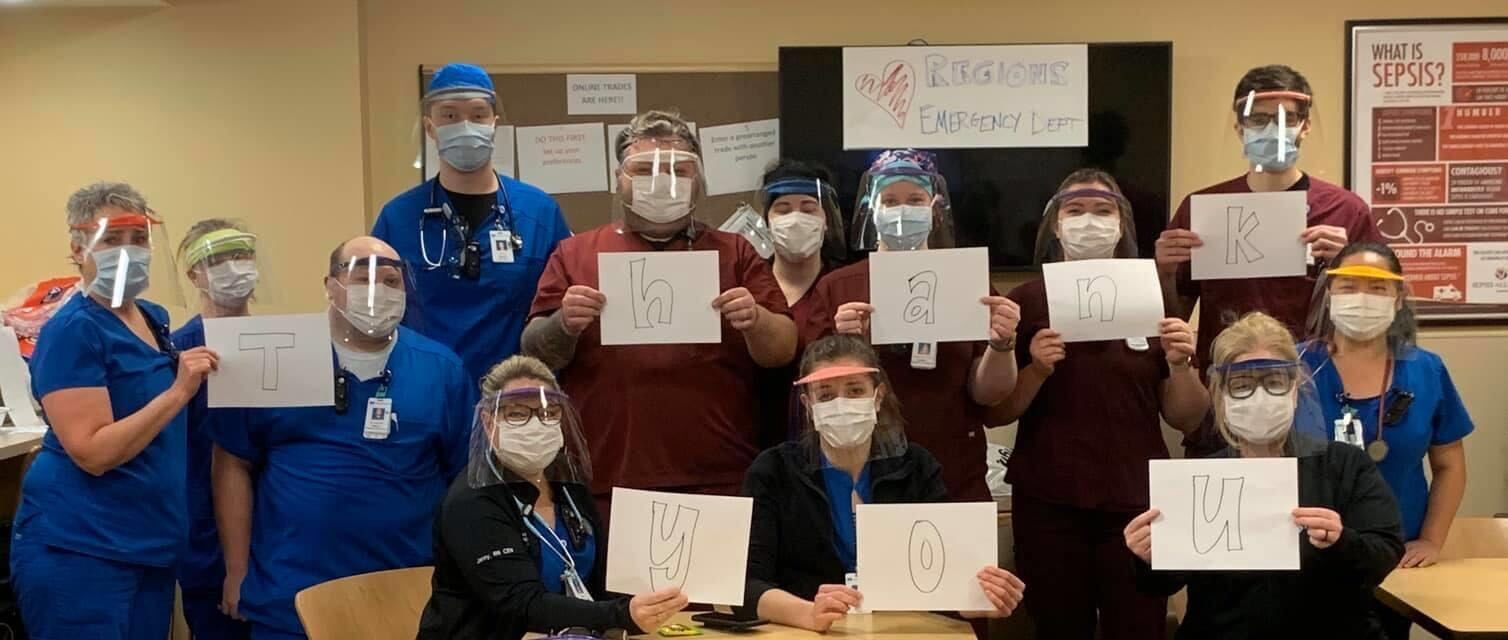 This experience has led to some great partnerships with other teams in St Louis, MO, Portland, OR, Mountain View, CA and Flagstaff, AZ. We have received orders from several states across the US. By partnering with these teams, we have been able to fill large 500 unit orders faster and more efficiently.
Our team wasn't alone in this effort either. By mid-April, most of the Minnesota robotics teams we knew were helping the cause in one way or another, through 3D printing shields, collecting food and donations, and even making grocery-delivering robots.
While robotics isn't as well-known as most high school sports, the impact we make on our communities is significant, and the FIRST robotics program truly prepares students to tackle challenges in the real-world.
View a video on Team KnightKrawler's work.
~ Submitted by Scott on behalf of the KnightKrawler Robotics Team of Irondale High School