About
We are living in a historic moment. The Minnesota Historical Society is collecting and preserving Minnesotans' stories related to the COVID-19 health crisis so future generations can learn how the pandemic has impacted our lives. We invite you to read a sampling of these stories here.
Report misuse of collection item
 Subscribe in a reader
Our wedding would either have to be postponed indefinitely or changed dramatically
By:
Public contributor
| August 27, 2020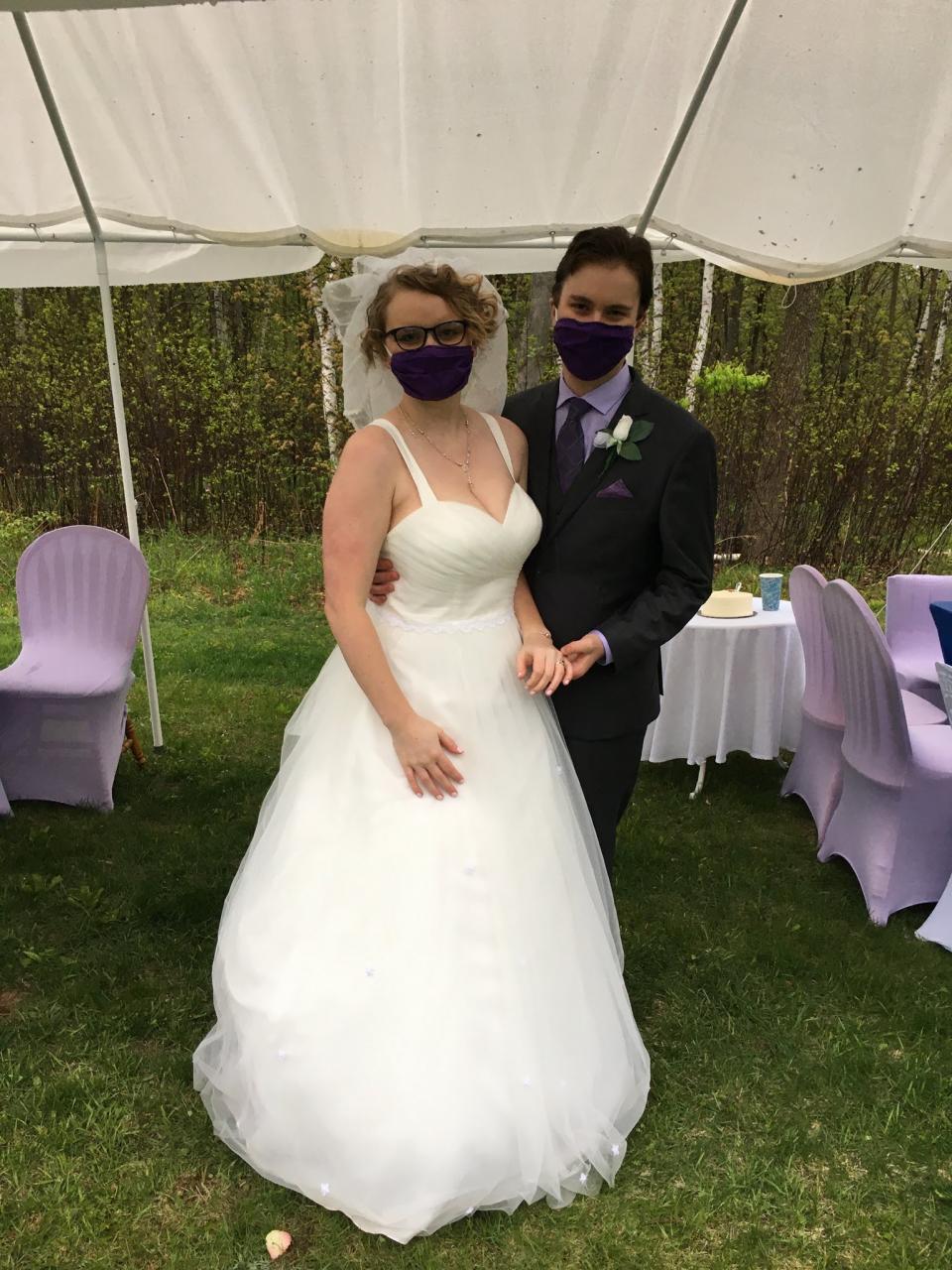 Devan and I originally had planned our wedding to have around 250 guests with lots of dancing and celebration on May 16th, 2020 in my parents' backyard. In early March, I had my first (and only) dress fitting. This was the last time that I remember still thinking that my wedding would go off as planned. After MN shut down, we very quickly realized that the virus was not going away anytime soon and it was likely that our wedding would either have to be postponed indefinitely or changed dramatically.
After many sleepless nights, tears, and worrying, my husband-to-be and I decided that we did not want to wait for the pandemic to be over to get married. We sent out a mass email to all of our guests explaining that we were still going to get married but that we were postponing the reception until 2021 and limiting the number of guests invited to promote social distancing.
We invited less than 30 people. I have a large family so this meant that none of my cousins (besides my maid of honor) would be able to attend and only half of my aunts and uncles. We arranged to live-stream the ceremony for the remainder of our guests to watch and started work on the safe-guards that we would have to put in place.
Because of the nationwide shelter-in-place orders that were in effect, we were unable to pick up the groom's suit because the store was closed. Luckily, we managed to find a store the week of that tailored a new suit for him in two days! (Thanks Keith from Heimie's Haberdashery!)
In order to keep our chances of possibly spreading the virus among our guests low, we did the following:
An aunt of mine offered to sew masks for all of our guests so that no one would have to provide their own. These were bagged individually and touched by no one for a week before the ceremony to make them as germ-free as possible.
Devan and I took two weeks off of work to self-quarantine to ensure that we would not be a risk vector for our guests as we were both essential workers (daycare teacher and pharmacy technician).
We prepared our own food while wearing gloves, masks, and hairnets. We bought to-go containers to serve it in so that guests could take it home with them if they did not want to stay.
The day of, we covered the whole yard with dots 6 feet apart in a grid so that people could more easily social distance. Including dots on the floor inside the house for people who needed to go to the bathroom.
The tables for dinner were also placed so that people were sitting at least six feet apart from people not within their circle.
We bought a giant jug of hand sanitizer as well as some smaller ones that were placed near the entrance where people picked up their masks and around the house.
We had no music or dancing and no help from outside of our families.
Although we managed to have fun with it, it was a very stressful and emotional time. It was far from our dream wedding (it also rained!) but everyone worked together to pull off a safe and very unique ceremony. People had been sad and stressed for so long and they were relieved to have something to celebrate. While it was impossible to ignore the pandemic that surrounded us, I think that we managed to make the best of the situation. No one got sick after attending our wedding and everyone said it was one of the most memorable weddings they had ever attended.