The Minnesota Historical Society's Local History Services helps Minnesotans preserve and share their history. This blog is a resource of best practices on the wide variety of museum, preservation, conservation, funding, and non-profit management topics. We're here to help.
 Subscribe in a reader
Navigating the Legacy Grant program for Historic Properties: Getting started
So let's say you're part of an organization that has a historic building in its care. You recognize the need to begin preservation projects, but don't know how to go about it. You've heard of the Minnesota Historical and Cultural Heritage Grants (MHCHG) program  – commonly known as the Legacy Grant program – but have no idea where to start. Or maybe you've just joined your county's historical society and you've been tasked with the rather overwhelming job of figuring out how to move forward with much-needed building preservation. 
Whatever your specific circumstance, this blog post is for you! Here, and in subsequent blog posts, I'll break down the Legacy Grant program into bite-size pieces and give you tips and pointers for navigating the different steps of the grant process. 
First, let's take a wide view of the grant process. I'll get into the nitty-gritty details a bit later. Here is what it looks like simplified into different steps: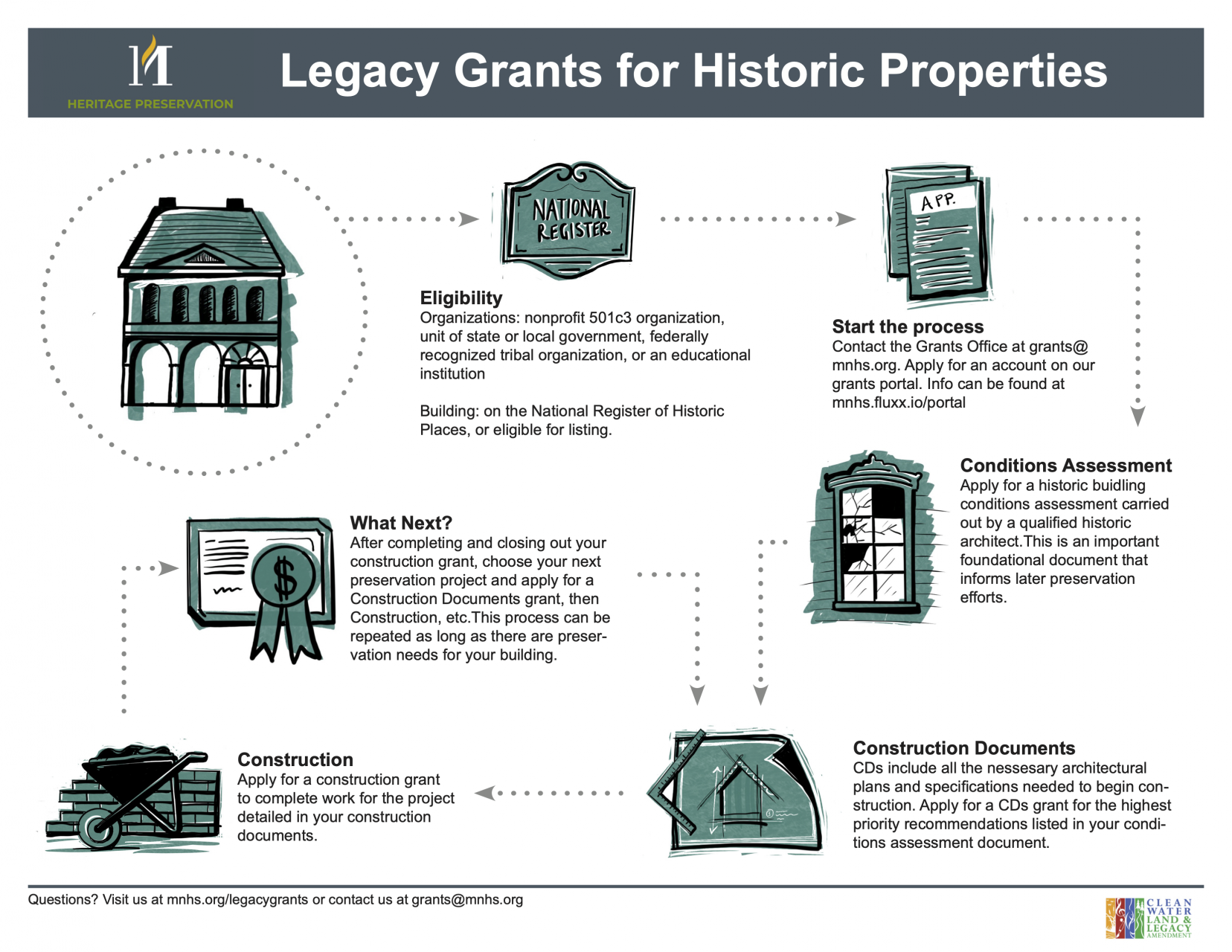 Eligibility 
The first step is to make sure both the building and the organization are eligible for Legacy Funds. For organizations, there are four eligible categories: 1) nonprofit 501c3 organizations 2) units of state or local government 3) federally recognized tribal organizations, and 4) educational institutions. Buildings must be listed in the National Register of Historic Places OR in some cases, it is sufficient to be eligible for the National Register -- I'll get to that in a minute. In addition to being on the National Register, all work on historic properties must conform to the Secretary of Interior's Standards for the Treatment of Historic Properties. 
So, what if your building is not in the National Register, but you'd like it to be? There are resources to help with that too. Jump over to this blog post for the ins and outs of the evaluation and nomination process and how the Legacy Grant program can help you.
Signing up for an account 
Before applying for a grant, you'll need to request an account on the grants portal. This is where all applications are submitted and where official communication happens between the applicant/grantee and the Grants Office. This is also where your grant project will "live" after the application process and where milestone reviews and grant amendments will be processed. Requesting an account is easy and simple. Just click "create an account" on this page to get started. Once your request has been approved by grants office staff, you're ready for the next step. 
Ask us questions 
This blog post is one of a series of posts explaining the grants process. The next one can be found here. We at MNHS are always happy to guide you through any questions you may have. You can join us for one of our monthly open houses or you can contact us directly if you have any questions! 
Any questions? Shoot us an email at localhistory@mnhs.org (or our colleagues at grants@mnhs.org).