The Minnesota Historical Society's Local History Services helps Minnesotans preserve and share their history. This blog is a resource of best practices on the wide variety of museum, preservation, conservation, funding, and non-profit management topics. We're here to help.
 Subscribe in a reader
Choosing the right grant
If you haven't yet, take a look at this blog post to understand more about getting started with the grants program. Also, be sure to check out the graphic at the end of this blog post. It gives a quick visual overview of the grant program. 
Now that you have determined that both your organization and your building are eligible and have an account, the next step is to find out which grant best fits the needs and situation of your building and organization. Legacy Grants are divided into two funding levels: small requests ($10,000 and under) and large requests (over $10,000). There are four small request "rounds" (or application deadlines) a year, and there is one large request round (deadline) a year. More information about deadlines and when to apply can be found here. 
Grant applicants can apply for several different kinds of grants depending on the needs of the building and the stage of their project. In general, grants for historic buildings fall under one of three categories: Predevelopment Research Documents (this would be either a Historic Structure Report or a Historic Building Conditions Assessment); Construction Documents; and Construction. For each of these grant applications, certain required documents must be submitted with the application. Check out the Grants Manual for the specific requirements for each grant. 
Side note: an applicant may apply for any one of the three types of grants listed above, even if they have not completed the previous stages of preservation (Conditions Assessment and/or Construction Documents) through the grant program, as long as they have the required documents that must be included with the application. However, if an applicant has an open predevelopment grant (Conditions Assessment or Historic Structures Report) they cannot apply for a grant for construction documents or construction for that same property until the grant is closed out. 
For the purposes of this blog, I'll describe the process starting from the "beginning" -- with an application for a Historic Building Conditions Assessment. This is a formal document produced by a qualified Historic Architect that analyzes the current state of the building, documents areas of significance and historic fabric, and identifies and prioritizes necessary preservation work. A Conditions Assessment is a predevelopment document and a vital part of the preservation process. It is intended to give direction to years of preservation and planning for your building. Later grant applications and preservation projects will be based on the recommendations within this document. You can read more about conditions assessments in this blog post. 
The term "qualified Historic Architect" may be confusing at first. This just means that the architect hired to conduct a Conditions Assessment must meet the requirements set by the Secretary of Interior's Standards. Those requirements can be found here. 
Finding a Historic Architect can also seem overwhelming at first, but the Minnesota Historical Society has a resource called the Preservation Specialist Directory to help you begin looking for one that fits your needs and the needs of your building. Note: the Preservation Specialist Directory is not comprehensive or curated. Architects and other professionals can essentially add themselves to the list. It is intended to be a starting point for researching preservation specialists and the professionals included in the directory are not endorsed by MNHS in any way. 
Pro tip: the Grants Manual is your friend! Take the time to read up on the grant you're planning to apply for. I'm giving a brief overview here, but everything you need to know is spelled out in detail in the Grants Manual. Focus on General Information Section for setting up your account and the program's administrative requirements and the Historic Preservation Projects. No need to get bogged down in the History Projects sections when your focusing on your historic building.
If you've made it through this whole blog post, congrats! You're ready to dive in and start your journey with the Legacy Grant program. After you've completed the steps outlined here, the next steps in the grant process are outlined in another blog post which can be found here. 
Ask us questions! This blog post is one of a series of posts explaining the grants process. The next one can be found here. We at MNHS are always happy to guide you through any questions you may have. You can join us for one of our monthly open houses or you can contact us directly if you have any questions.
Any questions? Shoot us an email at localhistory@mnhs.org (or our colleagues at grants@mnhs.org).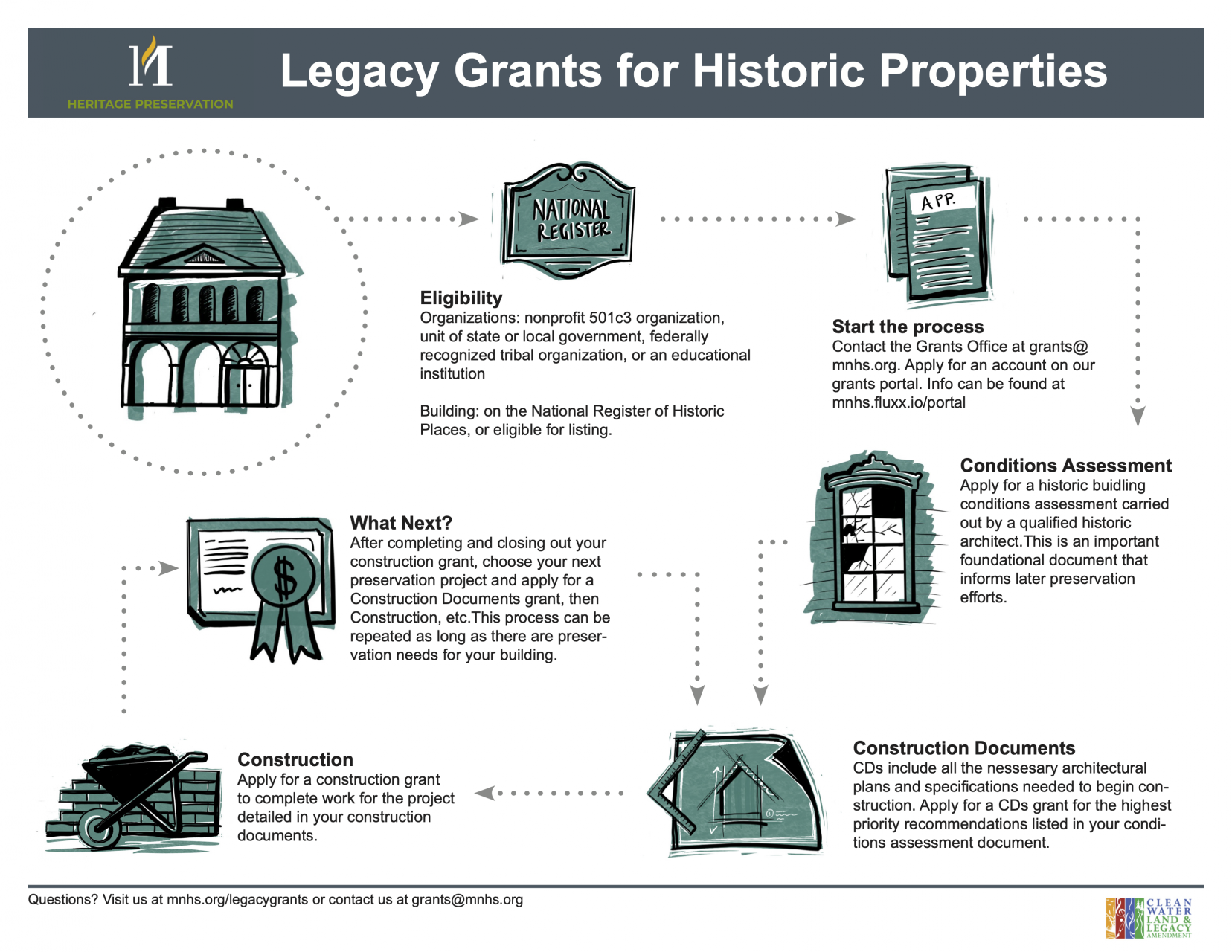 Infographic: the Legacy Grant program