The Minnesota Historical Society's Local History Services helps Minnesotans preserve and share their history. This blog is a resource of best practices on the wide variety of museum, preservation, conservation, funding, and non-profit management topics. We're here to help.
 Subscribe in a reader
Construction Documents and Construction Grants

This is one of a series of four blog posts about how to navigate the Legacy grant program. This post focuses on construction documents grants and construction grants. The first blog post in the series can be found here. Be sure and check out the graphic at the end of this post for a quick overview of the grant process. 
Construction Documents Construction documents comprise everything you need – designs, technical specifications, etc – to put your project out to bid in order to move forward with construction. Your next step is to obtain these documents. Normally this requires a large grant, though exceptions do exist depending on the size and complexity of the project. Since the architect that produced the Conditions Assessment has an in-depth understanding of the building and the needs of the project, often grantees choose to continue to work with this same architect for the production of Construction Documents. In this case, a grantee would present a pre-existing contract and describe the procurement process which was followed on the condition assessment. Continuing with the same architect is not a requirement, however, and grantees can choose to work with any qualified architect after going through the proper procurement process. 
While completing the application, be sure to include a photo file of the building and area of the proposed project. This is a required document, so if not included, the application will be sent back and you will be encouraged to re-apply in the next grant round. 
The process of a large grant for Construction Documents is similar to a Conditions Assessment: 
Awarding of grant 
Procurement: the requirements for procurement for a large grant are more intense than for a small grant. You can find the requirements detailed on page 128 (Appendix I)  of the Grants Manual. 
Condition/Milestone reviews: these will vary depending on the project, but will always include 1) submission of the Schematic Design (this should be a 30% draft of the completed, final product); 2) submission of Design Development documents (a 60% completion draft); 3) submission of Construction Documents (a 90% competition draft). Additional milestones can include mortar testing, plaster repair techniques, window design reviews, and others. 
Final Report submission 
Closing out of the grant. 
Construction Now you're ready to start the most exciting stage of your project: construction. Construction projects fall under the large grant category almost without fail. As a reminder, large grant application deadlines fall only once a year. Since the cost of construction is high, large grants are much more competitive than small grants. As with any application, small or large,your application must be well written, well throughout, clearly articulated, and of course, contain all the required documents. 
As with Construction Documents projects, it is up to the grantee whether or not to continue working with the same architect who produced the predevelopment documents. However, in many cases, it is advisable since the architect will already have a comprehensive knowledge of the building and project. It should be noted switching to a different architect at this point in the project is not simple and among other issues, architectural drawings normally cannot just be passed from one architecture firm to another. 
Construction grant process: 
Awarding of grant 
Procurement: as noted above, grantees may choose to continue with the same architect by showing the pre-existing contract. If the grantee chooses not to continue with the previous architect, the procurement process must be followed before selecting an architect.
Condition/Milestone reviews: these will vary depending on the project, but will always include 1) construction site visit at 50% project completion. Additional milestones may be included when the grant is awarded. 
Final Report submission 
Closing out of the grant.
What next? You've successfully navigated the Legacy Grant process. This doesn't mean that you have to be done though. After completing a full project, now you have the opportunity to consult your conditions assessment document, and the work priorities recommended there, to decide on another project to begin. After choosing, you can start by applying for another Construction Documents grant and follow that with a Construction grant application as you have previously done. This process can be repeated as long as there are preservation needs for your building. 
Ask us questions! I hope this explanation of the grant process has been helpful to you, whether you are new to Legacy grants or have extensive experience with the program. This blog post is one of a series of post explaining the grants process. If you haven't already, take a look at the previous posts here. We at MNHS are always happy to guide you through any questions you may have. You can join us for one of our monthly open houses or you can contact us directly if you have any questions! 
Any questions? Shoot us an email at localhistory@mnhs.org (or our colleagues at grants@mnhs.org).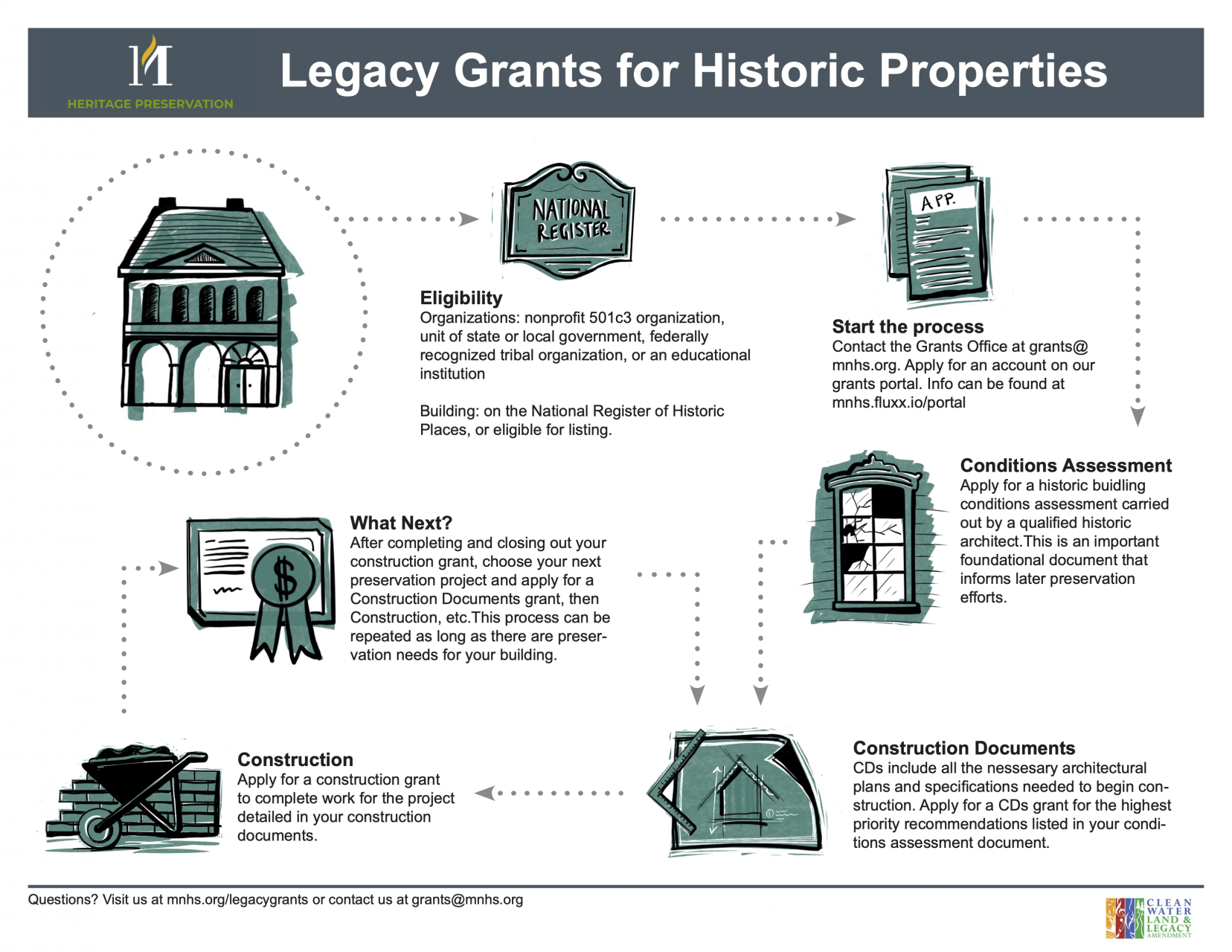 Infographic: the Legacy Grant program