The Minnesota Historical Society's Local History Services helps Minnesotans preserve and share their history. This blog is a resource of best practices on the wide variety of museum, preservation, conservation, funding, and non-profit management topics. We're here to help.
 Subscribe in a reader
Imagine that overnight, a pipe bursts in your collections storage room. You get to work in the morning, and one of your shelving units is soaked. You make sure everyone is safe, turn off the water, and activate the call tree described in your collections emergency plan. Thankfully, your emergency plan has detailed instructions on how to salvage and dry out the wet collection items! But first, you're going to need to find some polyethylene sheeting, towels, blotting paper, a spare table, a clipboard, a pencil, nitrile gloves, a mop, a fan, and a flashlight. How quickly are you going to be able to gather your supplies?
Response speed is essential when salvaging collections materials in a water-based emergency situation. Very few types of materials in museum collections are immune to water damage. The longer something is wet, the worse the staining or bleeding dyes will be, and the more likely things will become warped, corroded, or moldy. Personal safety must always come before collections are salvaged, but once the situation is safe you will want to act promptly.
The first step to take to reduce the impact an emergency will have on the collection is to develop a collections emergency plan. After you have your emergency plan, the next step is to create a disaster response kit.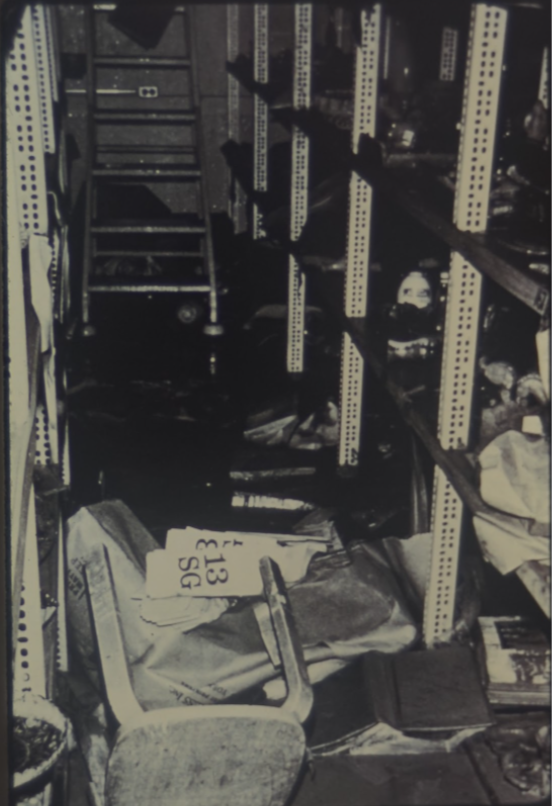 What is a disaster response kit?
A  disaster response kit is a collection of tools, equipment, and other materials that can be used to respond to a collections emergency. The kit should include enough supplies to fully respond to a small emergency, or to adequately respond to a larger emergency until more supplies can be purchased. It may be stored in a fixed location, such as a supply closet, or it may be mobile so that supplies can easily be moved to the needed location. The kit might be a small one for use in a single storage space; a larger one for your entire organization; or an even larger one to be shared between multiple organizations in a region.  
The contents of the kit should be specific to the needs of your organization. If you live in a flood prone area, you may want to focus efforts on preparing for that situation. Similarly, if your collection consists mostly of books and paper items, then your kit should be aimed at the needs of these materials. 
What does a disaster response kit contain?
Your disaster plan should help you prepare the contents of your kit by answering the following questions:
Which emergency situations are the most likely to occur? 
Which emergency situations would have the biggest impact on my collection? 
What materials in the collection are most at risk in an emergency situation?
What techniques and materials would be needed to recover the affected collections?
In general, a disaster kit should contain the following key components: a container, documentation materials, instructional documents, personal safety equipment, tools for scene/environmental control, collections salvage supplies, and other tools. Here are some examples of what you could include in your kit.
Backpacks
Wheeled crates
Plastic storage bins
Milk crates
Mobile trash can
Cabinets with doors/wheels
Push carts
Name tags
Clipboard
Notepads
Mechanical pencils, Sharpies, grease pencil, pens
Tape measure
Tie-on labels (paper or Tyvek)
Adhesive labels
Disposable camera
Emergency Salvage Wheel or other salvage guidelines
Copy of disaster plan
Floor plans
Gallery case access guides
Priority object locations
Loan agreements
Object damage reports
Wrench
Screwdrivers
Hatchet
Utility knife and blades
Nylon or polypropylene rope
Cable ties
Scissors
Crow bar
Flashlight with batteries
Waterproof extension cord/power strip
Wet vac
Fans
Dehumidifier
Portable generator
Folding tables
Personal Safety Equipment
Safety goggles
Disposable apron
Hard hat
Hand sanitizer
Disinfectant wipes
Reusable respirators or N95 masks
First aid kit
Nitrile gloves
Work gloves
Drinking water
Scene/Environmental Control
Temperature and relative humidity spot checker
6-mil polyethylene sheeting
Garbage bags
Duct tape
Caution tape
Mop and bucket
Door wedges
Fire extinguisher
Walkie talkies
Head lamp with batteries
Work lights and extra bulbs
Collections Salvage Supplies
Polyethylene zip top bags
Cotton string
Nylon monofilament
Plastic wash tubs and trays
Paper towels
White cotton rags
Unprinted newspaper
White cotton terry cloth
Wax paper
Freezer paper
Reemay
Mylar
Corrugated plastic board
Screens
Clothes pins/plastic clips
Clean brushes
Wood blocks or similar for stacking and propping things off the ground
Disaster response kits require upkeep and maintenance. 
Some components of the kit will expire (nitrile gloves, first aid kits, batteries, etc.) 
Kits should be regularly inventoried to ensure that all the tools and materials you expect will be there when needed.
Many (not all) of the materials are consumables and will need to be replaced after use.
Ensure that your organization has a strategy to keep your kit sustainable over the long term. 
The creation of a disaster response kit can be funded with a Minnesota History and Cultural Heritage Grant! Read more about these grants at this link, and by watching the video below.   
I recently had an interesting question sent to my inbox about the safety of uranium-containing glass in a museum collection.
"So, I read The Radium Girls and had watched that webinar on hazards in museum collections. Yep, I put two and two together and bought a black light flashlight. Snapped these pictures and wondered, is it safe to keep them on display or any precautions?"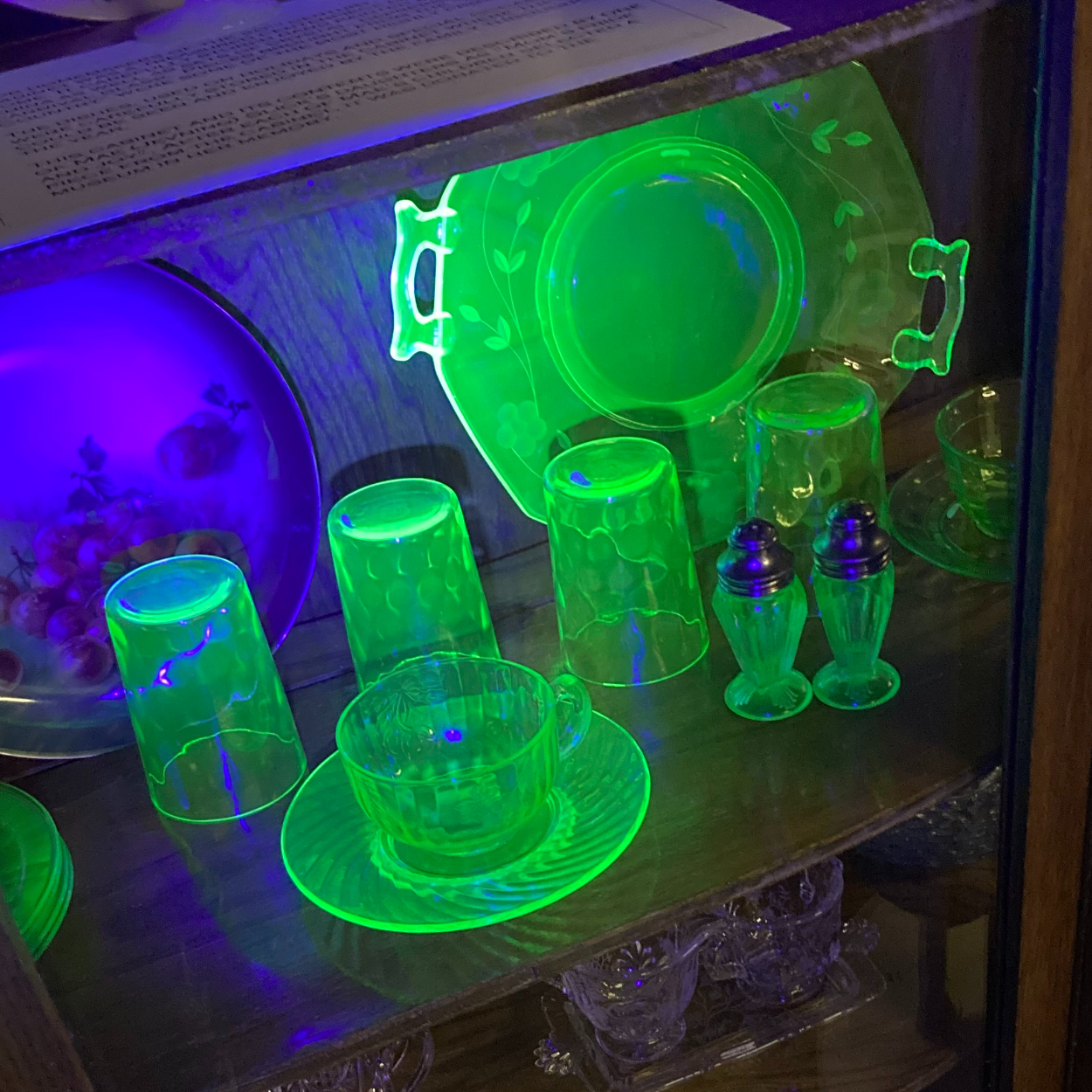 Uranium glass fluoresces bright green under ultraviolet light. Photo courtesy of Lindsay Marshall, Lake of the Woods Historical Society.
Here was my response:
Great question, and love the black light photos! (As an extra safety precaution on top of everything else, I recommend wearing UV-protecting eyewear when using a blacklight – polycarbonate safety glasses are one good option). These objects are really cool and I bet people would love to learn more about them.
The only real way to know how much precaution to take with any radioactive artifact is to measure the radiation coming off it using a Geiger counter. You might be able to partner with local health & safety officials to test the radioactivity of the glass. I don't know if you've used a Geiger counter before, but it's totally non-invasive, non-destructive testing. 
Radiation is considered in "doses", as in – how much radiation per year can I safely be exposed to? You can take one 'big' dose of radiation once per year and be safe, or you can get small exposures to radiation more frequently, and be at the same risk level. The risk is much less for a visitor who comes in occasionally and doesn't spend all that much time near the radioactive glass compared to a collections worker who is working directly with these objects every day.
One way to mitigate risk is to limit the amount of time you spend with a radioactive object. Other ways to mitigate risk are to increase distance and barriers between you and the objects – good practice would be to always handle this glassware while wearing nitrile gloves; and to display it behind glass in a display case rather than on open display.
The good news is that the amount of uranium in glassware (or Fiestaware) is quite low – often as low as 0.5% of the weight of the object. They don't emit much radiation. So it's safe to have these kinds of objects in museum collections, although I recommend taking precautions like those I mentioned above. 
For those who want to do more research, these are all great resources: 
Managing Small Radioactive Collections in the UK: Experiences from the Polar Museum, Cambridge
Uranium Glass in Museum Collections
Uranium in a Cupboard Near You!
Seeing More: glow-in-the-dark glass
EPA: Radioactivity in Antiques
Radium Girls: The dark times of luminous watches
MN Department of Health: Radiation Control
Museums becoming more climate-friendly is increasingly important in the field, because the effects of climate change pose a huge threat to collections. It may seem counterintuitive to pair collections care with environmentalism, but when it comes to museum lighting they really go hand in hand. Almost every action you take to reduce energy consumption from lighting will also help you to preserve the light-sensitive items in your collection. On top of that, any action you take that results in lower electricity bills means more money you can spend on other aspects of collections care, like archival boxes and padded hangers!
I recently attended an interesting webinar about environmental sustainability and museum lighting presented by David Saunders and hosted by the Icon Environmental Sustainability Network. He said that although the biggest energy consumer in most museums is the HVAC system, museum lighting represents a sizable chunk of electricity use. In his talk, David Saunders broke down sustainable museum lighting into five actions. 
Switch to LEDs
Increased use of daylight
Reduce light levels
Shorter display times
Better time management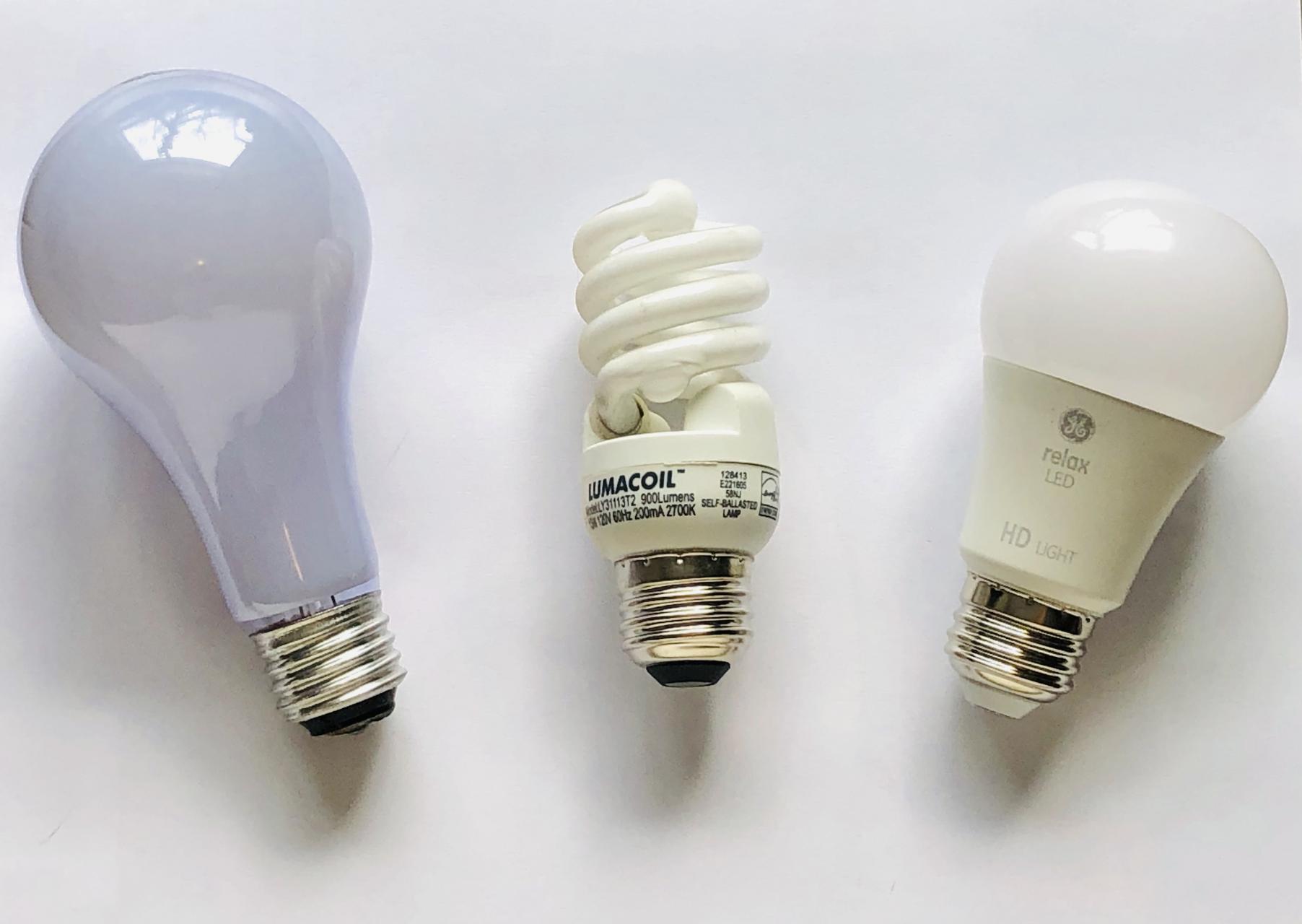 From left to right: incandescent, fluorescent, and LED light bulbs. Photo by Megan Narvey.
Switching to LEDs has an immediate impact on electricity consumption because they are by far the most energy efficient type of light bulb; in large part because they are so efficient at converting electricity into light rather than heat (cough cough incandescents). Because LEDs have a longer life than incandescent and fluorescent bulbs, there is also a reduction in the use of raw materials. 
LED lights emit little to no UV light, which is a huge benefit for the preservation of light-sensitive collections. So LEDs are a great lighting choice for many reasons: energy efficiency, lower long-term financial burden, less maintenance, and they're better for collections. 
 
Increased use of daylight
This option might surprise many museum professionals! The argument here is that daylight is a free energy source, so it is completely environmentally friendly. The problem is that it's difficult to control. The brightness, color, and direction of daylight varies depending on the time of day, the time of year, and clouds! 
Direct sunlight will quickly damage light sensitive objects, even with UV filtration. Therefore, you need control systems like shades, blinds, curtains or baffles; and you might need to change their position throughout the day. A really cool solution to this problem is the use of electrochromic glass (also known as "smart glass"), which darkens or clears automatically depending on the amount of sunlight hitting it. 
 
It's important to limit the amount of light in museum display areas because light can damage many types of collection items. Lower light levels also benefit the environment! But there is only so much you can do to lower light levels before your collection becomes inaccessible because you can't see it. It's possible to create a space with very low light levels that is still functional - for example by featuring individual objects with spotlights. 
The use of dimmer switches is a simple way to increase your control over light levels. The sweet spot between preservation and visibility is 50 lux for highly light sensitive materials, and 200 lux for moderately light sensitive materials. Lux is a unit for measuring the amount of light in a square meter, and can be quantified using a light meter like this. 
 
One way to achieve shorter display times that will benefit both the collection and the environment, without resulting in reduced access, is to use manual, timed or automated lights that respond to visitors. You can install proximity sensors that turn on the lights in an area when they sense movement, ensuring that the lights are off when nobody is in the room. Shorter display times can also be accomplished with an object case where the visitor presses a button to activate lights to view the contents for a set period of time.
The bane of archives, libraries, and paper-based collections everywhere: the silverfish!
In previous installations of Fun Facts About Museum Pests, I discussed carpet beetles and clothes moths, two common museum pests with similar life cycles (their larval forms cause the most damage to collections) and food preferences (proteins). Silverfish are completely different: they don't have a larval stage. Instead, their young predecessors are called "nymphs" and they just look like smaller, translucent versions of adult silverfish. And rather than proteins, they like to munch on starches.
Identification
Silverfish are a wingless insect that can be up to 10-15 mm in length. Their bodies are easily recognizable as they are "carrot-shaped" and covered in silver or gray scales, with long antennae and three long tail-like bristles.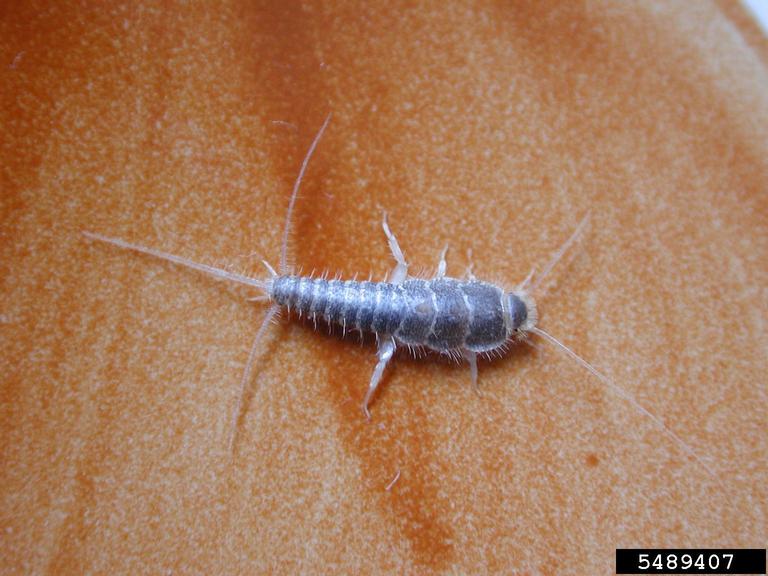 Adult gray silverfish (Ctenolepisma longicaudata); Pest and Diseases Image Library, Bugwood.org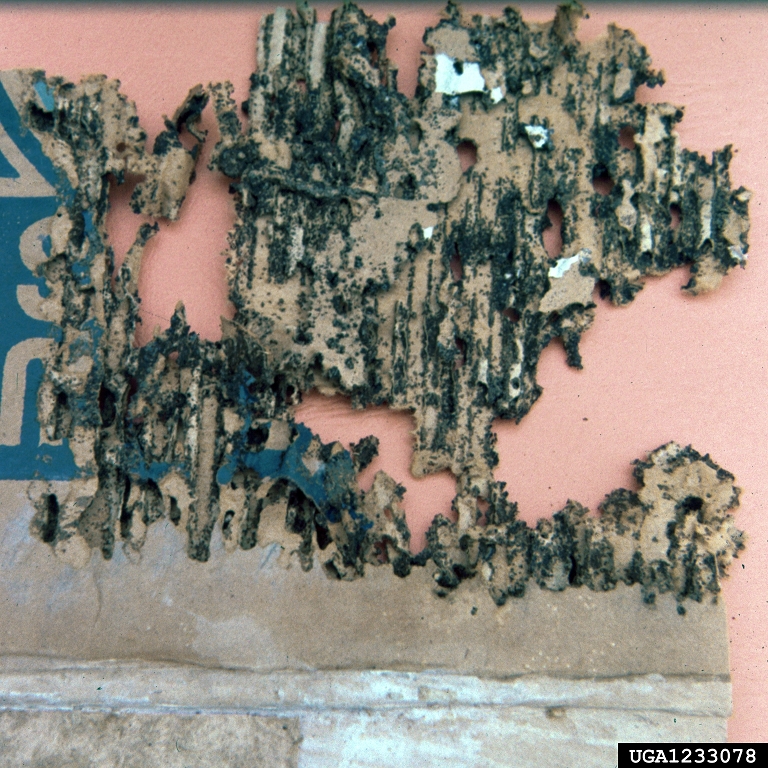 Damage to cardboard by small blue silverfish (Lepisma saccharina); Clemson University - USDA Cooperative Extension Slide Series, Bugwood.org
Behaviour
Silverfish are omnivorous and will eat both cellulose and protein materials. They are especially fond of the sizing of paper, and the glue and paste in book bindings. They are known to enjoy eating wallpaper, and the glue holding it to the wall. They will eat any material that has been treated with starch, gelatin, or organic dyes, including textiles like silk and cotton. They also eat microscopic mold on the surface of items. 
Silverfish have weak mandibles and feed on materials by scraping at the surface. This causes damage that appears as irregular thin patches on the surface, occasionally breaking all the way through to leave oddly-shaped holes with ragged edges. They will sometimes eat away preferentially at organic dyes, leaving an interesting trail of damage on labels, prints, or wallpaper, with some colors eaten first. 
Silverfish thrive in cool, damp, dark environments. Finding silverfish is a strong indicator that you have moisture problems - they're most likely to be found in attics, basements, bathrooms, and kitchens. Where there are silverfish, often there is also mold. 
You're unlikely to see silverfish scampering across the floor. They prefer to lurk in cracks and crevices and behind walls. They're nocturnal, and hide during the day or when the lights are on. If you come across silverfish at random in daylight, it means you could have a big infestation somewhere in your building.
Silverfish live as long as three years and will molt up to 50 times. They can live for nearly a year without feeding! Eggs will hatch after about a month, and the young spend about 3 months as nymphs before becoming adults. They multiply quickly!
Treatment
Use sticky traps to monitor for a silverfish infestation. They can help you locate where the pests are entering an area, and help you keep track of the success of your preventative measures. You can also identify an infestation by looking for small dark frass, yellow stains, scales and the telltale signs of damage on paper. 
Because silverfish like the damp, the best way to rid yourself of a silverfish problem is to dry out your environment. If you can't eliminate moisture, move your collections into a drier space to protect them. Keeping the room at a temperature below 60 degrees will also help slow silverfish down.
You can make it more difficult for silverfish to access collections items by keeping everything up off the floor on shelving, and by controlling food sources by removing cardboard boxes and paper products that are not part of the collection.
Use freezing treatment to kill silverfish and their eggs on artifacts. It can be difficult to completely eliminate a silverfish infestation. If monitoring indicates that you still have an issue despite taking preventative measures in your environment, you should work with a conservator and a pest management expert. Never put pesticides directly on your collection.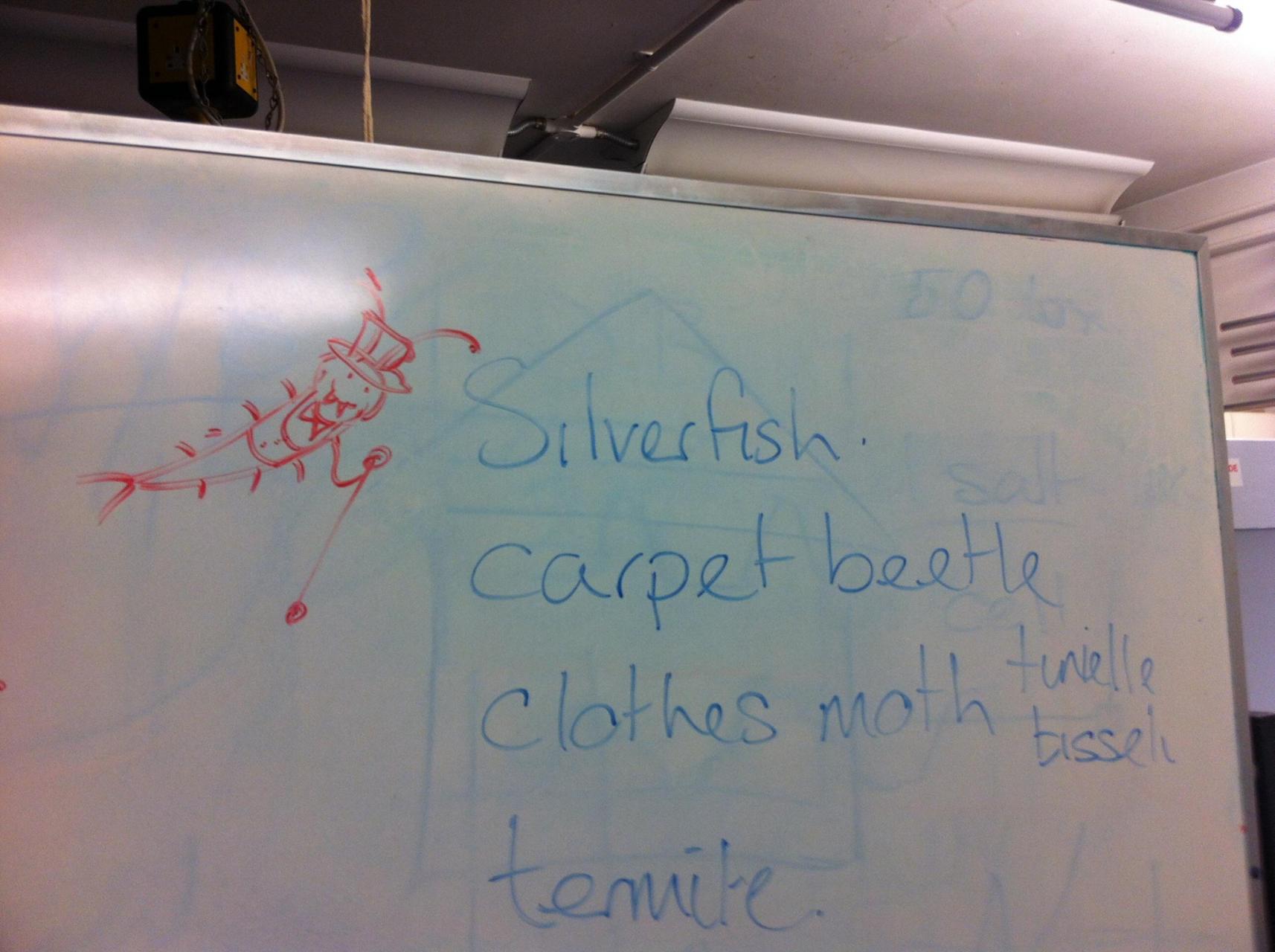 Silverfish in his Christmas best. Art by James Hales, photo by Megan Narvey. 
I've been somewhat fond of silverfish ever since one of my grad school professors drew a picture of one in its "Christmas best" during a lesson. It's just so dapper!
In Part 1 of this series, we talked about the common clothes moth. Today, I'd like to tell you about my favorite museum pest. When I say favorite, I definitely don't mean that this is the best kind of pest to find in your home or your collection. They're not easy to detect, can be very difficult to eradicate, cause a lot of damage, and can live basically anywhere! However, when they're not ruining your wool rug, they have been put to good use in some professions. And the larvae have the best nickname of any museum pest. Today, let's learn more about the carpet beetle!
Carpet beetles are a type of dermestid, also sometimes referred to as "skin beetle".
Some types of dermestids are really helpful. Forensic entomologists use them to learn more about criminal investigations, and taxidermists and natural history museums use them to clean animal skeletons.
A carpet beetle is the same shape as a ladybug, but much smaller - only a few millimeters long! They are usually black or a mottled yellow, black, and white.
Adult carpet beetles feed on pollen, so it's easy to accidentally introduce them to your home or museum by bringing in fresh cut flowers. They can also fly, and enter through open windows.
Another common source of infestation is having bird or wasp nests on your building.
Even though adult carpet beetles prefer to live outside, they like to lay their eggs inside. Female carpet beetles can lay about 50 eggs.
The larval form are called "woolly bears" because of their densely packed hairs.
The late stages of woolly bear growth can be up to twice as big as the adult beetle!
Just like with clothes moths, these cute little fuzzy larvae are the ones responsible for damage to the collection.
Woolly bears feed on wool, fur, felt, silk, feathers, skins, and leather, and they're more likely to be found in dark, undisturbed areas. However some will also eat things like seeds and grains; and they will eat through other materials if a food source they want is nearby.
Some woolly bears can live for up to two years if the conditions aren't ideal for them to grow and pupate!
As woolly bears grow, they shed their skins. These shed skins are one way to identify that you have a carpet beetle infestation.
Another good way to identify a carpet beetle infestation is on your window sills. Adult carpet beetles are attracted to light, and often congregate near windows.
The best way to prevent a carpet beetle infestation is through housekeeping and integrated pest management. If you spot a carpet beetle or woolly bear on your collection, it's usually a good idea to bag that item right away. Many museum objects are safe to freeze if following the proper protocols, and this can kill carpet beetles, woolly bears, and eggs. Always consult a conservator if you're not sure whether a treatment method will be safe for your collection.
More Resources
Bell Museum: Meet the Beetles
Entomology: Carpet Beetles
Black Carpet Beetle
Varied Carpet Beetle
Solutions - Low Temperature Treatment
Not many people go into museum work because they love insects, but pest management is one of the most important tasks you can do to protect your collection. Common museum pests can wreak havoc before you know it, and they affect everyone - from your wool sweater collection at home to the pristine store rooms of a national museum. Today let's learn some fun facts about the common clothes moth.
Clothes moths come in two major types: the casemaking clothes moth and the webbing clothes moth. They look similar but the webbing moth larvae creates patches of silken webbing to protect itself while it munches on your collection, while the casemaking moth creates a small tubular case.
Clothes moths are only about half an inch long.
Adults will lay about 40-50 eggs, which are too small to easily spot on an object. The larvae look like little white caterpillars.
Only the larvae will cause damage to your collection, but it's easier to spot and trap the adults. You can buy clothes moth pheromone traps to easily monitor for them.
These pests feed exclusively on animal-based materials like wool, fur, silk, feathers, taxidermy, and leather.
Some warning signs to look for include webbing or silken cases on objects, and shedding fur as the larvae eat along where it connects to the skin.
Moths also leave behind a fecal material called frass, which looks a lot like sand. Moth frass is the same color as the material they are eating, so it can sometimes be quite colorful.
Moth larvae don't like light, so you can often find evidence of their presence in folds, cuffs, and crevices on objects.
The first step to protecting your collection from museum pests is learning how to identify them and spot damage before it gets out of control.
More Resources
Casemaking Clothes Moth
Webbing Clothes Moth
Entomology: Clothes Moths
Identifying Museum Insect Pest Damage
Museum Pests e-learning tool
Insect Pests in Museums Identification Poster
What is street art?
Street art is a cultural and artistic expression that has been created or installed in a public space. When there is prior permission and planning, it is often referred to as public art. Sometimes street art is considered vandalism, but other times it is embraced and valued by the neighborhood.
Street art can take a number of forms, including paintings, sculpture, posters, or even yarnbombing. Murals are paintings that have been created on walls and other architectural spaces, and are not portable. Street art paintings can also be applied on fabric or plywood boards.
Why is street art difficult to preserve?
Street art is usually not intended to last forever. A mural that is created after careful planning, using the most stable materials, and receiving regular maintenance, might have a lifespan of 20-30 years. Conservation and maintenance over time costs money, and it's very rare for there to be long-term financial support for street art. Additionally, it's often unclear whose responsibility it is to care for street art. Typically, the intellectual property belongs to the artist while the physical work might be owned by the building owner where the artwork was installed. Ideally, the decision to preserve street art should be agreed upon by the artist, building owner, and neighborhood. 
Here are the most typical problems with preserving street art: 
Materials used in its creation were not designed or tested for longevity
Misguided attempts to preserve might cause more damage
Vandalism
Exposure to weather, light, and pollution
No funding for maintenance or conservation treatment
Artist is unknown
Removing street art to preserve in more ideal conditions, such as in a gallery or museum, can strip the artwork of its context and identity, preserving the material but not the meaning 
Recommendations for preserving existing street art
Document the mural with high resolution photographs. Try to record the artist's identity and the types of paints and other materials used. Add this documentation to a local street art register if possible (examples: George Floyd & Anti-Racist Street Art, Chicago Mural Registry). 
Regularly assess the condition of the street art using a condition report form such as this version provided by the Canadian Conservation Institute: Outdoor Mural Condition Report Form. Conducting an annual inspection will allow possible issues to be addressed before they cause irreparable damage.
Encourage artists to become familiar with best practices for creating street art in order to choose materials and locations that will naturally enhance preservation - for example, avoiding south-facing walls where light damage and heat damage from the sun will be more intense, and choosing paints with light-resistant pigments. 
Coatings can be applied to protect the paint layer and to make it easier to remove graffiti. Coatings should be durable, permeable, reversible, and compatible with the artwork, so that they can be removed later without damaging the paint layer. Always test a coating in a small area before applying overall. Depending on a number of conditions, a clear coating can become cloudy, yellow, or begin to chip and flake. Don't apply impermeable and irreversible coatings (such as polyurethane), as these will cause more damage over time. Find more advice on coatings here. 
Don't attempt to preserve the artwork by covering it with glass or Plexiglass. This will trap moisture and dirt and speed up deterioration. It will also alter the appearance of the artwork, and make it more difficult to see. 
Use overhangs and gutters to redirect water away from the artwork. 
Maintain street art by sweeping around it, cutting back nearby plant growth, keeping gutters clean, and promptly removing graffiti or vandalism. You can install signage nearby with contact information for reporting graffiti or vandalism. 
If the mural is washed, it should be done as gently as possible without detergents and with minimal water pressure. Test a small area before cleaning overall. 
Try to obtain the permission of the artist, building owner, and neighborhood before moving street art to a protected location for preservation purposes. Document the original location and context as much as possible beforehand, and keep these records associated with the artwork. 
Further Reading
Best Practices for Creating Street Art
"Conservation guidelines for outdoor murals". Canadian Conservation Institute. (2017) https://www.canada.ca/en/conservation-institute/services/care-objects/fine-art/conservation-guidelines-outdoor-murals.html
"Mural Creation Best Practices". Rescue Public Murals. (n.d.) https://www.culturalheritage.org/docs/default-source/resources/mural-creation-best-practices-full-document.pdf?sfvrsn=4
Williams, B. "Techniques of Community Murals" Community Public Art Guide. (n.d.) http://www.cpag.net/guide/2/2_pages/2_1.htm
Sources 
Di Giacomo, G. "Top Tips in Street Art Conservation". Street Art Today. (2018) https://streetart.today/2018/07/24/top-tips-in-street-art-conservation/
Garcia, R. "Ephemerality, Values and New Models: an Approach to Graffiti and Street Art Conservation" Plowden & Smith. (2019) https://www.plowden-smith.com/ephemerality-values-and-new-models-an-approach-to-graffiti-and-street-art-conservation/
García Gayo, E. "Street Art Conservation: The drift of abandonment" SAUC Journal Vol 1 No 1. (2015) http://urbancreativity.org/uploads/1/0/7/2/10727553/gayo_journal2015_v1_n1.pdf
Hoagland, S. "Art or Awful: The Conservation of Graffiti". National Trust for Historic Preservation: Preservation Leadership Forum. (2019) https://forum.savingplaces.org/blogs/special-contributor/2019/05/30/art-or-awful-the-conservation-of-graffiti
Rainer, L. "The Conservation of Outdoor Contemporary Murals". The Getty Conservation Institute Newsletter, Volume 18, No. 2. (2003)  https://www.getty.edu/conservation/publications_resources/newsletters/18_2/feature.html
Santabárbara, C. "Street art conservation: beyond mural restoration" Opus n.s. n. 2. (2018) https://www.academia.edu/38624223/Street_art_conservation_beyond_mural_restoration_Conservazione_della_street_art_oltre_il_restauro_murale?auto=download
Smith McNally, R. and Hsu, L. "Conservation of Contemporary Public Art". Conservation Perspectives: the GCI Newsletter. (2012) https://www.getty.edu/conservation/publications_resources/newsletters/27_2/public_art.html