The Minnesota Historical Society's Local History Services helps Minnesotans preserve and share their history. This blog is a resource of best practices on the wide variety of museum, preservation, conservation, funding, and non-profit management topics. We're here to help.
 Subscribe in a reader
Create a username for your organization's Facebook Page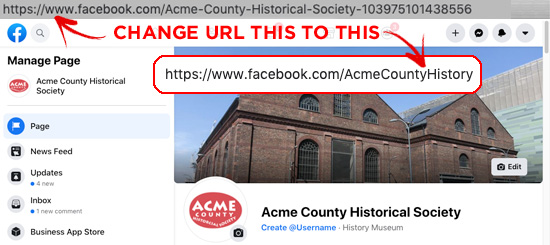 Why should I create a username for my Facebook Page?
Your username (aka page URL) is the link or address for your Facebook page. It is what shows up beneath your page name and in the address bar of your internet browser. It is to help people find and remember your Page. Ideally it should be a name that clearly says who your organization is.
Reasons for choosing a @username.
A well-formed @username allows people to search and find you and your organization easily without a lot of hunting around.
Having a @username makes it really easy for people to tag you in their posts and link to your Facebook page. 
Lastly having a good @username will help your organization rank better in searches.
Don't ignore this step. Having an appropriate @username for your page can make the difference between people finding your organization or not.
You want people to easily be able to search for your organization and using an obvious, straightforward name is one of the best ways to do that.
What to avoid naming your page:
@acme1858History - A name like that looks more like a weak password since no one will know it or remember it.
@HistoryIsFun - While history may be fun no one will associate the name with your organization unless your organization's name actually is "History Is Fun"
@AcmeCoHisSo - You get nothing out of abbreviating this way. No Search engine can find it and no one will ever remember it. You would be better off writing out the full name of your organization.
@AcmeCountyHistoricalSocietyMN - This actually is a good name to avoid confusion if your organization's name is very common like "Washington" or "Jefferson", "Franklin" or "Jackson" the four most popular county names. But if your organization's name is "Kandiyohi County Historical Society" it is a very safe bet you don't need to add the suffix "MN" to your name.
How do I create a username for my Facebook Page?
1. Click Create Page @Username below your Page's name.
2. Enter a username, then click outside of the composer.
FYI: Creating upper and lower case letters in your name (also called camel case) will help visually with your name.
However, for Facebook accounts, upper or lower case in the URL does not matter. Someone typing in "AcmeCountyHistory" or "acmecountyhistory" both are recognized.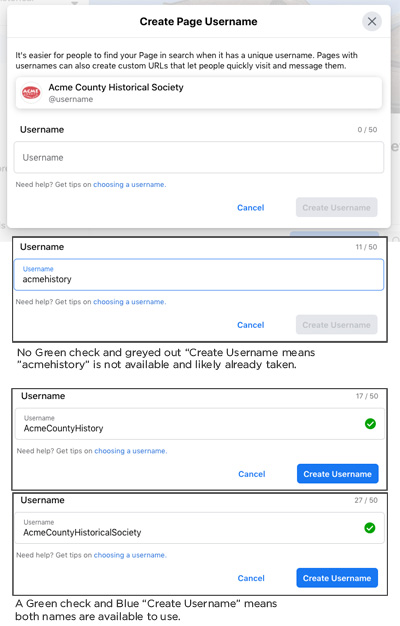 3. If the username is available, click Create Username and you're done!