The Minnesota Historical Society's Local History Services helps Minnesotans preserve and share their history. This blog is a resource of best practices on the wide variety of museum, preservation, conservation, funding, and non-profit management topics. We're here to help.
 Subscribe in a reader
Creating a Disaster Response Kit
Imagine that overnight, a pipe bursts in your collections storage room. You get to work in the morning, and one of your shelving units is soaked. You make sure everyone is safe, turn off the water, and activate the call tree described in your collections emergency plan. Thankfully, your emergency plan has detailed instructions on how to salvage and dry out the wet collection items! But first, you're going to need to find some polyethylene sheeting, towels, blotting paper, a spare table, a clipboard, a pencil, nitrile gloves, a mop, a fan, and a flashlight. How quickly are you going to be able to gather your supplies?
Response speed is essential when salvaging collections materials in a water-based emergency situation. Very few types of materials in museum collections are immune to water damage. The longer something is wet, the worse the staining or bleeding dyes will be, and the more likely things will become warped, corroded, or moldy. Personal safety must always come before collections are salvaged, but once the situation is safe you will want to act promptly.
The first step to take to reduce the impact an emergency will have on the collection is to develop a collections emergency plan. After you have your emergency plan, the next step is to create a disaster response kit.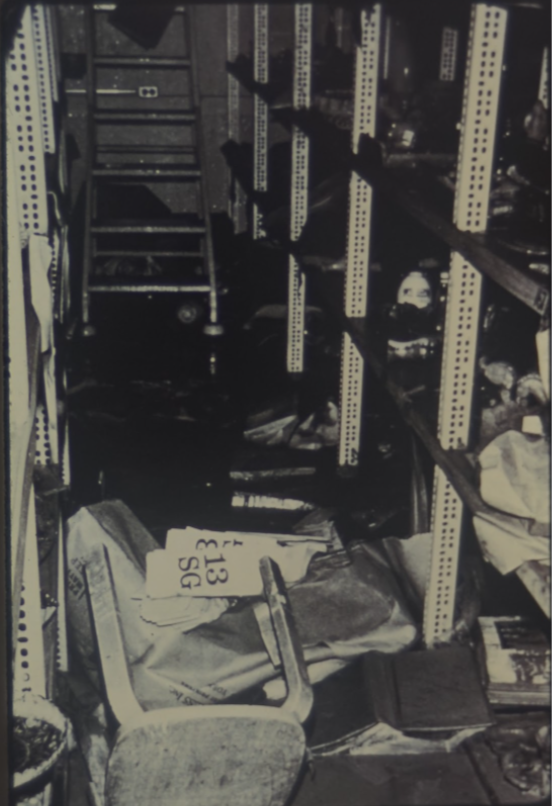 What is a disaster response kit?
A  disaster response kit is a collection of tools, equipment, and other materials that can be used to respond to a collections emergency. The kit should include enough supplies to fully respond to a small emergency, or to adequately respond to a larger emergency until more supplies can be purchased. It may be stored in a fixed location, such as a supply closet, or it may be mobile so that supplies can easily be moved to the needed location. The kit might be a small one for use in a single storage space; a larger one for your entire organization; or an even larger one to be shared between multiple organizations in a region.  
The contents of the kit should be specific to the needs of your organization. If you live in a flood prone area, you may want to focus efforts on preparing for that situation. Similarly, if your collection consists mostly of books and paper items, then your kit should be aimed at the needs of these materials. 
What does a disaster response kit contain?
Your disaster plan should help you prepare the contents of your kit by answering the following questions:
Which emergency situations are the most likely to occur? 
Which emergency situations would have the biggest impact on my collection? 
What materials in the collection are most at risk in an emergency situation?
What techniques and materials would be needed to recover the affected collections?
In general, a disaster kit should contain the following key components: a container, documentation materials, instructional documents, personal safety equipment, tools for scene/environmental control, collections salvage supplies, and other tools. Here are some examples of what you could include in your kit.
Backpacks
Wheeled crates
Plastic storage bins
Milk crates
Mobile trash can
Cabinets with doors/wheels
Push carts
Name tags
Clipboard
Notepads
Mechanical pencils, Sharpies, grease pencil, pens
Tape measure
Tie-on labels (paper or Tyvek)
Adhesive labels
Disposable camera
Emergency Salvage Wheel or other salvage guidelines
Copy of disaster plan
Floor plans
Gallery case access guides
Priority object locations
Loan agreements
Object damage reports
Wrench
Screwdrivers
Hatchet
Utility knife and blades
Nylon or polypropylene rope
Cable ties
Scissors
Crow bar
Flashlight with batteries
Waterproof extension cord/power strip
Wet vac
Fans
Dehumidifier
Portable generator
Folding tables
Personal Safety Equipment
Safety goggles
Disposable apron
Hard hat
Hand sanitizer
Disinfectant wipes
Reusable respirators or N95 masks
First aid kit
Nitrile gloves
Work gloves
Drinking water
Scene/Environmental Control
Temperature and relative humidity spot checker
6-mil polyethylene sheeting
Garbage bags
Duct tape
Caution tape
Mop and bucket
Door wedges
Fire extinguisher
Walkie talkies
Head lamp with batteries
Work lights and extra bulbs
Collections Salvage Supplies
Polyethylene zip top bags
Cotton string
Nylon monofilament
Plastic wash tubs and trays
Paper towels
White cotton rags
Unprinted newspaper
White cotton terry cloth
Wax paper
Freezer paper
Reemay
Mylar
Corrugated plastic board
Screens
Clothes pins/plastic clips
Clean brushes
Wood blocks or similar for stacking and propping things off the ground
Disaster response kits require upkeep and maintenance. 
Some components of the kit will expire (nitrile gloves, first aid kits, batteries, etc.) 
Kits should be regularly inventoried to ensure that all the tools and materials you expect will be there when needed.
Many (not all) of the materials are consumables and will need to be replaced after use.
Ensure that your organization has a strategy to keep your kit sustainable over the long term. 
The creation of a disaster response kit can be funded with a Minnesota History and Cultural Heritage Grant! Read more about these grants at this link, and by watching the video below.