The Minnesota Historical Society's Local History Services helps Minnesotans preserve and share their history. This blog is a resource of best practices on the wide variety of museum, preservation, conservation, funding, and non-profit management topics. We're here to help.
 Subscribe in a reader
Historic buildings: Identifying and Reading Architecture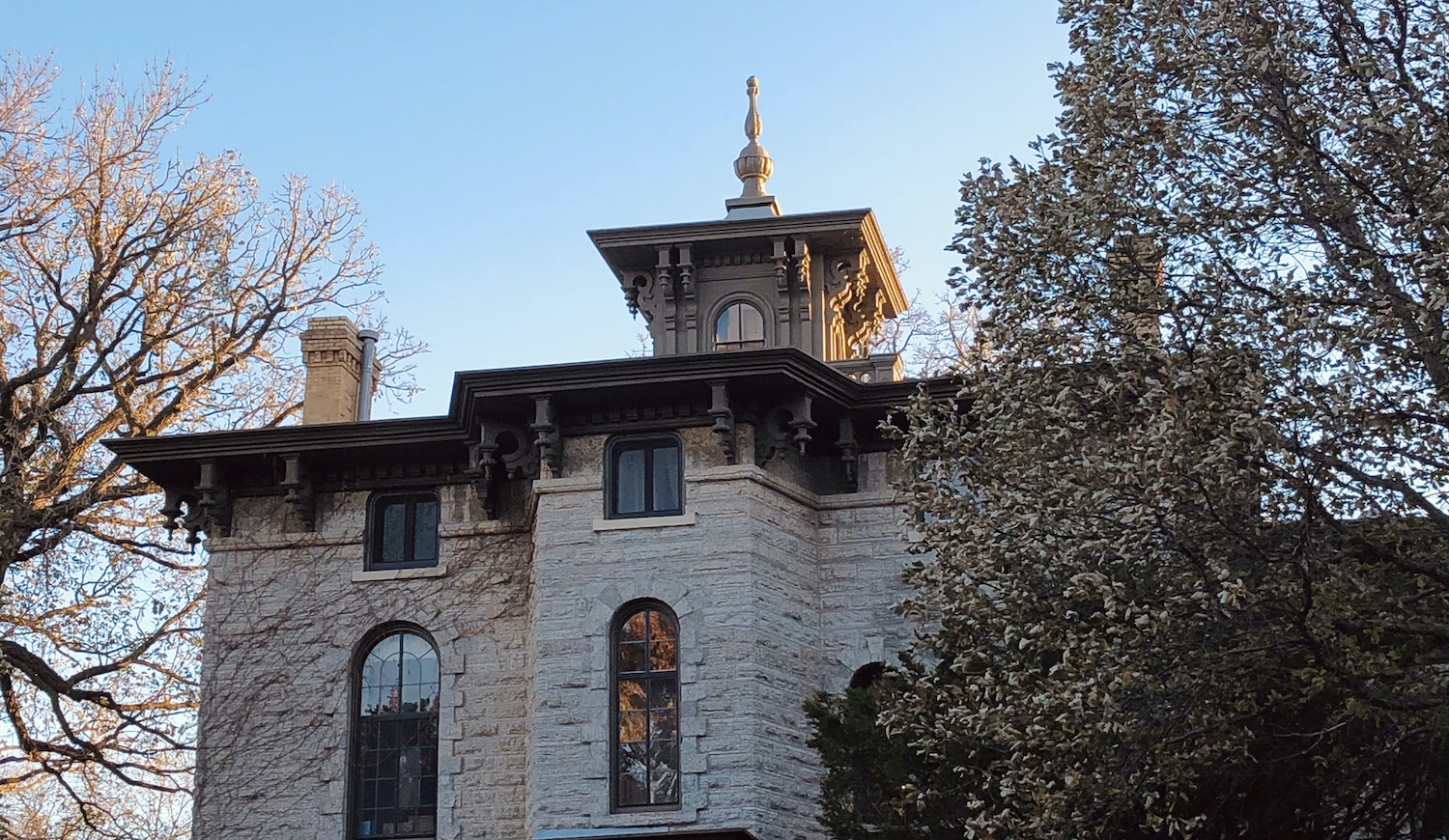 As a design reviewer at the Minnesota Historical Society, I am lucky that as part of my job I get to see a lot of interesting and varied architecture from around the state. I have enjoyed a front-row seat to some fantastic preservation projects. Helping people who are passionate about their built history and seeing those preservation projects progress and succeed is exciting and fulfilling. 
Another part of my job is being able to identify architectural features and read buildings. For me, this isn't merely a part of my job that I enjoy -- I feel it should be important to anyone interested in the history of their community or in built history in general. I'm passionate about preservation and I believe that the more we understand about architecture, the more we will realize its importance and will be invested in preserving it.
Why does this matter? 
You might ask "But wait, can this actually help me? Why should I invest time in learning about random architecture creatures?" There are actually a ton of benefits to being able to "read" architecture. Here are three (of the many) ways knowing how to identify architecture and recognize features can help you. 
1) It can help identify a general window date of construction.
2) It can help you identify construction methods and techniques 
3) It can help you understand the significance of the building 
Note: this blog post is focusing on exterior elements and features -- there is a mountain of information about the layout, plan, interior design and features of a building that also help to identify it. But that would be another blog post altogether.
Identify date of construction. Often there are papers, drawings, photographs or other documentation that can pinpoint the date of construction of a particular building. But sometimes there is no tangible documentation and so we have to rely on observation of the building to give us clues. (Side note: If you're planning on doing some major preservation work to your building, then we highly recommend consulting with a historic architect who has the expertise to analyze your building completely). But for an informal study of a building, if you have the ability to see key identifying features, then you can more often than not, place a building in a window of time when that architecture style was most prominent. For example, Second Empire (1855–1885), Craftsman (1905–1930), Queen Anne (1880-1910).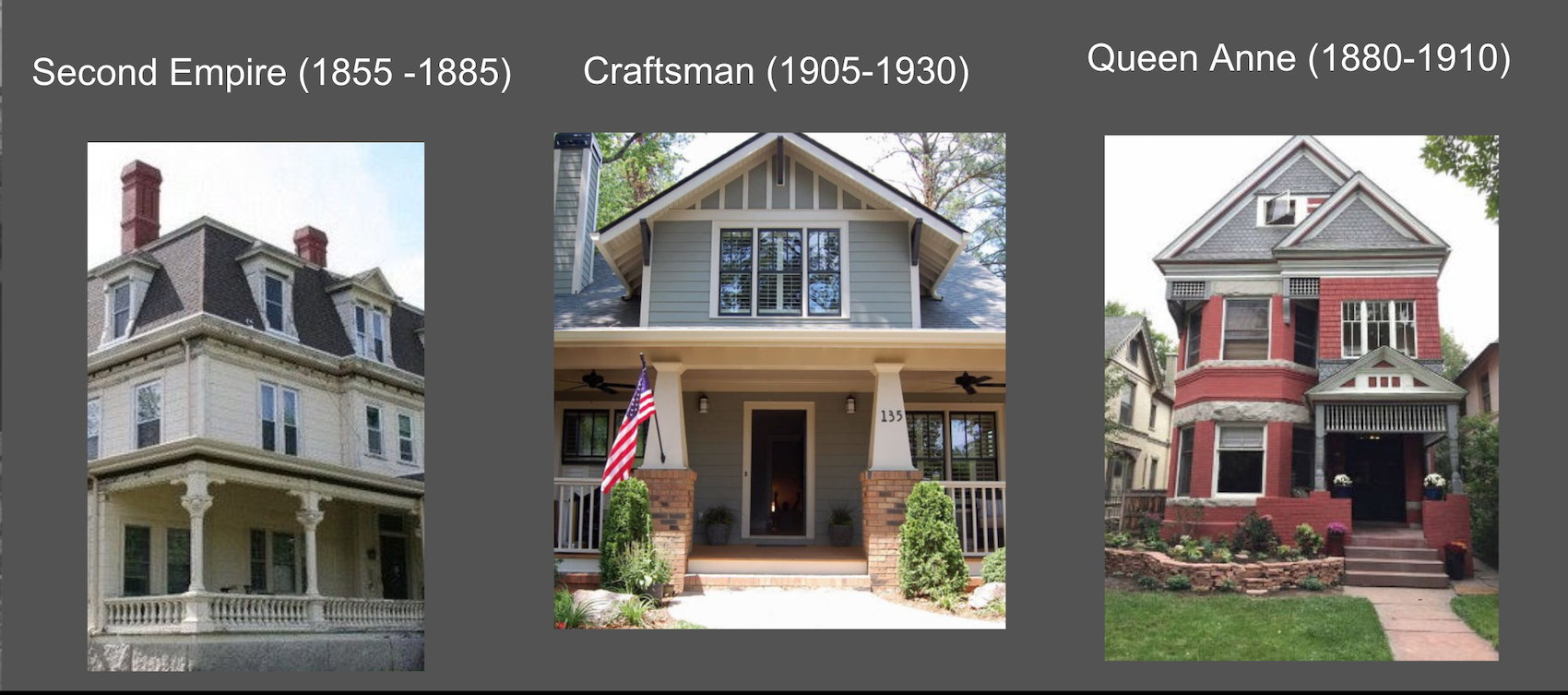 Construction methods and techniques. If you have an idea of the time period in which a building was built, then you have valuable insight into the construction of the building as a whole and techniques or materials that were likely used. Examples of this could be lath and plaster, roofing materials/techniques (such as slate, wood shakes or shingles, etc), different types of stone or brick patterns that indicate specific masonry techniques, mortar type, or asbestos-containing materials. All of this is valuable knowledge to those who are involved with historic architecture.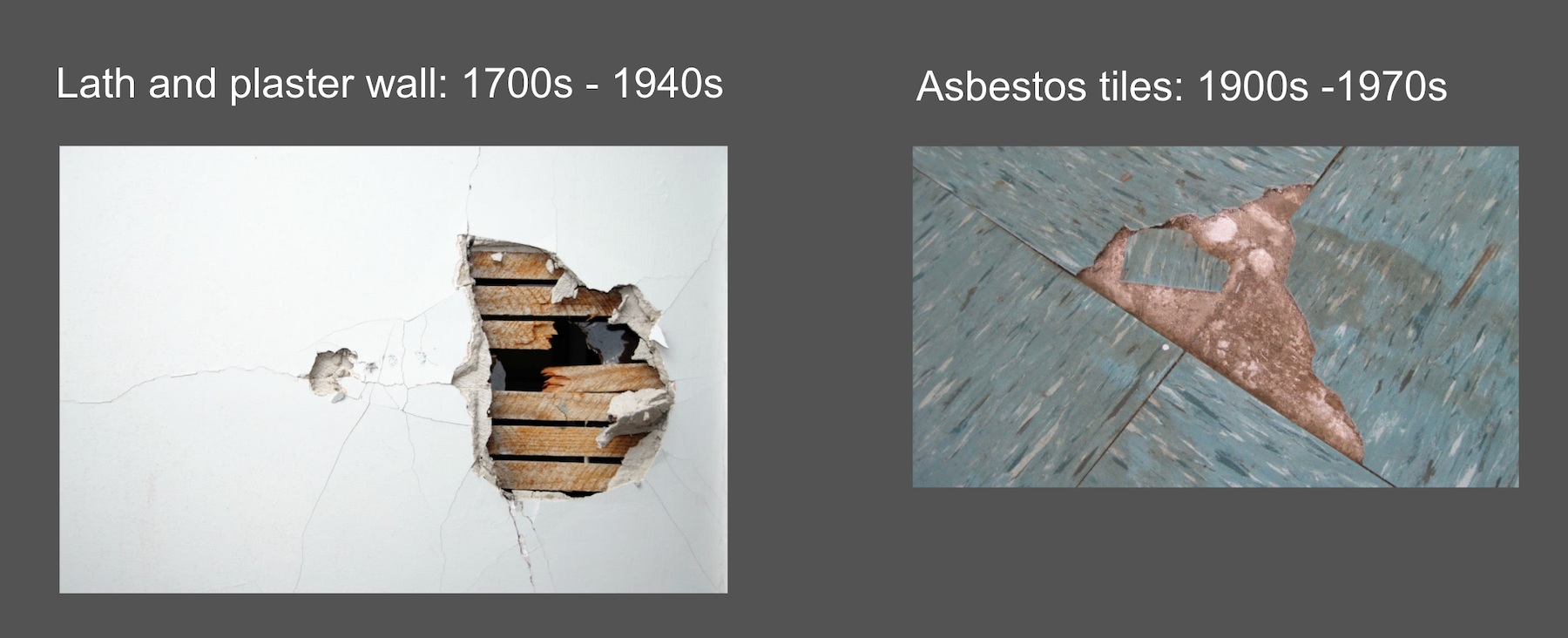 Understanding Significance. An important part of working with built history is understanding how the building interacts with and contributes to its surroundings. Does it contribute to an important time in the community? Does it represent some iconic art form? Does it provide physical evidence of a change or progression in the historic economy? These are all aspects of architecture that you can understand better if you know how to read the architectural elements of a building.
So, how does one get started in learning how to read historic buildings?
An easy place to start is to choose an architectural style that you like and learn some basics about it. You can start with a Google search or a reference book. Here are some great resources that may be helpful: 
Books: "A Field Guide to American Houses" Virginia Savage McAlester. "How to Date Buildings" Trevor Yorke. "American House Styles" John Milnes Baker. Digital resources: Architectural Styles of America and Europe (architecturestyles.org), Pevsner's Architectural Glossary (a mobile app), and don't forget Google! 
Let's take Gothic Revival for instance. After a quick read/search I can find a few key features of this architecture style: cross gable, steeply pitched roof, one-story flat-roofed porch, tall vertical windows, the classic gothic arch, and decorative barge-board detailing. There are many others, but these are a few of the most prominent.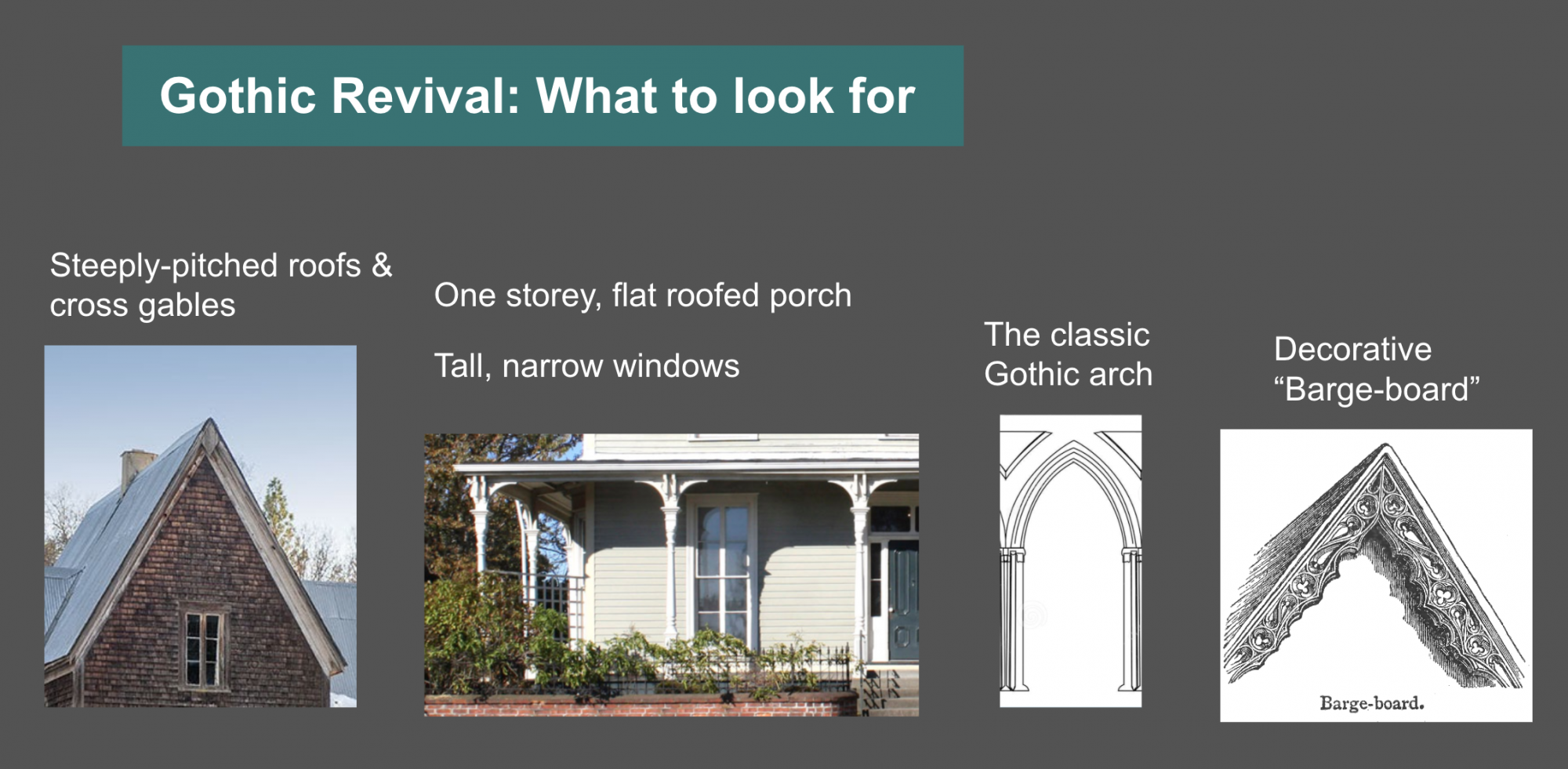 Once I know these few features I can practice identifying them on buildings, like this: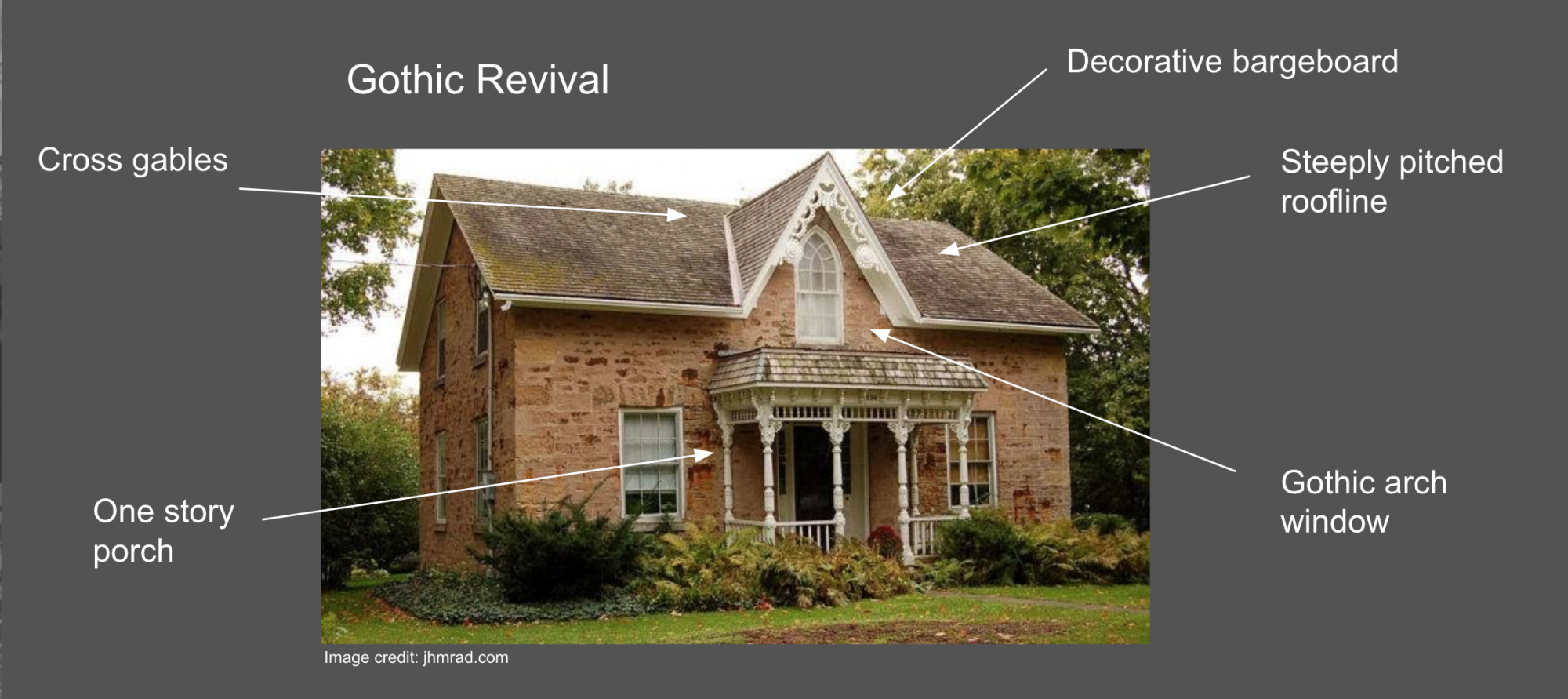 Note: reading/identifying buildings and their features is far from cut and dry. Often there are elements of several styles in one building. But if you know the basics, then you can learn to pick apart buildings and read their stories. 
By far the best way to start is simply to notice the architecture around you. Go on a walk, drive or run and look at the architecture that is in your neighborhood or town. You'll be surprised how easy it is to identify some buildings and many of their features. It's the best way to practice SEEING architecture because so often the architecture closest to us that we see every day is the same that we do not really see. Or at least do not notice. Also, look at your own house -- even if it's modern, you'll probably be able to see elements taken from older styles and nods to major architectural movements.  
You may have heard writers say they don't know what they think until they write about it -- or artists say they don't know what they've seen until they paint it. That is how I feel about architecture and having the words to describe and name features and building types, So often we don't know what we're seeing or experiencing until we can identify and name it.
-------------------------------------
Questions about this blog or requests for future blog posts? Contact us at localhistory@mnhs.org