The Minnesota Historical Society's Local History Services helps Minnesotans preserve and share their history. This blog is a resource of best practices on the wide variety of museum, preservation, conservation, funding, and non-profit management topics. We're here to help.
 Subscribe in a reader
History Where It Happens– Historical Markers in Minnesota
You might spot historical markers at interstate rest areas, local and state parks, or at simple pull-offs along the road. They come in different shapes, sizes, and materials, but all share a similar purpose–to draw attention to history. They stand as a reminder that history happens everywhere and isn't solely confined to museums and historic sites. There's countless stories to tell and an unlimited number of places to tell them.
Many states have prolific historical marker programs, with thousands of markers spread across their landscapes. Here in Minnesota, we also have plenty of markers to go around and a long history of erecting them.
History of the Minnesota Marker Program
Minnesota's historical marker program was inspired by the exponential increase in automobile traffic and expansion of the trunk highway system in the 1920s. The Minnesota Historical Society and Minnesota Highway Department (a predecessor to the Minnesota Department of Transportation) joined together to mark historic locations and capture the attention of tourists traveling across the state along new roads.The earliest markers took the form of steel plates, painted white with black lettering. The signs were placed just along the road with the intent that motorists could read the content without halting their journey, undoubtedly made possible by naturally slower traffic.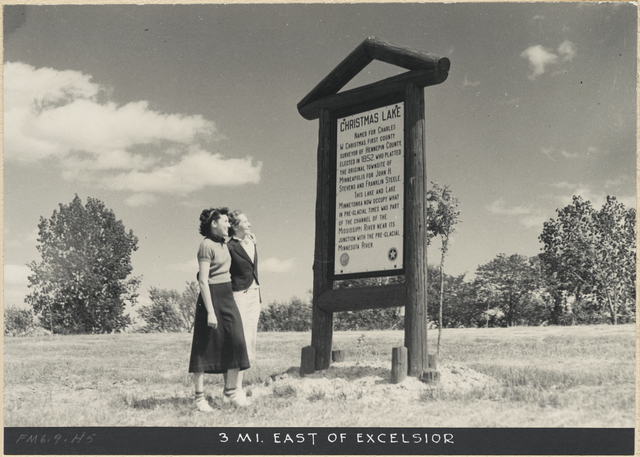 Christmas Lake historical marker in Shorewood, Minnesota. Circa 1939. Image from Minnesota Historical Society Collections
Gradually, the program began to erect more substantial structures to display the markers. Throughout the late 1930s and 1940s, New Deal groups like the National Youth Administration (NYA) constructed elaborate brick or stone "shrines" to frame metal plaques. This marker style required visitors to stop and get a closer view to read. As time progressed, these "permanent" markers continued to evolve into plaques mounted on more straightforward plinths of concrete and stone.
For those traveling around Minnesota today, they'll mainly encounter markers erected in the last fifty years. Beginning in the 1960s, the marker program shifted away from complex construction to simpler aluminum signs cast by Sewah Studios, an Ohio company responsible for creating numerous states' historical markers. These less-intrusive markers led to a greater variety of locations–moving beyond major highways. MNHS continued to steadily erect new markers in this style until the early 2000s, when a reduction in funding paused the program.
A twenty-year break can create a lot of questions. Where are the markers and are they still there? What do they look like and what do they mark? There's some catching up to do, and this is where I come into the picture.
For the last several months I've been traveling the back roads of Minnesota, hunting for historical markers. Pulling from past records and sources like "Minnesota History Along the Highways," I compiled a list of markers to search for–a little over 200 markers erected by or directly connected to MNHS.
The next challenge was determining where to search for the markers. Some were easy to track down on maps and crowdsourced websites, while others required scanning Google satellite and street views or even piecing together clues from photographs. Once located, I travel to a marker and record GPS coordinates, take extensive photographs, and note its physical condition. The photos also allow me to transcribe a marker's text later.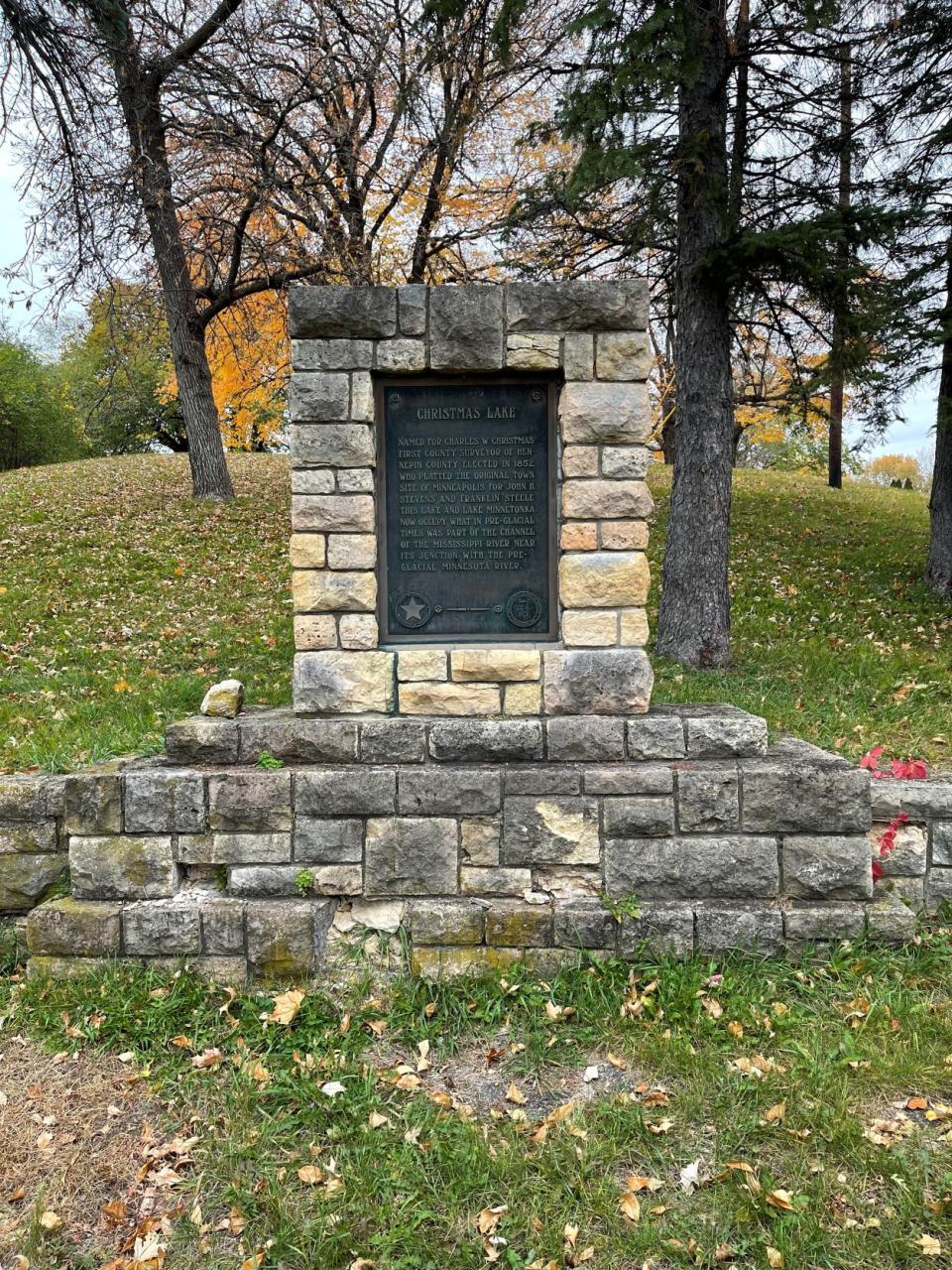 Christmas Lake historical marker in Shorewood, Minnesota. Surveyed October 27, 2021. Photo by Liz Koele.
At this point in the project, only a small handful of markers remain to be surveyed. Next steps include taking a closer look at their stories, processing the collected survey data, and preparing a report with recommendations for the future of the marker program. In the meantime, stay tuned for updates on the MNHS historical marker program in the future.
Historical Markers Near You
Despite the focus on the state marker program, there's no monopoly on markers in Minnesota. MNHS is far from the only organization to erect historical markers. Created by local historical societies, civic organizations, and others, Minnesota is home to thousands of markers beyond those included in our survey.