The Minnesota Historical Society's Local History Services helps Minnesotans preserve and share their history. This blog is a resource of best practices on the wide variety of museum, preservation, conservation, funding, and non-profit management topics. We're here to help.
 Subscribe in a reader
Windows have of course long been called the eyes of buildings as they are usually a leading character-defining feature that transmit light but also illuminate an important component of the Industrial Revolution and construction. They tell us a lot about their host buildings, such as their owners and their tastes and interests, as well as styles, uses, and alterations over the years.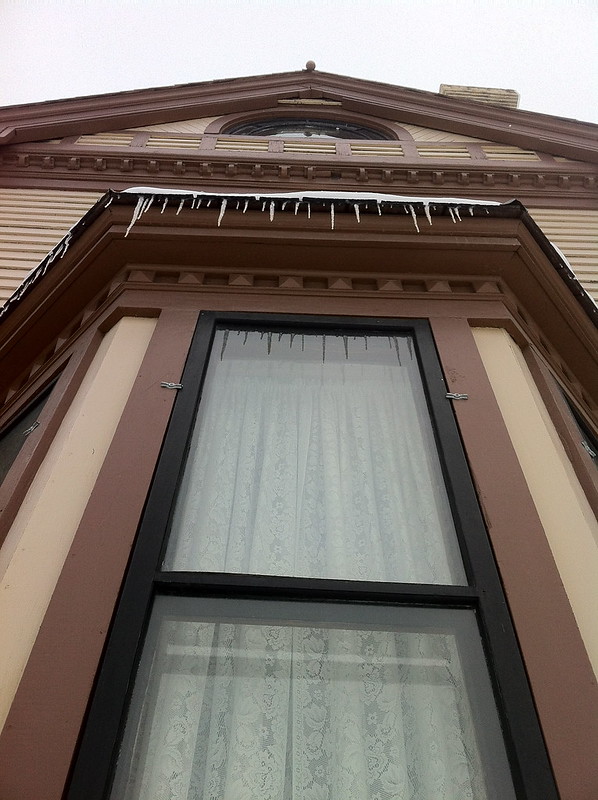 Comstock Historic House, Moorhead, Minnesota.  Source: MNHS.
This Minnesota Historical Society (MNHS) museum property was constructed in 1883 for a prominent Red River Valley family who was active in railroad and educational pursuits. Storm windows paired with regular sash windows help provide thermal protection from the prairie elements.
The multibillion dollar window replacement industry is able to dedicate considerable funding to try to convince people that only replacement windows will eliminate drafts. However, here in a state with weather as diverse and dynamic as Minnesota's, people have long thought of ways to make their buildings as weathertight as possible. These options allow people to continue to enjoy the effects of the painted wood frames and the unique types of window glazing like crown, cylinder, and faceted glass that would otherwise likely end up in a landfill.
"Unlike historic windows, new window assemblies cannot be repaired; they can only be replaced once again. The sustainable choice is to repair historic windows whenever possible." National Park Service 
Of course, the main requirements that window structural integrity rests on are regular observation and maintenance. Repairs should be made as soon as possible. Finding professionals who are experienced at window repair and rehabilitation is very important. National Park Service's Preservation Brief 9 and 13 along with Preservation Tech Notes Windows 1-22 are excellent starting resources when considering window care and weatherization. More effective than having weathertight windows is ensuring that, especially, ceilings and attics are insulated and, less so, exterior walls are insulated too. 
Storm Windows 
"A 2002 study confirmed that installing a storm window over a historic window can achieve a similar thermal performance to that of a new low-E vinyl replacement window. This experiment conducted by Lawrence Berkeley National Laboratory also noted that remaining air infiltration around the historic window and storm assembly is a matter of occupant comfort rather than energy efficiency." Weatherization: Windows and Doors National Park Service 
The use of storm windows, which have supposedly been around since the eighteenth century, can be effective year round, while only changing to screen windows the locations that need to be opened for ventilation during the summers. Thankfully, there are exterior and interior storm windows that come in a variety of materials, colors, and finishes that can complement historic buildings. Storm windows should match the overall style and color of the main windows they are serving. Speaking with a historic architect or building preservation professional can be of considerable assistance when navigating the many options to find suitable ones for the subject building. 
Sometimes, some of the storm window suppliers are from more obscure manufacturers. Often finding the most in-kind type of storm window may require contacting the manufacturer who will hopefully find the best match through a deep array of options. Existing storm windows should be retained, either on the building or in storage, as often as possible. Many of the finest historic storm windows even included true glass dividers of wood and stained glass margin lights. 
Storm windows significantly reduce the amount of sound that is transmitted through an opening. A single-pane historic window with a storm window provides greater noise reduction than a double-pane replacement window because there are two different systems instead of one; having two different systems provides a noise break. Some storm windows also integrate or have a basic surface for applying a UV-protection film or privacy glass, film, or safety glass.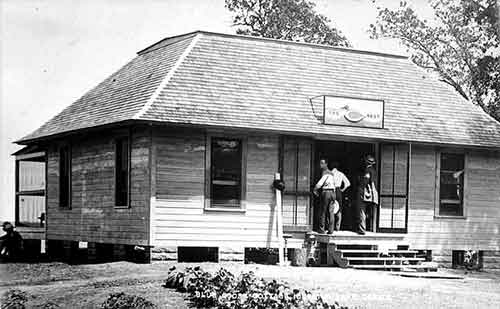 Blue Goose Cottage, Idlewilde, Lake Osakis, Osakis.  Source:  MNHS.
This 1940 photograph of this resort cottage shows how screen windows and screen doors were utilized in the summer months to repel insects while allowing cross ventilation.
Shutters 
Most commonly wood or metal, these devices, when closed shut over windows, can help weatherize the openings in a considerable way. However, they should not be utilized unless they were featured on the building historically. Adding features that were never there on the building creates a false sense of history. However, when there is photographic or physical evidence they had been utilized, there are regional manufacturers, repairers, and restorers of this feature, including here in Minnesota. 
Awnings 
Usually more useful in summer than in winter, these exterior window coverings are usually made of some type of cloth but also can be made of metal or other materials. They often keep out the sun in the summer but also can find a way to reduce wind and rain in the spring and fall. In commercial buildings, they would help keep interiors and window shoppers more comfortable and reduce HVAC costs.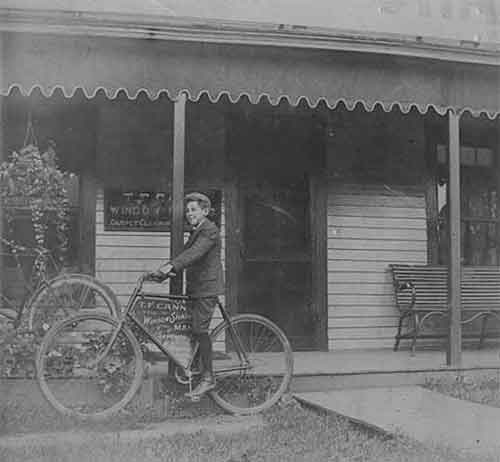 T.F. Cann Window Shades and Awnings, Seventh and Hennepin, Minneapolis. Source: MNHS.
This 1899 photograph shows an interesting scalloped awning on the porch of this building.
Treatments / Accessories 
Using drapes, curtains, and sheers, as appropriate, to minimize drafts and temperature fluctuations while providing privacy, defining views, and creating the right ambience has long been considered an economic option for reducing temperature changes, solar fading, and sound transmission within a building. 
Drapes
Drapes are usually of very heavy fabric that is tightly woven and effective at greatly reducing drafts and separating heat and cold.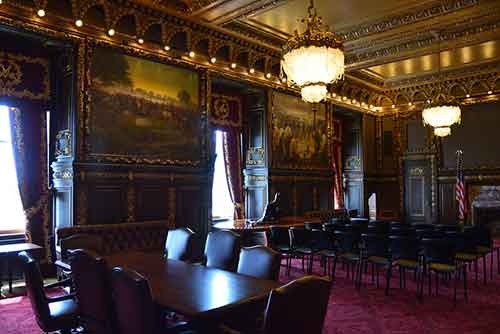 Governor's Reception Room at the Minnesota State Capitol, St. Paul, Minnesota. Source: MNHS.
The decorative drapery and pelmets (located at the tops of the window openings) provide for dramatic and decorative shading of light and weatherproofing in this landmark, which was constructed from 1896 to 1905.
Curtains 
Curtains are slightly more lightweight than drapes and can be effective for filtering light and sound and helping to provide a lesser amount of weatherproofing. Made of a variety of fabrics and fibers that have transitioned from natural to synthetic over the years, curtains also help provide decoration and privacy.
Sheers 
This thin gauzy material is more minimally effective at weatherization but is often considered beautiful in window treatments while providing some privacy. It is utilized together with curtains or drapes and is sometimes used all by itself. Historically, materials such as cotton and linen were used while in recent years polyester and nylon have been featured.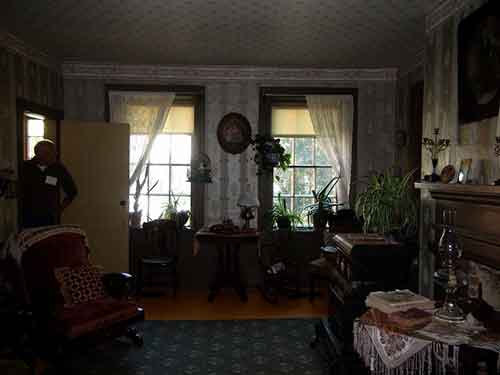 Historic Forestville, Minnesota.  Source: MNHS.
The sheer curtains and blinds provide a layered appearance that gives versatility to regulating temperature, light, and privacy in this decorative nineteenth-century space.
You might spot historical markers at interstate rest areas, local and state parks, or at simple pull-offs along the road. They come in different shapes, sizes, and materials, but all share a similar purpose–to draw attention to history. They stand as a reminder that history happens everywhere and isn't solely confined to museums and historic sites. There's countless stories to tell and an unlimited number of places to tell them.
Many states have prolific historical marker programs, with thousands of markers spread across their landscapes. Here in Minnesota, we also have plenty of markers to go around and a long history of erecting them.
History of the Minnesota Marker Program
Minnesota's historical marker program was inspired by the exponential increase in automobile traffic and expansion of the trunk highway system in the 1920s. The Minnesota Historical Society and Minnesota Highway Department (a predecessor to the Minnesota Department of Transportation) joined together to mark historic locations and capture the attention of tourists traveling across the state along new roads.The earliest markers took the form of steel plates, painted white with black lettering. The signs were placed just along the road with the intent that motorists could read the content without halting their journey, undoubtedly made possible by naturally slower traffic.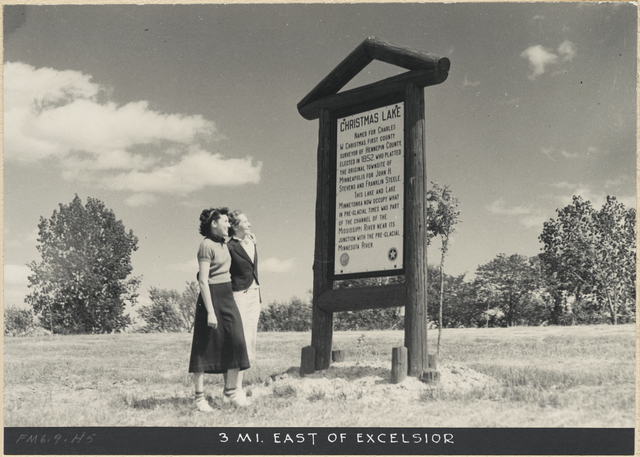 Christmas Lake historical marker in Shorewood, Minnesota. Circa 1939. Image from Minnesota Historical Society Collections
Gradually, the program began to erect more substantial structures to display the markers. Throughout the late 1930s and 1940s, New Deal groups like the National Youth Administration (NYA) constructed elaborate brick or stone "shrines" to frame metal plaques. This marker style required visitors to stop and get a closer view to read. As time progressed, these "permanent" markers continued to evolve into plaques mounted on more straightforward plinths of concrete and stone.
For those traveling around Minnesota today, they'll mainly encounter markers erected in the last fifty years. Beginning in the 1960s, the marker program shifted away from complex construction to simpler aluminum signs cast by Sewah Studios, an Ohio company responsible for creating numerous states' historical markers. These less-intrusive markers led to a greater variety of locations–moving beyond major highways. MNHS continued to steadily erect new markers in this style until the early 2000s, when a reduction in funding paused the program.
A twenty-year break can create a lot of questions. Where are the markers and are they still there? What do they look like and what do they mark? There's some catching up to do, and this is where I come into the picture.
For the last several months I've been traveling the back roads of Minnesota, hunting for historical markers. Pulling from past records and sources like "Minnesota History Along the Highways," I compiled a list of markers to search for–a little over 200 markers erected by or directly connected to MNHS.
The next challenge was determining where to search for the markers. Some were easy to track down on maps and crowdsourced websites, while others required scanning Google satellite and street views or even piecing together clues from photographs. Once located, I travel to a marker and record GPS coordinates, take extensive photographs, and note its physical condition. The photos also allow me to transcribe a marker's text later.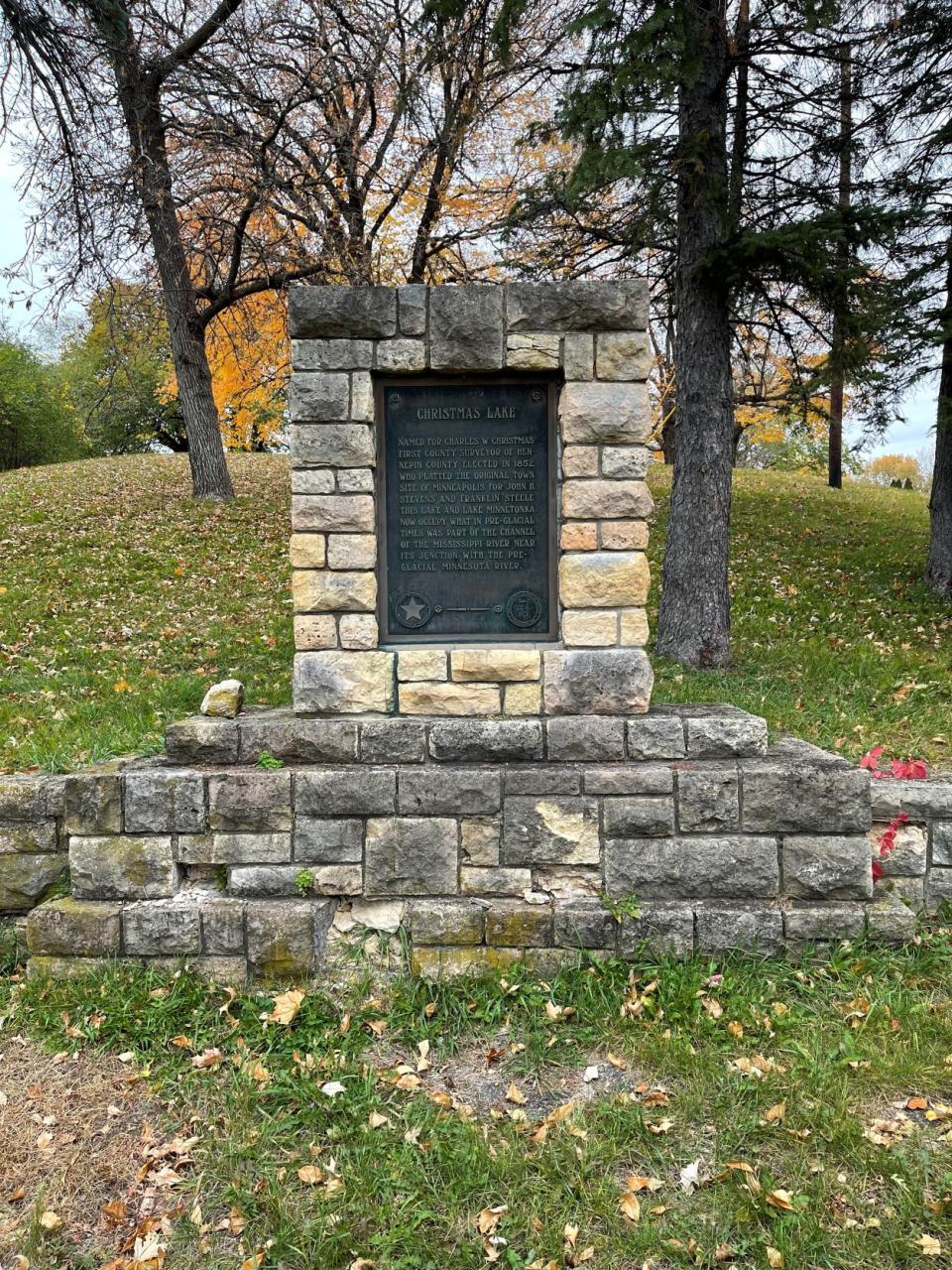 Christmas Lake historical marker in Shorewood, Minnesota. Surveyed October 27, 2021. Photo by Liz Koele.
At this point in the project, only a small handful of markers remain to be surveyed. Next steps include taking a closer look at their stories, processing the collected survey data, and preparing a report with recommendations for the future of the marker program. In the meantime, stay tuned for updates on the MNHS historical marker program in the future.
Historical Markers Near You
Despite the focus on the state marker program, there's no monopoly on markers in Minnesota. MNHS is far from the only organization to erect historical markers. Created by local historical societies, civic organizations, and others, Minnesota is home to thousands of markers beyond those included in our survey.
The Jewish Historical Society of the Upper Midwest's opportunity to house its entire collection at the University of Minnesota's Anderson Library has freed up the organization to allow it to develop and focus on interpretation, outreach and education.
MinnPost on Saturday October 2, 2010, ran an
article on Linden Hills
, a two-mansion historic site complex in Little Falls, that discussed the competing concerns when a house museum allows for overnight stays.
This blend between historic house museum and bed & breakfast is not surprising considering the economic times. Small nonprofits need to look under every rock and pillowcase to find resources to preserve the past, and those funds are elusive. Perhaps with the growing popularity of so-called "stay-cations" offering a historic house museum as a place to stay overnight could appear to be a win-win.
The stroke of genius in allowing people to stay in a historic house museum is that these museums recognize that buildings were built for a purpose. In the case of historic house museums, they were originally built to house people and are generally not as well suited to museums. Allowing people to stay in them fulfills the purpose for which the house museum was designed and thus potentially furthers the building's preservation and the organization's mission.
The work of history, though, is not just about preservation. It is also about access. A colleague of mine often tells me there is absolutely no reason to save anything, unless we can figure out how to make what we save accessible and relevant. The blending of museum and B&B also meets this admonition as guests have unparalleled access to the past as they get to rest in its comforts. Not only can they put themselves in the shoes of those that lived in the past by walking the same halls to the same toilets, but they can literally dream where others dreamt.
As with everything else, this blending does not come without risk. Certainly curators and conservators might easily point out the risk to the collections on account of such far reaching access. The collections may be further at risk from plumbing needed to allow occupancy, since it is never a question of if a pipe will leak, but when. And, if the "breakfast" part of B&B involves cooking in the historic house there is also the issue of infestation and migratory residues.
Further risks include working with state departments that
regulate kitchens
, local building officials who monitor
code compliance
for occupancy, and the Internal Revenue Service for potential
Unrelated Business Income
. There may be others.
Linden Hills
is not the only historic house museum to offer this opportunity in Minnesota. Among the them are
Dayton House
in Worthington and the
Two Harbors Light Station
on the North Shore.
Staying overnight in a historic house museum, though, is nothing new. Many traditionally had caretakers who lived on site for security and other reasons.
Folsom House
, operated by the
Taylors Falls Historical Society
, still carries on that tradition. There may be some others that use a portion of their historic house museum as rental property, which can be a locally sticky issue.
Perhaps what is a new trend is both the transient nature of overnight stays in historic house museums and how common it is becoming. There don't appear to be studies showing the prevalence of this trend, but it can be spotted around the world, including the
President Paul Kruger House Museum
in Pretoria, South Africa, and
80 National Trust sites in the United Kingdom
.
There may be other house museums considering taking this step. Those entrusted with these historic resources would do well to carefully consider risks along side of the potential rewards by having conversations with their tax advisor, local building inspectors, health department officials (if applicable), preservation experts, local residents about their thoughts, internally about how such a proposal fits mission, and with those that currently operate historic house museums with an overnight stay option for the public.
This was a session at the AASLH Conference in Oklahoma City last week. The point was that the emotionally charged questions and those questions that require a complex, nuanced answer are precisely the kinds of questions that bring people to visit historical organizations. Although these may make tour guides cringe, these kinds of questions bring out passion and curiosity, and inspire dialog and learning. We ought to embrace these questions, relish the opportunity to discuss them, and welcome people to ask them.

On the horizon, the U.S.-Dakota War of 1862 anniversary may prompt some of these kinds of questions.

What questions do you hope no one will ask? What are you doing to prepare docents and tour guides to answer difficult questions?
The Sunday March 21, 2010, 
St. Paul Pioneer Press
carried an interview between Dan Carr of "
The Collaborative
" and Gov. Tim Pawlenty. In the
interview
, Gov. Pawlenty makes a statement that "we have a government that is kind of a 1940s industrial model in a world that is becoming an iPad. Those two things are going to be reconciled and the marketplace will decide this."
Politics aside, the remark prompted a parallel thought, replacing "government" with "historical society" and "marketplace" with "user."
Some kinds of cultural institutions will have less trouble adapting to changes and expectations. One can easily see how children's museums in particular can allow individuals to be in charge of robust choices in real time. Historical organizations also will easily adapt to the expectation of less emphasis on physical location through the addition of digital content and being able to share history outside of its bricks-and-mortar location, though the storage of documentation has to happen somewhere.
However, historical organizations may have more difficulty in letting go control of the facts of history and how the story is presented. Or will it be?
In what ways have you begun to adapt to more modern expectations? Specifically how have you attempted to stay ahead of this rapidly changing set of expectations? In what ways might historical organizations stuck in a "1940s industrial model"?
USA Today carried the story
Kids' electronic media use jumps to 53 hours a week
. If one goal of local historical organizations is to be where people are, and children spend 53 hours a week on average with electronic gadgets, what should local history museums be thinking about?
One approach might be to embrace all of the eGadgets and aim to put programming in them where children will encounter them. Another might be to include more of this kind of hardware in our exhibits, websites, and public programming. Another still might be to forgo eMedia altogether to offer children a break from what they do, instead of piling on more time. There should be further strategies: how will you use electronic gadgets to your advantage?