The Minnesota Historical Society's Local History Services helps Minnesotans preserve and share their history. This blog is a resource of best practices on the wide variety of museum, preservation, conservation, funding, and non-profit management topics. We're here to help.
 Subscribe in a reader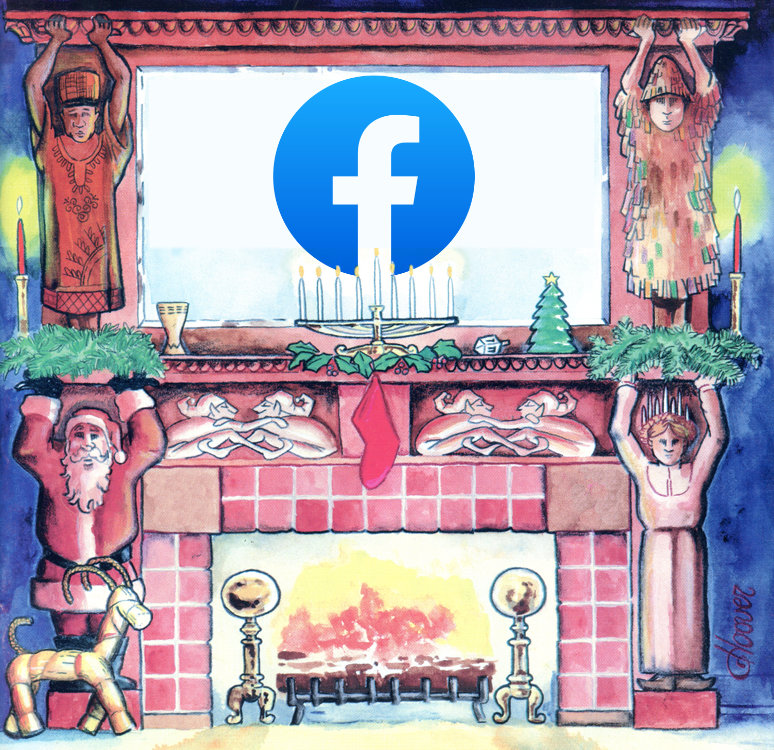 Take a long look at your postings around the winter holidays. Are they fairly Christmas-centric? Do Hanukkah and Kwanzaa feel like add-ons? Or worse, are they simply ignored? Some history organizations strive to strike a balance but most do not.
For nearly ten years each week as part of my work in the Local History Services office at the Minnesota Historical Society, I put out the e-newsletter 'Local History News.' Much of the e-newsletter functions as a digest of what local history organizations around Minnesota are posting on their social media accounts.
Each week, I review posts on over 300 history organizations with Facebook, Twitter, and Instagram accounts to capture news and events of what is happening in the world of Minnesota's local history community to add to the e-newsletter. Years of doing this have left me with some insights from the long view of seeing what is posted.
Another holiday season is behind us and in my years looking at posts I have noticed a pattern. Each holiday season, I see hundreds of posts on Christmas, yet little-to-no posts recognizing any other holiday during that time. This year I decided to do a little unscientific counting to see how posting on the holidays adds up. This shows some curious numbers.
I counted years from 2018 to 2021 doing simple keyword searches for each holiday. To keep my time and project manageable, I limited my scope to only searching Facebook and the 76 county historical societies that have a presence on that platform.
It is not surprising over four years Christmas dwarfs other holidays in the number of Facebook postings it gets - 1461 by my count. But what is surprising is the lack of acknowledgment by history organizations to other holidays of the season in their Facebook posts. The next highest is Hanukkah with only 13 posts and Kwanzaa (or Kwanza) gets a total of 7 posts over four years. Typically the postings are done by the same organizations. Usually, Hanukkah and Kwanzaa are in a message that ties it with Christmas such as "Merry Christmas and Happy Hanukkah!" rather than a stand-alone message about the holiday. Yule, which was mentioned 4 times was always tied to Christmas. Standalone  "Happy Holidays" messages occurred 49 times in four years.
Holiday Season Posts by County Historical Societies
YEAR
CHRISTMAS
EASTER
HOLIDAYS
HANUKKAH
RAMADAN
KWANZAA
(or Kwanza)
PASSOVER
YULE
2021
376
35
11
3
1
3
1
1
2020
333
25
10
7
0
4
2
2
2019
407
25
13
0
0
0
1
1
2018
345
14
15
3
1
0
0
0
TOTAL
1461
99
49
13
2
7
4
4
 
Average
365.25
24.75
12.25
3.25
0.5
1.75
1
1
Outside of the Holiday Season
If you're going hard into the Christmas season it is only fair to look at a few of the holidays outside of it. Enter: Easter, Passover, and Ramadan.
It can be said of Christmas it is a commercial holiday (similar to Halloween and Valentine's Day both of which also receive a lot of posts), and that reflects the majority of posts by history organizations, most being tied to events, gift sales, and requests for donations. Only a small amount of the 1461 posts can be considered non-commercial and posted in the true recognition of the holiday. The number of Easter posts gives a better idea of posting on the holiday rather than using it to raise funds. Between  2018 and 2021 I counted a total of 99 posts from county historical societies on Easter. Far less than the 1461 posts for Christmas. However, the other during that time Passover and Ramadan received only 4 posts and 1 post respectively from county historical societies.
Other Holiday Posts by County historical societies
YEAR
EASTER
PASSOVER
RAMADAN
2021
35
1
1
2020
25
2
0
2019
25
1
0
2018
14
0
1
TOTAL
99
4
2
 
Average
24.75
1
0.5
Holiday posts by the Minnesota Historical Society
If I am going to count the postings by county historical societies it is only fair that I include the Facebook posts by the Minnesota Historical Society. Between  2018 and 2021 I counted a total of 47 posts on Christmas using the criteria used for county historical societies; 10 posts for Hanukkah; 4 posts for Kwanzaa; 0 posts for Yule; 4 posts for Easter; 2 posts for Passover; and 1 post for Ramadan. Posts with Happy Holidays messages numbered at 9.
Holiday posts by the Minnesota Historical Society
YEAR
CHRISTMAS
HANUKKAH
KWANZAA
YULE
HOLIDAYS
EASTER
PASSOVER
RAMADAN
2021
7
3
2
0
2
1
1
1
2020
5
3
1
0
1
1
1
0
2019
16
2
1
0
4
1
0
0
2018
19
2
0
0
2
1
0
0
TOTAL
47
10
4
0
9
4
2
1
History organizations have goals beyond Christmas nostalgia, warm fuzzies, and income generation. Social media posting needs to reflect that. Don't stop celebrating Christmas or using it as a seasonal fundraiser as many do, but acknowledging other cultures in a diverse society is significant. History organizations work teaching local cultural information. In doing that work, it is important to bring attention to cultures, not in the mainstream and help examine cultural assumptions held by the local mainstream population. We are a Christmas-centric society where 90% of Americans celebrate Christmas (54% celebrate it as secular). However, your non-Christmas holiday posts can make observers of other religions outside of Christianity feel welcomed and celebrated by your organization. Posts on non-Christmas Holidays also acknowledge to your social media followers there are active cultural traditions different from their own in and outside their community.
How I counted…
The posts had to have happened during the holiday season they are associated with, postings such as "Christmas in July" were not counted. Comments in the posts where people mentioned the holiday when the post did not contain mention of the holiday were not counted either. The numerous postings of Christmas photos, Santa photos, Christmas tree photos, Christmas card images were not counted either if the post did not say Christmas in it (I suspect that it could double the Christmas count). Many other religious holidays, most notably in the fall, were not counted.
Looking for a list of holidays and religious observances? The University of Minnesota's Office for Equity and Diversity keeps a very comprehensive list »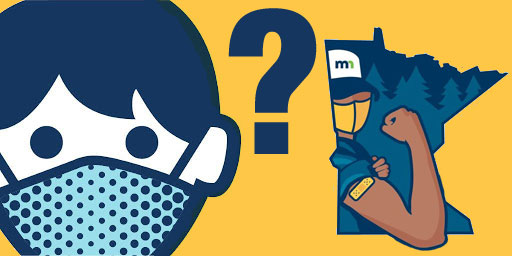 Things are changing fast. Last week, we published a blog post on the state's three-step process to wind down many of the public health measures to respond to the COVID-19 pandemic. Within a matter of hours, the state announced major changes regarding the uses of face-coverings that made some of that information out-of-date. 
The big change happened with the Center for Disease Control (CDC) announcement. They adjusted their recommendations to advise that fully-vaccinated people do not need to wear face-coverings in many situations. 
So what are the changes and how do they affect historic sites and museums? The three-step process is largely intact with the obvious exception of what it had said about the mask mandate expiring when the vaccination rate reached 70% or on July 1, regardless of the vaccination rate.
According to Executive Order 21-23, face-covering requirements in most situations have been lifted. People who are not vaccinated are "strongly encouraged" to wear a face-covering until they are fully vaccinated. 
It's important to know that the executive order does not prevent political subdivisions (like cities and counties) from placing restrictions within their jurisdictions that are more strict than the executive order. It also states that nothing prevents "businesses and other private entities… from implementing otherwise lawful policies or rules related to the conduct of their employees… or customers— including lawful face-covering requirements."
In other words, be aware of what your local orders are and a museum can require face-coverings with its own policies. 

EDIT: Shortly after this post was publsihed the State of Minnesota issued updated guidelines and a new Executive Order. Check out the new blog post with updated information here. 
It's been quite an experience for Minnesota's local history community as executive orders have placed significant restrictions on businesses and nonprofits in order to combat the COVID-19 pandemic. In the first week of May, Governor Tim Walz announced more dialing back of the restrictions with a path towards the end of many requirements. 
Stay Safe MN announced a three-step plan to wind down the restrictions for indoor events and entertainment, which is how museums are classified in the state's recommendations. 
Step One (Began on May 7)
Museums are required to have a COVID-19 Preparedness Plan.
Venues may open at 50% capacity, but must limit space between individual parties to six feet or more. 
Limits on outdoor activities with less than 500 people are lifted. 
Screening of employees is still required.
Step Two (Beginning May 28)
State requirements for physical distancing expire.
Face coverings are still required indoors and outdoors events larger than 500 people.
Screening of employees is still required.
Step Three (Beginning July 1 or when the statewide vaccination rate reaches 70%)
The indoor face covering mandate expires.
No additional information or clarification at this time if a COVID-19 Preparedness Plan will be required.
Cities, counties, school districts, and businesses may impose additional requirements. This may be expected to happen as the pandemic is not over with. 
Additional Resources:
How many times have you heard this word in the past week? "We've had to pivot our programming." / "The way we were doing things did not fit the response so we had to pivot."
I have heard this many times over the past few weeks. This describes museum sites that opened and had more attendance than expected, schools moving from hybrid learning to all distance learning, newspaper articles describing how restaurants have gotten creative in their ways to feed people and partner with other businesses; the list goes on. It seems in my personal life, I have also pivoted. From having my children home from school due to a teacher strike, melding right into having to do distance learning this spring due to the pandemic; then, adjusting our house to accommodate working from home. I have more than once thought about how much I have "pivoted" due to the pandemic.
That got me thinking, what does the word "pivot" actually mean and how has it manifested itself this time in history? I am a fairly visual person and when I think of the word "pivot" a specific visual comes to mind. The visual is that of the toe of a basketball player. The paragraphs in italics are what I see, in my own words.
Five toes, snuggly housed in a tennis shoe, tensely bent as the heel of the foot raises high off the gym floor. The toes are planted- firmly planted- the heel reaching up and then rotating. Yet, it only spins halfway, then switches, forcing the body's hips to swing the other way. "KEEP YOUR FOOT PLANTED!" yells the coach to the player; the player who is trying to live out their vision of being a basketball superstar.
This is where I have heard "pivot" before. Is this visual a good description of what is happening in society? I tentatively say, yes, it is. Businesses, people, decisions, keeping rooted, but modifying the outcome. Or, maybe more accurately, businesses, people, decisions, trying to keep rooted while spinning and balancing. We all know the eventual outcome of the pivot.
The toes, holding the weight of the body, expand as far as they can, getting more and more spread out as they are pushed and turned. Pushed and turned, pushed and turned down toward the floor. The other foot, which the rest of the body is trusting to gracefully caress the gym floor quickly and often to balance the body, eventually betrays the planted foot and slams into the gym floor, shifting the weight of the body and forcing the planted toes to move.
Anyone who has played basketball knows that feeling, the unbalance that finally ensues, forcing the frantic release of the ball or whistled travel call. Sometimes my professional pivots feel like this. Before the pandemic one of my favorite parts of my job was doing site visits. Now I have to first, review if a site visit would be safe and second, if a site visit is really necessary. Also, meeting people to tour their buildings and hear their passion is enlivening to me, but now I have video meetings, video Grants Open Houses and video tours if those are possible and safest. While I know the pivot to more video meetings is the right thing to do, I still mourn the loss of those interactions. But, maybe pivoting has another outcome?
The toes- planted, pressured, straining to cling to the wooden gym floor- hold their place. Twist, squeak, twist, squeak, twist, squeak. The toes, doing their job of moving in place, providing the time, the hesitation for the body to use its senses; to look, to feel, to decide the next move, until finally, the open player. The body's hands confidently and forcefully thrust the ball forward and into the teammate's hands, only for the teammate to bounce, jump and release the ball into the basket with the swoosh of the net. 
Some things have improved with the pivots. Due to the video meetings and conferencing, I feel like the Department is getting more accessible, which will hopefully translate to getting in contact with more people around the state regardless of location to help preserve their histories. I am also attending a lot of webinars and expanding my knowledge in subjects I would not have been able to before everything went online. 
What is your pivot? How has it gone? Are you getting off balance and frantically searching for solutions; or, are you staying planted and confidently making plays? Are you perhaps confident at one pivot and falling off balance for the other? 
No matter what, now is a time to pivot. No standing still, you must pivot.
Share your thoughts in the comments below or reach out to the Minnesota Local History Services with your pivots.
Survey Report found here.

Minnesota has a strong network of organizations that reach from border to border. The total number of organizations, agencies, and more is understood to be greater than 500. The network, like all aspects of social, civic, and economic life in Minnesota, has been strained by the COVID-19 pandemic and the public health measures put in place by a series of executive orders from the Office of Governor Tim Walz.

In an effort to better understand how the network was responding to this crisis and gauge their capacity and resilience, the Minnesota Historical Society's Local History Services created a brief survey that asked about the respondents' current status, their capacity to work from home, the barriers they faced to conduct their work, the financial impact of the pandemic and the restrictions caused by the public health measures, and their plans to address the situation.

This document provides a summary of the responses to the questions and provides further context by breaking down the responses by the size of the organization's budget and by the region of the state.

The survey responses confirm some things that we already knew. The network has a wide range of capacity levels. In general, that capacity is not very strongly associated with a particular region of the state. Organizations located in the metro region do not necessarily have capacity advantages over other regions of the state.

Among the easiest to read issues, regardless of budget size or region of the state, are the barriers associated with completing our work in a Work From Home (WFH) environment. Across the demographics of the survey there were discrepancies between having a Work From Home policy and having people working from home. Organizations are in an environment that they have not adequately created policies.

It's likely not unique to this sector, but the survey responses also reveal a gap in the tools and resources needed to work from home. Less than half of the respondents indicated that their organizations provided a laptop or desktop computer to conduct work from home. The numbers decline even more so when asked about mobile devices, data plans, and internet access. On the individual side of the ledger, the staff was providing these tools at their own expense.

The responses to the questions about the coronavirus response indicate that early on steps were largely targeted to public-facing areas like public events. When asked about what steps they would likely take if the situation were to continue, the responses indicated steps that would have a more transformational impact on the structure of the organizations, including accessing reserve funds and changing staffing patterns.
Working in local history usually makes me reluctant to speculate on the future. "I'm a historian," I will tell people when asked to guess what might happen. "Not a prognosticator." However, being conscious the future is vital for any business, for-profit or nonprofit or government.
Internally the Minnesota Historical Society has been estimating challenges it faces going forward, which it periodically does and is good to do. This activity prompted me to think about what local historical organizations may need to consider going forward. I presented a session on this in 2009, and little has changed since then. Essentially there seems to be five compelling issues that need to be addressed, and soon.
1. Mission-based presence.
Most organizations have a geography to their mission, whether a county, a city, or whatever. Even those that don't have a geographical focus do have a mission focus. Whatever the focus the organization dedicated to a specific history needs to consider what its presence has to look like in order to be successful. The cost of communication through traditional means continues to increase, while newer media is not always accepted by our main supporters. What can you do to continue to have a strong presence in your mission focus? We simply cannot afford to hole-up in our facilities. Leadership is all about putting yourself on the line, and to do so you have to be an active member of whatever community for whose history you are responsible.
2. 21st-century user expectations for products.
Every concern needs to reconsider what it offers from the perspective of the user. Peter Drucker, a renowned management thinker, spoke of this as adopting an "outside-in" view of your company. Too many history organizations tend to think of things from the inside-out: how can we organize better in order to be more efficient? The trouble is that if no one desires what you efficiently offer (even though "they should"), you risk becoming irrelevant. What is it that people who use your current services want? What do nonusers and especially newer residents need and can you offer that? Do you know?
3. Developing knowledge workers for history organizations.
The economy and demographics are changing. As historical organizations we preserve the memory of why and how things have changed, so that these are changing is good news because that means more to document. The economy is often said to be changing over from an industrial "make stuff" model to a knowledge-based "know stuff" model. The machinery of the economy then is increasingly in the heads of workers rather than on a factory floor. In a sense history organizations have always been in the so-called new economy of knowledge workers, since history organizations preserve and provide knowledge. For once, we may be ahead of the curve. However, a trend of knowledge workers is to more frequently change jobs. No longer does a worker put in 40 years on the assembly line. The expectation is to move frequently. With the steeper learning curve of knowledge work, what does job-migration mean for the way we recruit and train workers? As to demographics and the browning of Minnesota, equipping non-Whites for work in local history is imperative in order to assure continuance of local history organizations. Further, for organizations in more rural areas, we need to be part of the solution to depopulation by demonstrating to the youth how it is possible to live and make a living without relocating to a larger population area. Too often those in rural areas apologize for not having something or being better than they. Having grown up in a town of less than 2,000 people at the time, it is tempting to think this way at times and I certainly did not stay (In my defense, my parents moved us to Arlington when I was 10, and today I live in a house that belonged to my great uncle. So, in a sense history does keep me where I live). Resist the temptation to think negatively about size because you can't build on scarcity, only on what you have. Besides, there are a surplus of great reasons to choose to live in any of the 850+ cities or 1,700+ townships across the state. Local history should be able to document why.
4. Shift to project-based budgets.
Over time philanthropy has shifted from funding bricks-and-mortar projects to funding programmatic offerings, and now it seems that the shift from general operations to project-based grants is here to stay. That means the savvy manager has to create flexibility in the fiscal budget, often with employees left hanging in the balance of phrases like "Position subject to renewal contingent on funding." So, not only do we have to worry about the knowledge worker leaving for greener pastures but also about our pasture drying up. Still funding mission is very possible for those willing to put in additional effort to "projectize" elements of the workplan to free up general support for tasks that may not be grant-worthy. A number of local history organizations have done this for collections-related initiatives like inventory, catalog, and backlog reduction. Still, we should be asking, "how can an organization remain diligent through the intentional application of resources to problems if funding is so seemingly opportunistic and uncertain?" Time will tell, but for the moment I know grappling with project-based budgets has to be perplexing and exhausting.
5. Evidence and access for the 21st century.
In rethinking all that we do, the questions of what to collect, how much to collect, and how will we make what we collect accessible, all need to be on the table. Some local history organizations have taken the extreme, though perhaps necessary, step of a collecting moratorium until they have solid answers for these questions. In a time when the common expectation for access is 24/7 and from anywhere in the world, how do local history organizations that are inherently tied to the physical address the virtual? Although space for digital assets seems endless, it isn't. Think of digitization as a way to expand your storage, but remember that this too is not infinite, because nothing is infinite. The boundaries are costs in terms of time, money, and opportunity. The opportunity cost is that for whatever you do, there is now something you cannot do. Returning to the public repeatedly to seek funds for more space is something to be mindful about, whether for a building or for electronic capacity. Collectively we as a field need to figure out
how to reduce the pace of space consumption
before we fatigue our supporters.
Quite a few history organizations are very good at these points already. Too many, however, are locked into patterns established long ago. Those patterns were probably quite appropriate at one time. With more than one million nonprofits currently in the U.S., and
the promise of an additional 12 million more to come
as Boomers retire, the targets for charitable giving will increase the competition for finite funding. If local history nonprofits do not have the courage to meet the 21st century on its own terms, they should not expect to be competitive.
However, the inherent purposes of local history wedded with adaptations for the 21st century should make local history nearly unbeatable as a worthy recipient of funding. People are most often self-centered. They want to see themselves in your exhibits and programs and publications. They want to know what's in it for them. Yes, a great many try to overcome their self-absorption, which is what we all should strive to do, but in the end we are still naturally interested in ourselves. Local history in its current form was started to help people in the present (often veterans) and to document the present for the future. Local history is all about us, which at the core should keep local history quite relevant. Thus, if you can ask yourself in light of the five challenges above, "How will we help our neighbors?" and "What should we tell the future about our neighbors?" - local history should remain competitive by remaining true to our purposes.
We'd love to hear from anyone with examples of how they are addressing any of the issues above.