The Minnesota Historical Society's Local History Services helps Minnesotans preserve and share their history. This blog is a resource of best practices on the wide variety of museum, preservation, conservation, funding, and non-profit management topics. We're here to help.
 Subscribe in a reader
New Executive Order Changes Face-Covering Requirements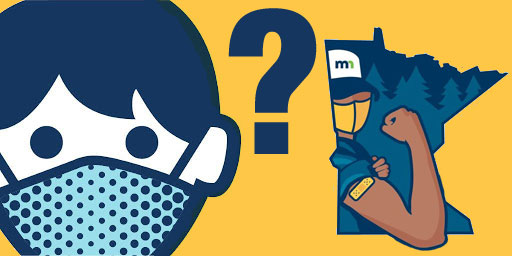 Things are changing fast. Last week, we published a blog post on the state's three-step process to wind down many of the public health measures to respond to the COVID-19 pandemic. Within a matter of hours, the state announced major changes regarding the uses of face-coverings that made some of that information out-of-date. 
The big change happened with the Center for Disease Control (CDC) announcement. They adjusted their recommendations to advise that fully-vaccinated people do not need to wear face-coverings in many situations. 
So what are the changes and how do they affect historic sites and museums? The three-step process is largely intact with the obvious exception of what it had said about the mask mandate expiring when the vaccination rate reached 70% or on July 1, regardless of the vaccination rate.
According to Executive Order 21-23, face-covering requirements in most situations have been lifted. People who are not vaccinated are "strongly encouraged" to wear a face-covering until they are fully vaccinated. 
It's important to know that the executive order does not prevent political subdivisions (like cities and counties) from placing restrictions within their jurisdictions that are more strict than the executive order. It also states that nothing prevents "businesses and other private entities… from implementing otherwise lawful policies or rules related to the conduct of their employees… or customers— including lawful face-covering requirements."
In other words, be aware of what your local orders are and a museum can require face-coverings with its own policies.