About
Native American cultural practices are passed down from one generation to the next. Native people choose what to retain and what to alter as they express themselves while paying respect to those who came before them. MNHS assists Native people in connecting with works created by their ancestors and provides support for learning, practicing, teaching and recovering culture.
 Subscribe in a reader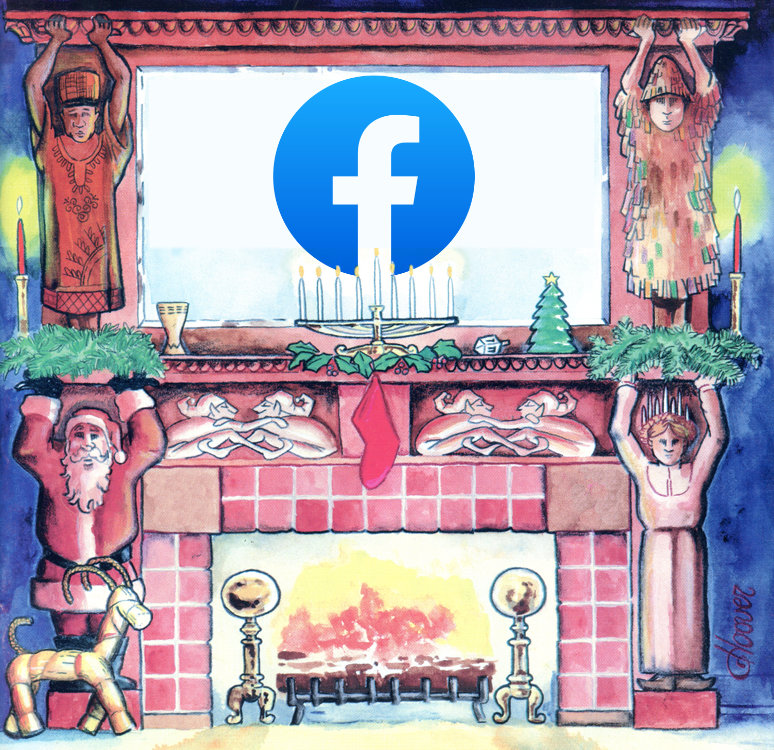 Take a long look at your postings around the winter holidays. Are they fairly Christmas-centric? Do Hanukkah and Kwanzaa feel like add-ons? Or worse, are they simply ignored? Some history organizations strive to strike a balance but most do not.
For nearly ten years each week as part of my work in the Local History Services office at the Minnesota Historical Society, I put out the e-newsletter 'Local History News.' Much of the e-newsletter functions as a digest of what local history organizations around Minnesota are posting on their social media accounts.
Each week, I review posts on over 300 history organizations with Facebook, Twitter, and Instagram accounts to capture news and events of what is happening in the world of Minnesota's local history community to add to the e-newsletter. Years of doing this have left me with some insights from the long view of seeing what is posted.
Another holiday season is behind us and in my years looking at posts I have noticed a pattern. Each holiday season, I see hundreds of posts on Christmas, yet little-to-no posts recognizing any other holiday during that time. This year I decided to do a little unscientific counting to see how posting on the holidays adds up. This shows some curious numbers.
I counted years from 2018 to 2021 doing simple keyword searches for each holiday. To keep my time and project manageable, I limited my scope to only searching Facebook and the 76 county historical societies that have a presence on that platform.
It is not surprising over four years Christmas dwarfs other holidays in the number of Facebook postings it gets - 1461 by my count. But what is surprising is the lack of acknowledgment by history organizations to other holidays of the season in their Facebook posts. The next highest is Hanukkah with only 13 posts and Kwanzaa (or Kwanza) gets a total of 7 posts over four years. Typically the postings are done by the same organizations. Usually, Hanukkah and Kwanzaa are in a message that ties it with Christmas such as "Merry Christmas and Happy Hanukkah!" rather than a stand-alone message about the holiday. Yule, which was mentioned 4 times was always tied to Christmas. Standalone  "Happy Holidays" messages occurred 49 times in four years.
Holiday Season Posts by County Historical Societies
YEAR
CHRISTMAS
EASTER
HOLIDAYS
HANUKKAH
RAMADAN
KWANZAA
(or Kwanza)
PASSOVER
YULE
2021
376
35
11
3
1
3
1
1
2020
333
25
10
7
0
4
2
2
2019
407
25
13
0
0
0
1
1
2018
345
14
15
3
1
0
0
0
TOTAL
1461
99
49
13
2
7
4
4
 
Average
365.25
24.75
12.25
3.25
0.5
1.75
1
1
Outside of the Holiday Season
If you're going hard into the Christmas season it is only fair to look at a few of the holidays outside of it. Enter: Easter, Passover, and Ramadan.
It can be said of Christmas it is a commercial holiday (similar to Halloween and Valentine's Day both of which also receive a lot of posts), and that reflects the majority of posts by history organizations, most being tied to events, gift sales, and requests for donations. Only a small amount of the 1461 posts can be considered non-commercial and posted in the true recognition of the holiday. The number of Easter posts gives a better idea of posting on the holiday rather than using it to raise funds. Between  2018 and 2021 I counted a total of 99 posts from county historical societies on Easter. Far less than the 1461 posts for Christmas. However, the other during that time Passover and Ramadan received only 4 posts and 1 post respectively from county historical societies.
Other Holiday Posts by County historical societies
YEAR
EASTER
PASSOVER
RAMADAN
2021
35
1
1
2020
25
2
0
2019
25
1
0
2018
14
0
1
TOTAL
99
4
2
 
Average
24.75
1
0.5
Holiday posts by the Minnesota Historical Society
If I am going to count the postings by county historical societies it is only fair that I include the Facebook posts by the Minnesota Historical Society. Between  2018 and 2021 I counted a total of 47 posts on Christmas using the criteria used for county historical societies; 10 posts for Hanukkah; 4 posts for Kwanzaa; 0 posts for Yule; 4 posts for Easter; 2 posts for Passover; and 1 post for Ramadan. Posts with Happy Holidays messages numbered at 9.
Holiday posts by the Minnesota Historical Society
YEAR
CHRISTMAS
HANUKKAH
KWANZAA
YULE
HOLIDAYS
EASTER
PASSOVER
RAMADAN
2021
7
3
2
0
2
1
1
1
2020
5
3
1
0
1
1
1
0
2019
16
2
1
0
4
1
0
0
2018
19
2
0
0
2
1
0
0
TOTAL
47
10
4
0
9
4
2
1
History organizations have goals beyond Christmas nostalgia, warm fuzzies, and income generation. Social media posting needs to reflect that. Don't stop celebrating Christmas or using it as a seasonal fundraiser as many do, but acknowledging other cultures in a diverse society is significant. History organizations work teaching local cultural information. In doing that work, it is important to bring attention to cultures, not in the mainstream and help examine cultural assumptions held by the local mainstream population. We are a Christmas-centric society where 90% of Americans celebrate Christmas (54% celebrate it as secular). However, your non-Christmas holiday posts can make observers of other religions outside of Christianity feel welcomed and celebrated by your organization. Posts on non-Christmas Holidays also acknowledge to your social media followers there are active cultural traditions different from their own in and outside their community.
How I counted…
The posts had to have happened during the holiday season they are associated with, postings such as "Christmas in July" were not counted. Comments in the posts where people mentioned the holiday when the post did not contain mention of the holiday were not counted either. The numerous postings of Christmas photos, Santa photos, Christmas tree photos, Christmas card images were not counted either if the post did not say Christmas in it (I suspect that it could double the Christmas count). Many other religious holidays, most notably in the fall, were not counted.
Looking for a list of holidays and religious observances? The University of Minnesota's Office for Equity and Diversity keeps a very comprehensive list »