About
The Minnesota Historical Society's volunteer and intern programs welcome people from all communities to engage in mission-related projects. Over 2,660 volunteers and interns contribute 53,400 hours hours annually. This diverse volunteer corps helps to achieve the MNHS mission — Using the Power of History to Transform Lives.
 Subscribe in a reader
MNHS Intern assisting with preserving and sharing history
By:
Rebekah Bjork
| November 14, 2018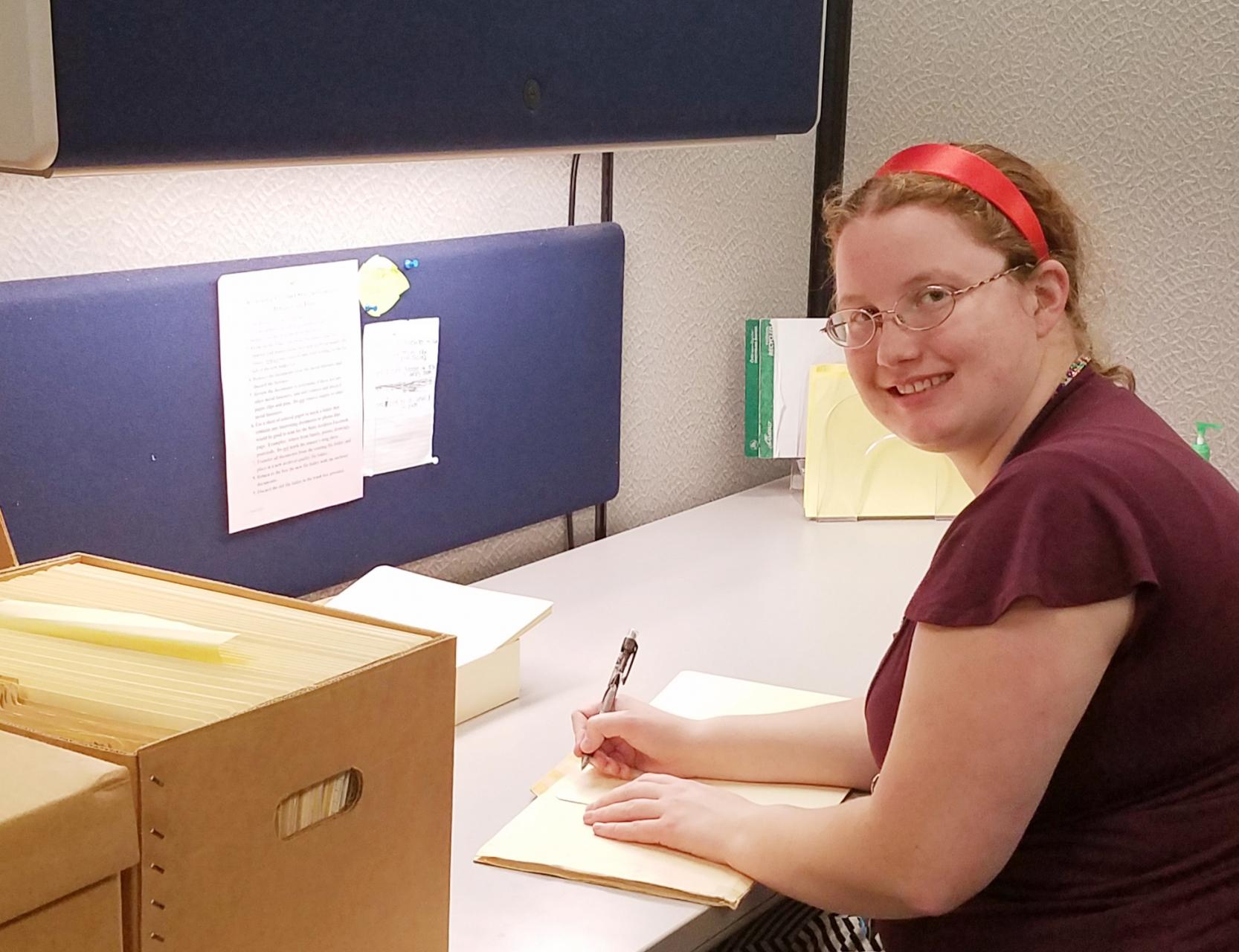 Intern Samantha has been working hard in the Collections and Research Services Division! Samantha comes to MNHS through Project SEARCH, a program that helps young adults with intellectual and developmental disabilities build job skills and prepare them for integrated, competitive employment in a wide variety of job fields. Throughout the one-year program, participants attend job-skill classes, complete three 150-hour internships, and receive on-the-job assistance from a job coach.
Samantha has made huge progress in the three different projects she's tackling across the division. These jobs will make a big difference in our ability to preserve and provide access to our collections.
Samantha has been rehousing St. Cloud State Reformatory Inmate Case Files preserved in the State Archives collection. By taking the case files out of their old, damaged folders and putting them into new, acid-free folders, the case files will last much longer and be easier for researchers to use. With over 1,000 boxes of case files in the collection, Samantha won't be finishing the project any time soon, but her work (and that of many other volunteers and interns like her) will pay off in the end!
In Digital Collections Services, she's been taking scanned images of WWI Military Service Questionnaires and getting them ready for online access. This project involves some detailed technical work, data entry, and deciphering some pretty challenging handwriting on the historic records. While the job isn't easy, when it's done we'll be able to provide online access to these popular records -- not only will our researchers love being able to access these documents anytime, but it will also help the original paper records last longer by reducing handling.  
When she heads down to Level B to work with Collections Management, Samantha gets to help label and improve housing for objects. It can be time-consuming to line drawers with special foam or to place labels on the objects, but it comes with one very big perk: you get to have a up-close and personal look at our great collection of objects, including some of the most recently added items.
If you're interested in learning more about Project SEARCH, visit https://www.projectsearch.us/.
Submitted by staff Sarah Barsness