About
The Minnesota Historical Society's volunteer and intern programs welcome people from all communities to engage in mission-related projects. Over 2,660 volunteers and interns contribute 53,400 hours hours annually. This diverse volunteer corps helps to achieve the MNHS mission — Using the Power of History to Transform Lives.
 Subscribe in a reader
A Meaningful Summer at Home in Little Falls
By:
Rebekah Bjork
| September 12, 2019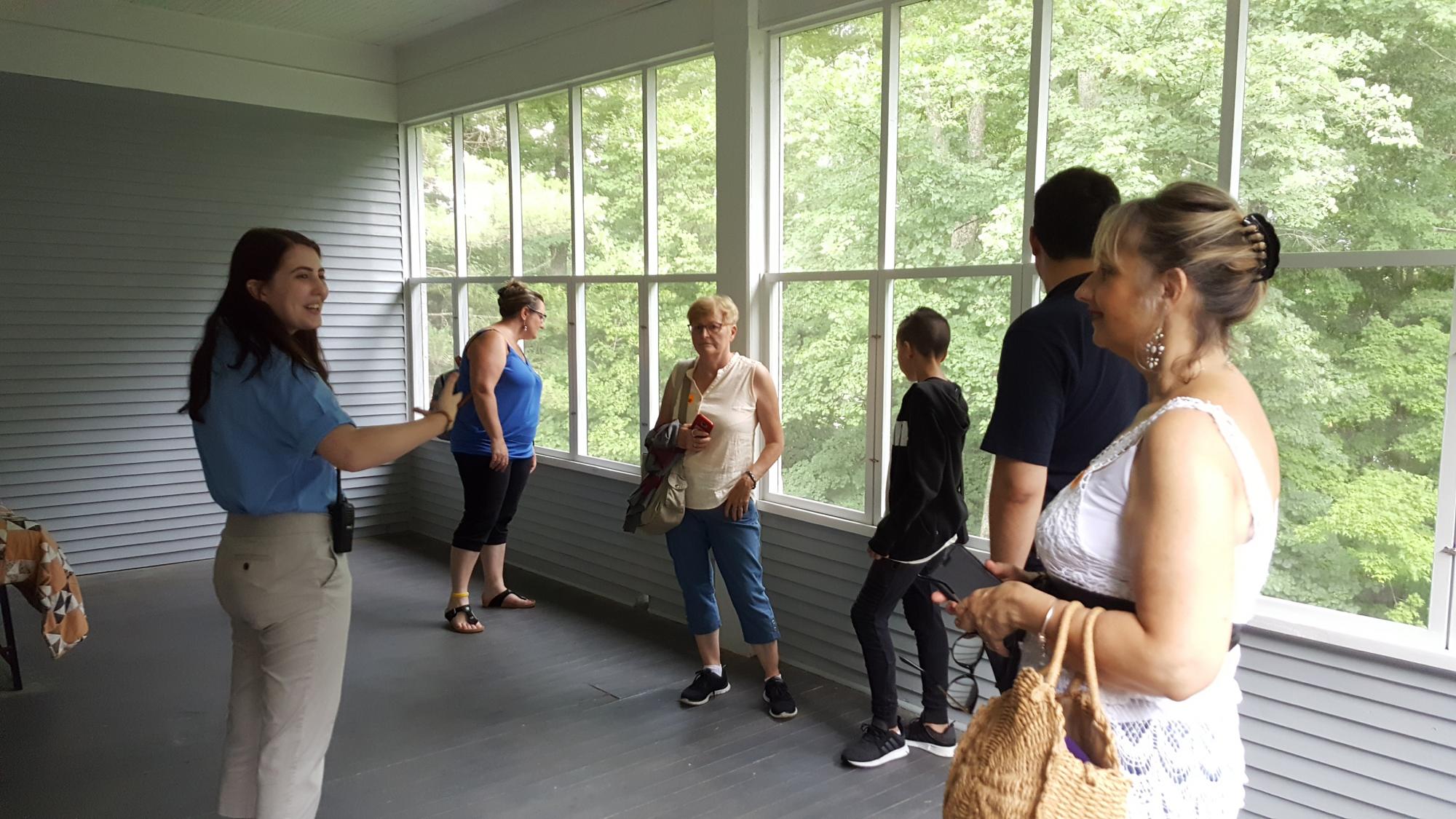 Madeline was a summer intern at the Charles Lindbergh House and Museum in Little Falls. She spent half of her time conducting guided tours and the other half of her time conducting research that will be used to build a future public history program. 
Madeline grew up in Little Falls and visited the house many times over the course of her childhood and always wanted to work there. Interning at the Charles Lindbergh House and Museum has been a dream come true for her. Below is a transcript of an interview with her.
Can you share 1 or 2 projects you worked on during your internship that you are proud of?
I split my time as an intern between giving tours and conducting research. The first major project I did was writing my own tour script. I spent a lot of time at first following other interpreters on their tours and reading the book that the majority of the Lindbergh tour is based off of, Boyhood on the Upper Mississippi. It's a collection of letters written by Charles Lindbergh later in his life about his experience growing up in Little Falls. It was really cool to hear directly from Charles about the town I grew up in too. I took a lot of notes on that and also noted things I liked from other interpreters' tours and then fit all of that into the outline of MNHS' vision treatment for tours at the site. I had expected to sort of just be given a script and told to memorize it, so I was excited to find out how much originality and creativity are encouraged. I have loved becoming a storyteller this summer and feeling like the tours I give are a piece of myself as well as of the history I love. My ultimate goal when I take guests into the house is to get them to the point where they can almost see a young Charles standing in the room with them, and I think that at least with some of them I've managed it.
My research project this summer involved creating a source compendium of information on Charles Lindbergh's conservation and environmental efforts in the 1960s and 70s. Eventually this information will be formatted into a public presentation. I like to think I'm sort of laying the foundations. I've compiled a list of all the primary and secondary sources relevant to this topic and have also provided a summary of content for each one, in addition to also  gathering key points, supporting information, and citations. Eventually, all of the most important information on Charles' environmentalism will be contained in this one document I'm working on, so it will be easy to find and access later. I've gone through sections of several books, articles, newspaper clippings, websites, MNHS event project documents from the 90s, and a 1964 edition of Reader's Digest that I found on Ebay. That was one of the most fun parts. 
What did you enjoy most about your internship experience?
My favorite part of my internship has been developing my skills in viewing and sharing history as a story rather than facts. I've learned so much about how to make history real and alive for people of all ages and backgrounds, both through writing and giving my tour and through the direction of my research. The experience has made a huge impact on me and changed the way I think for the better. I study Social Sciences Education in college. Whether I decide to teach in a traditional classroom later or use my degree in other ways, maybe more so in the field of public history, I think I have really learned how to help people form connections with the past and how to sort of turn myself into a facilitator who can help them do that rather than just an instructor. I really feel that I'll be able to do history justice now, wherever I end up in my career. That means a lot to me.