About
The Minnesota Historical Society's volunteer and intern programs welcome people from all communities to engage in mission-related projects. Over 2,660 volunteers and interns contribute 53,400 hours hours annually. This diverse volunteer corps helps to achieve the MNHS mission — Using the Power of History to Transform Lives.
 Subscribe in a reader
Project SEARCH Intern Gains Experience at MNHS
By:
Rebekah Bjork
| December 31, 2019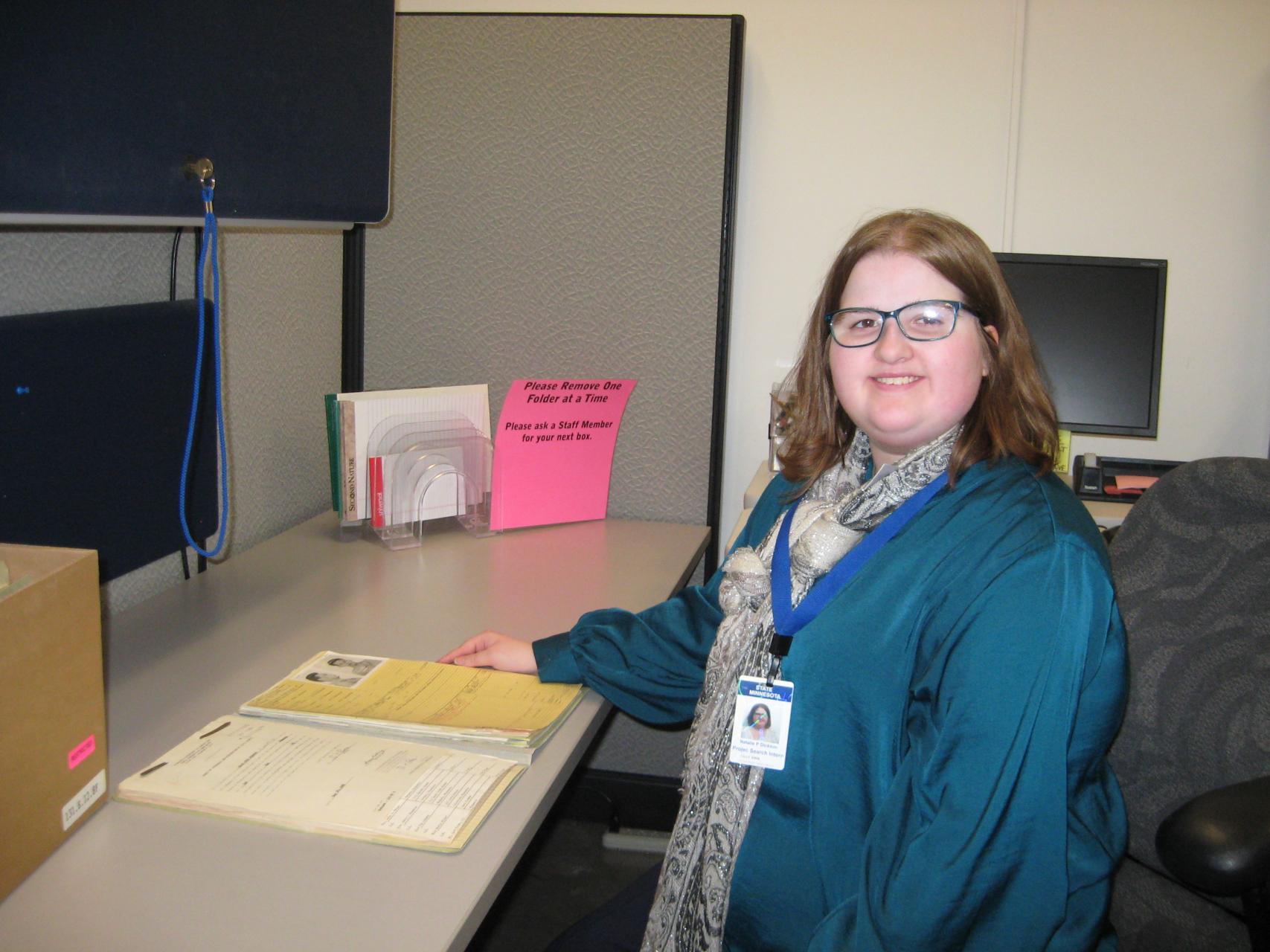 From day one, Natalie knew her internship at the Minnesota History Center was special. "History is one of my passions and was one of my Dad's passions. I felt closer to my Dad when I was working there."
Natalie came to MNHS through Project SEARCH, a program designed for young adults with intellectual and developmental disabilities. This program focuses on building independence and job skills by completing three, ten-week internships through a partnering business. The goal is to prepare interns for integrated, competitive employment in a wide variety of job fields. In addition to the internships, interns participate in a job-skills class and receive on-the-job assistance from their supervisors and Project SEARCH staff.
While attending her internship at MNHS in the fall, her supervisors, Sarah Barsness and Charlie Rodgers, said, "Natalie brings a great energy to her workspace each day, from her morning check-in until she says goodbye in the afternoon. She is enthusiastic, courteous, respectful, and an attentive listener."
While at MNHS, Natalie rehoused St. Cloud State Reformatory Inmate Case Files preserved in the State Archives collection. While on site, she was responsible for taking case files out of their old, damaged folders and putting them into new, acid-free folders. While rehousing the files, Natalie skimmed through the paperwork to find interesting pictures, letters, or postcards. Completing this work ensures the case files will last much longer and be easier for researchers to use.
In Digital Collections Services, she took scanned images of WWI Military Service Questionnaires and got them ready for online access. This project involved some detailed technical work, data entry, and deciphering some tough handwriting, but Natalie was up for the challenge. Completing this work provided online access to these popular records. This benefits not only our researchers, but it also helps the original paper records last longer by reducing handling.  
Natalie completed her internship November 26th and plans to apply the skills she learned to her next internship. She speaks of her time at MNHS fondly and has given multiple tips to the new MNHS intern, Colin. Natalie would love to have a job involving history and even if it doesn't, she knows history will always be a part of who she is, thanks in part to her time at MNHS.
When asked about her time at MNHS, Natalie said, "One of the things I really liked about the History Center was learning about my own state. In school, we learn about the history of America, but not about how the individuals felt about what was going on in the world. Hearing their stories was inspiring."
If you're interested in learning more about Project SEARCH, visit https://www.projectsearch.us/.
Submitted by Katie Borne, Project SEARCH Instructor