About
The Minnesota Historical Society's volunteer and intern programs welcome people from all communities to engage in mission-related projects. Over 2,660 volunteers and interns contribute 53,400 hours hours annually. This diverse volunteer corps helps to achieve the MNHS mission — Using the Power of History to Transform Lives.
 Subscribe in a reader
6 Reasons Volunteers Choose the Minnesota Historical Society
By:
Mai Huizel
| April 20, 2022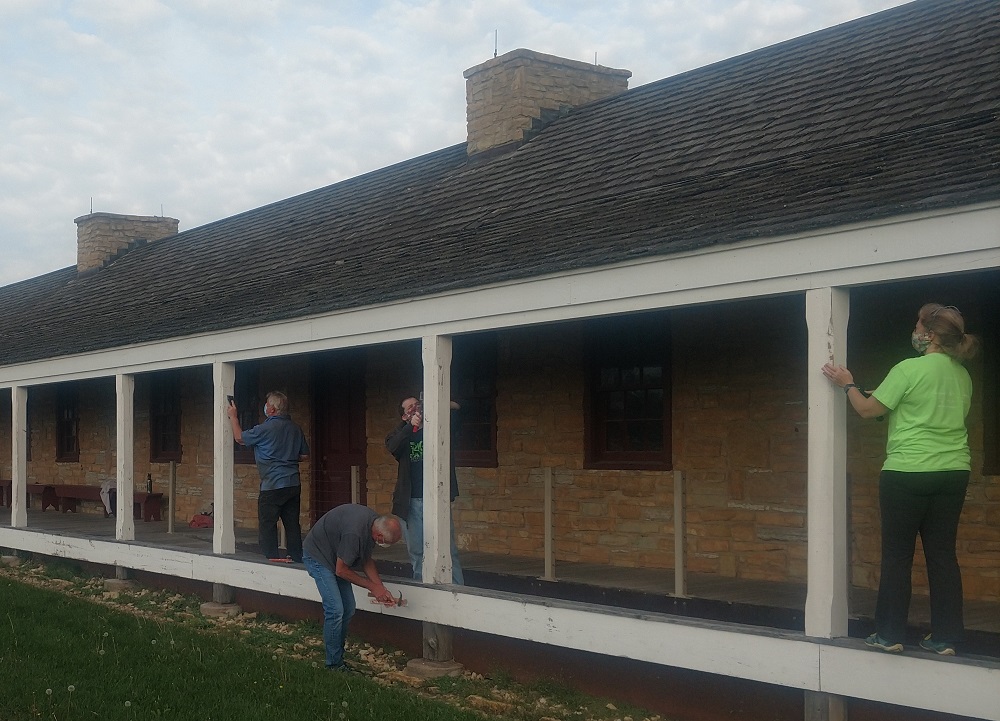 Volunteers painting a porch at Historic Fort Snelling, summer 2021.
National Volunteer week is April 17 - 23, 2022. We will have a daily blog and social media presence all week celebrating volunteers!
As volunteer staff, we try to come up with creative ways to entice volunteers to our organization. But do we really know why volunteers choose to volunteer? We asked and we are yet again humbled by all of your answers. Here are six reasons volunteers have chosen the Minnesota Historical Society.
1. Volunteers are passionate about history.
Over and over again the term "love history" popped up in the survey. 
Love of history and genealogy. My family has been in St. Paul since the late 1880s and involved with industry within the city.
I like to share my love of history with the public.
I love history. I love to be part of bringing history to people who have come to the Oliver Kelley Farm.
I love history and music and the Fort Snelling Fife and Drum Corp seemed the perfect way to mix both interests.
Retired and I enjoy history.
Think sharing my experience in the flour making process and how the various machines worked.
2. They want to give back to the community.
Having a higher purpose and knowing that your time makes a difference for MNHS guests and staff is highly motivating.
I enjoy giving back to the community and learning about the area.
To be of service: to mentor, to enrich a visitor's experience; and to receive the energy of that human interaction in return.
I enjoy using my skills to help the MNHS. I am especially connected and involved with Fort Snelling as a volunteer for the past few years.
To give back. To help out!
I am looking for ways to give back during my retirement.
To return the help I had received in finding new information on genealogy but ensuring that others would be able to find something new too.
To provide transportation for those who have impaired mobility with the Oliver Kelley Farm golf cart.
3. Share their knowledge of history with people.
Relating to the "love history" reason, educating about history is very satisfying for Historical Society volunteers.
Volunteering at the History Center gives me an opportunity to share my knowledge with visitors, learn new things, and be active in the community. This is my 27th year at the History Center so you know I love being involved
I love to share the history of Historic Fort Snelling with the visitors.
4. Be involved in the community.
Some volunteers have the time and want to be in a space they can fill their time with. We are so thrilled volunteers choose to be here!
Gives me an opportunity to stay involved with a larger community of like minded people.
I enjoy it!  And as an empty nester, I have time available to help out.
Need to keep busy.
I had the time and it is good to be useful.
I'm an old retired guy who needs something interesting to do.
It provides me an opportunity to get out while also providing a service.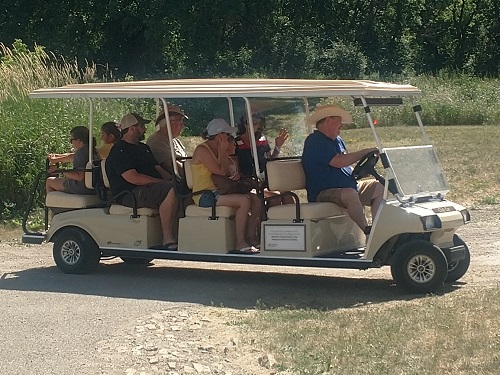 Volunteers drive people movers at Historic Fort Snelling and other sites throughout the state.
5. Meet people.
MNHS volunteers really like people. They enjoy meeting guests and socializing with like minded peers.
MNHS is the best organization I've found for treating volunteers respectfully. Also, the programs and events are so well constructed and executed. Really fun and informative.
I am a veteran and a military history buff.  I enjoyed meeting guests and welcoming them to Ft. Snelling.
I have enjoyed so many events and have met so many wonderful staff and other volunteers.  I have enjoyed learning about the history of things.  I am a people person and love to talk with people.
To contribute time to an organization & to socialize with people sharing a similar interest in history.
6. Volunteering at the Historical Society is fun!
The Minnesota Historical Society has so many unique opportunities such as moving people with a golf cart, an expansive array of internships, helping out at special events and more. As one volunteer simply states, "It is fun."
I enjoy driving golf carts transporting guests at Historic Fort Snelling and previously doing so at Oliver Kelley Farm.
I enjoy learning about history and helping others to do so also.
I believe I get more than the visitors do!
It is fun.
I was a teacher and enjoy education.
Thank you volunteers!