About
The Minnesota Historical Society's volunteer and intern programs welcome people from all communities to engage in mission-related projects. Over 2,660 volunteers and interns contribute 53,400 hours hours annually. This diverse volunteer corps helps to achieve the MNHS mission — Using the Power of History to Transform Lives.
 Subscribe in a reader
National Volunteer Week Kick-Off
By:
Mai Huizel
| April 18, 2022
National Volunteer week is April 17 - 23, 2022. We will have a giveaway of seven MNHS Press books, a daily blog, and social media presence all week celebrating volunteers!
A message from Kent Whitworth, MNHS Director & CEO
The past two years have impacted our volunteers and the ways in which they engage with the Minnesota Historical Society (MNHS). Despite everything that has been happening, we have since brought some of our volunteers back and continue to do so. 
Last year, we had a cadre of volunteers driving golf carts at Fort Snelling and Kelley Farm. We welcomed back our library greeters and you engaged visitors in our exhibits. You also judged for History Day and even worked on several special projects. 
We are gearing up for the summer season and volunteers will return to Fort Snelling helping with events, gardening and greeting, and of course, driving the golf carts. We have new volunteer activities at the Forest History Center - volunteers will participate in the USA National Phenology Network by making observations on plants and animals and their changes throughout the seasons. Observations will be recorded in Nature's Notebook on a Forest History Center specific site. At the Charles Lindbergh House and Museum, we are seeking volunteers to walk paths to alert staff of debris to ensure safe hiking for visitors. We also plan to have an invasive species clean up at Jeffers Petroglyphs. These are just a few of our plans moving forward. 
During this important week, we pause to celebrate you, our MNHS volunteers. We extend a huge thank you to those volunteers who have come back to volunteer and those who have been patient with us. Your passion for history and your enthusiastic commitment to MNHS bring out the very best in all of us - we are grateful!
Kent Whitworth, Director & CEO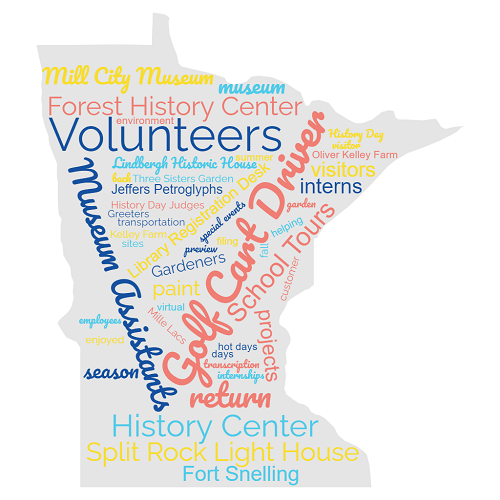 Word cloud of MNHS sites and volunteer positions throughout the state.