About
The Minnesota Historical Society's volunteer and intern programs welcome people from all communities to engage in mission-related projects. Over 2,660 volunteers and interns contribute 53,400 hours hours annually. This diverse volunteer corps helps to achieve the MNHS mission — Using the Power of History to Transform Lives.
 Subscribe in a reader
Thank you, Volunteers!
By:
Mai Huizel
| April 22, 2022
National Volunteer week is April 17 - 23, 2022. We will have a daily blog and social media presence all week celebrating volunteers!
We really can't do what we do everyday throughout the state without volunteers. MNHS staff messages to volunteers
We are so fortunate to be gifted your time, talents, and expertise!
Without the generous efforts of interns and volunteers our publishing program would be dramatically narrower in scope & poorer in quality. Tremendous thanks from the Press.
Thank you all for answering the call for special events and family days, especially knowing you might step into something you don't know much about.  It is an amazing skill to pick up a project and engage with an audience right away.  Thank you for your service.
Thank you for all you do. You help make this organization what it is.
We literally could not run our History Day events without the help of volunteer judges. Their dedication to engaging with students, providing written feedback, and donating their time is so important to fostering a love of history in youth. Thank you, volunteers, for all of your help!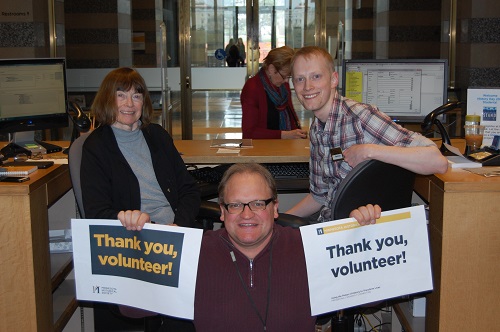 Staff coordinator, Nick, and volunteers at the library registration desk.
We interviewed staff coordinators to learn about their roles working with volunteers. Hear is one of the interviews.
In what ways do you work with volunteers?
I have worked with volunteers in a number of capacities, during special events, directing research projects, and providing programming to the public.
Share your favorite volunteering memory
I just love watching the interactions between volunteers and the public, especially families, during special events. There's just something special about someone who participates because it's something they WANT to do and not simply because it's their job.
What appreciation message would you like to share with volunteers?
Thank you for all you do. You help make this organization what it is.
If you have one life advice to share, what would it be?
Learn what your volunteer is passionate about and find a way to work it into your project in a productive way. That way everyone wins and feels fulfilled by the work