The daily people's press (Owatonna, Minn.) 1916-1969 Browse the title
Owatonna people's press (Owatonna, Minn.) 1969-current Browse the title
Issues from this title can only be accessed from the Gale Family Library at the Minnesota History Center.
The weekly People's Press had been published by Benjamin E. Darby in Owatonna, Minnesota since 1874. In 1916 when Darby had reached the age of 68, he started a daily edition in addition to the weekly. Darby began publishing the Daily People's Press because he felt the weekly Press was an ideal foundation for the development of a daily newspaper. The firm of B.E. Darby & Sons was then incorporated and Benjamin Darby served as its president and treasurer from that time until his death. The Daily People's Press came out every day, except Sunday, from March 1, 1916 to December 9, 1916; then daily, except Monday, from December 10, 1916-February 8, 1969.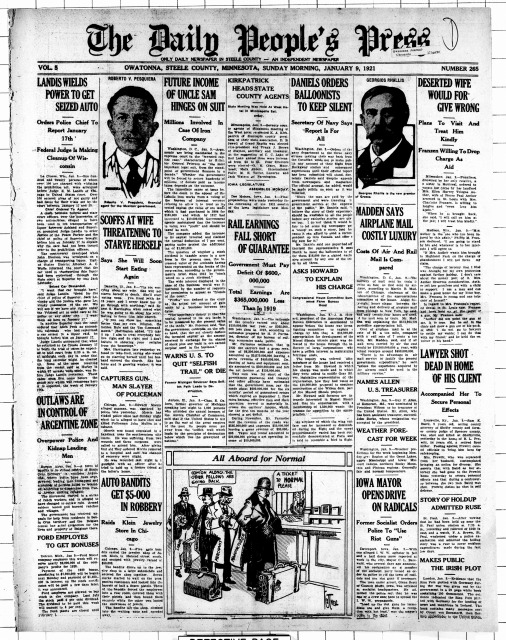 Over time most of the weekly subscribers switched over to the daily paper, and many new subscribers increased the circulation. An article in the weekly People's Press on September 23, 1921 commemorated the final passing of that paper in favor of the Daily People's Press. It stated that the change "exemplifies the fact that weekly editions no longer can keep the pace set by progress and that the newspaper field soon will be one in which only daily editions can complete."
The Owatonna Journal-Chronicle, a Steele County pioneer weekly for more than three quarters of a century, was purchased and consolidated with the Press beginning on January 17, 1938 when Darby was just short of his 90th birthday.
Benjamin Darby died of old age in Owatonna on October 10, 1939. Many articles in the People's Press remembered him as a great booster of Owatonna and how he was actively involved in the community. He had been secretary of the Owatonna Fire Department for a number of years; was a member of the school board and on the board of the Owatonna Public Library. All this and he was the editor of one newspaper for 65 years. That is a feat no one else has likely accomplished in the State of Minnesota.
The title of the Daily People's Press was changed to the Owatonna People's Press on February 9, 1969 and it is still in publication today. It publishes daily, except Monday.
Sources
Curtiss-Wedge, Franklyn, comp. History of Rice and Steele Counties Minnesota. Chicago: H.C. Cooper, Jr. & Co., 1916.
History of Steele and Waseca Counties, Minnesota. Chicago: Union Publishing Company, 1887.
"Benjamin Edwin Darby Dies Here Tuesday" and other articles. The Daily People's Press, October 11, 1939, pg. 1-4.
"Daily People's Press Absorbs Weekly and Predominates Field." The People's Press, September 23, 1921, pg. 1.
Wesley, Edgar B. Owatonna: The Social Development of a Minnesota Community. Minneapolis: University of Minnesota Press, 1938.