Echo de l'ouest (Minneapolis, Minn.) 1883-1929  Browse the title
Founded on April 25, 1883, Echo de l'Ouest ("Echo of the West") was the representative newspaper of French Canadians in Minnesota and the surrounding Upper Midwest region. It was published as a four-page weekly in Minneapolis under the management of Editor Zéphirin Demeules, or members of his family, during its entire 45-year run.
Demueles was born in St. Phillips, Quebec, in 1837 and moved to the United States in 1855 to work with Captain Louis Robert, a riverboat captain and early settler of St. Paul, Minnesota, who owned several general stores and traded with the Indians. Demueles became Captain Robert's representative in Osseo, Minnesota, in 1857. In 1859 he settled in New Ulm, but left in 1861 just before the U.S.-Dakota War began in 1862. After that he owned his own general store in Osseo and then a grocery store in Minneapolis, until purchasing the Echo de l'Ouest newspaper in 1883. F. R. (Francis Robert) Leroux, who married Demeules's daughter in 1891, served as the editor-in-chief and was considered a writer of great ability. Many of Leroux's articles were reproduced in French publications from Canada to Louisiana. After Zéphirin Demeules's death in 1898, his son A. H. (Augustin Herbert) assumed publication of the newspaper.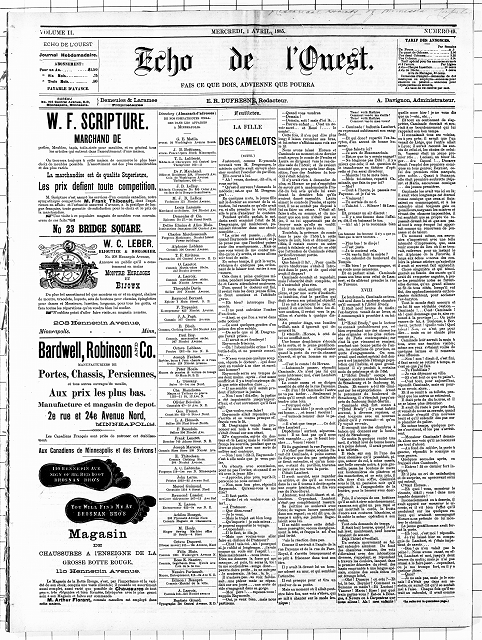 By 1895, there were 70,000 French-Canadian immigrants in Minnesota and adjoining states, and the August 14, 1896 issue of Echo de l'Ouest noted it had 5,000 subscribers. The newspaper played a major part in preserving French language and traditions and was closely connected to the French-Canadian Catholic parish, Notre Dame de Lourdes, in Minneapolis, which was established in 1877.
The content of Echo de l'Ouest was more or less consistent: a serialized novel, a directory of French Canadians engaged in Minneapolis public affairs, a large number of advertisements, several columns of news reports from French-Canadian communities throughout the state, commercial reports, and an editorial page listing meetings of French-Canadian organizations. The newspaper favored businesses owned by fellow countrymen, and printed advertisements for all kinds of goods and services in French. In general, Echo de l'Ouest was considered Republican in politics, Catholic in religion, puritanical in manners and morals, and a strong supporter of French-Canadian interests.
The paper consistently advocated for parochial education, especially if French was taught. It appealed to parents in the August 4, 1887 issue to send their children to the Notre Dame de Lourdes School in Minneapolis, where French was required for admission. On September 1, 1887, in an address to the Société St. Jean Baptiste in Duluth, the Echo's editor urged his listeners to preserve an identifiable community by supporting French-Canadian schools, actively participating in French-Canadian organizations, and using the French language in everyday life.
This strong support for the retention of the French language to stave off assimilation appeared repeatedly in Echo de l'Ouest. In editorial commentary on the national convention of French Canadians, held in Nashua, New Hampshire, in the summer of 1888, Echo de l'Ouest maintained that they must strive to preserve their identity. An article appeared later that year which decried the practice of Anglicizing French family names (Allard to Lord, Larue to Street, Dubois to Wood, etc.). In its opposition to linguistic assimilation, the Echo de l'Ouest lashed out in the issue of February 23, 1893, at Irish Catholics who insisted on the use of English, asserting that speaking English did not make the Irish any better Americans. A decade later an editorial sadly offered three reasons for the declining use of French: workers seeking employment must speak English, English was the language of American politics, and learned French speakers stayed in Quebec and did not migrate.
In the 20th century, Echo de l'Ouest published news from Europe during World War I, with a running column starting in August of 1914 called "Echos de le Guerre" ("Echoes of the War"). While the newspaper did not normally have large photos or illustrations, on October 4, 1918, it included a striking illustrated supplement promoting Liberty Bonds: "That Liberty Shall Not Perish from the Earth." It was accompanied by an advertisement in French: "4e Liberty Loan - Soyez Cent pour Cent Américain et Patriote" ("4th Liberty Loan - Be One Hundred Percent American and Patriotic"). Later, on July 4, 1919, the paper reported, "Le Traite de Paix est Signe" ("The Treaty of Peace is Signed")—when the Treaty of Versailles officially ended World War I.
Over the years, 60 French-language newspapers were published in the Upper Midwest. Of the 12 published in Minnesota, Le Canadien (1877-1904) in St. Paul and Echo de l'Ouest in Minneapolis were the longest running. When the Echo de l'Ouest published its last issue on January 4, 1929, it marked the end of the era of French-language newspapers in Minnesota.