Native American Press/Ojibwe News
The Native American Press/Ojibwe News (NAP/ON) was a publication of the Native American Press Company that served Bemidji and St. Paul, Minnesota. The Ojibwe News was founded by Bill Lawrence in 1988; he then also began publishing the Native American Press in 1991. In 1992 these two papers were merged, with the masthead of the combined title frequently rotating between the Ojibwe News, the Native American Press, and Native American Press/Ojibwe News from that point onward. Throughout its lifetime, the NAP/ON also frequently changed its publication schedule.
As a small newspaper, NAP/ON struggled financially, but was deeply loved by its patrons. The Bemidji location, in particular, was vital in maintaining dedicated Indigenous readership. Historically, Bemidji has served as a central hub for three major Native American reservations; Leech Lake, Red Lake, and White Earth. It is also home to the Indian Health Service.
The paper's founder and main editor for nearly twenty years, Bill Lawrence, also contributed to the NAP/ON's popularity. A Red Lake Band Ojibwe member, Lawrence was known for his investigative journalism and exposure of political corruption in his community. In the 1990s, his reporting on the illegal activities of tribal leaders and Minnesota casinos led to several arrests and convictions. When the U.S. Government tried to interfere with the proceedings, the NAP/ON provided in-depth coverage of the debate in its December 1, 1995 issue. As the NAP/ON's September 1, 2009 issue describes, Lawrence often "got into investigative news trenches and fought for Indian people most often by challenging the establishment, whether tribal or other governmental officials or agencies."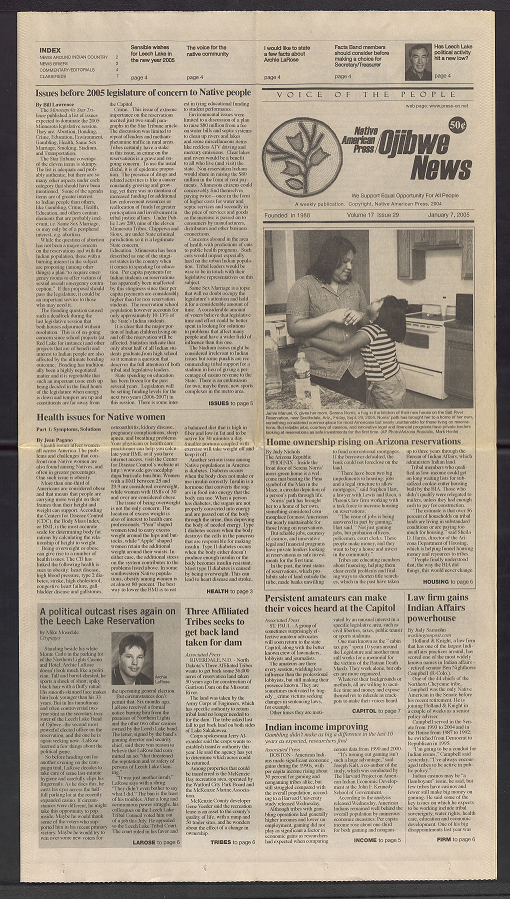 In March of 2008, Lawrence was diagnosed with cancer and the NAP/ON struggled to stay afloat. As its final issue (September 1, 2009) explained, "It is hard to separate Bill from the newspaper." Lawrence passed away in 2010, and several large Minnesota news stations and papers, including MPR and the Star Tribune, circulated the story of his life and his importance as a leader in journalism.