Sauk Centre Herald
Sauk Centre herald (Sauk Centre, Minn.) 1867-1963 Browse the title
Sauk Centre herald (Sauk Centre, Minn.) 1964-current Browse the title 
Issues from this title can only be accessed from the Gale Family Library at the Minnesota History Center.
An Independent-Republican paper, the Sauk Centre Herald serves the predominantly agricultural communities of northwestern Stearns County, Minnesota, located in the west central area of the state. In 1879, Charles F. Hendryx purchased the Sauk Centre Herald from Joseph H. Simonton, who founded the paper in 1867. The following year, Hendryx acquired another local area paper, the Melrose Record, and merged the two to form the Sauk Centre Herald and Melrose Record. With its April 29, 1886 issue, the paper reverted to the name Sauk Centre Herald.
Published weekly on Thursdays, the Sauk Centre Herald was a four-page, eight-column newspaper from 1886 to 1894, when it changed format to five columns and eight pages, eventually adding a sixth column per page in 1898. This remained the paper's configuration until the late 1920s, when it increased in size to 12 pages and seven columns. The paper's circulation in 1886 was 900; by 1925, that number had increased to 2,750. As of 2021, the Sauk Centre Herald is still in publication.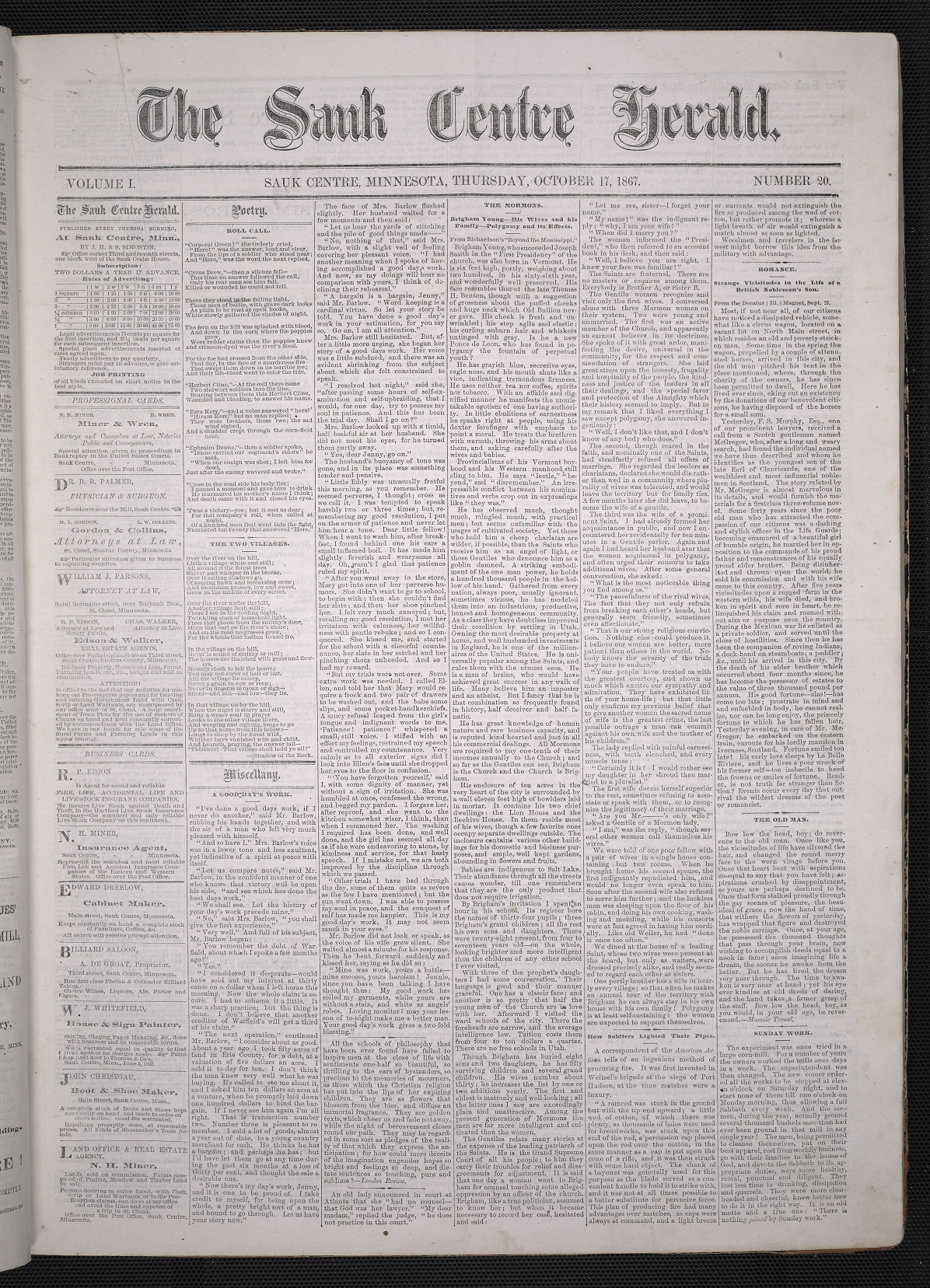 By the time he became the editor and publisher of the Sauk Centre Herald, Charles F. Hendryx was already a seasoned newspaper veteran, having worked for many years in Cooperstown, New York, at the Otsego Republican, where his father, James I. Hendryx, was the publisher, and in numerous editorial positions at the Minneapolis Tribune.
Among the paper's staff during Hendryx's tenure was a teenaged Sinclair Lewis, a Sauk Centre native who later went on to a distinguished career as a bestselling novelist and playwright, and in 1930 became the first American to win the Nobel Prize for literature. Describing his time at the paper, Lewis later wrote, "I had to do everything: watch arrivals and departures at the Great Northern Depot, set type, run a hand press for posters, and sweep the floor – the only part of my profession at which I was very good. Charles Hendryx, the editor, father of James Hendryx, the novelist, had hired me at nothing per week. After a month he fired me, because I wasn't worth what I was getting." Two articles attributed to Lewis - "Forth into the World" and "Odds and Ends" - were published on page one of the paper's June 5, 1902 issue. Although these articles did not include a by-line, they are among the earliest of Lewis's published works.