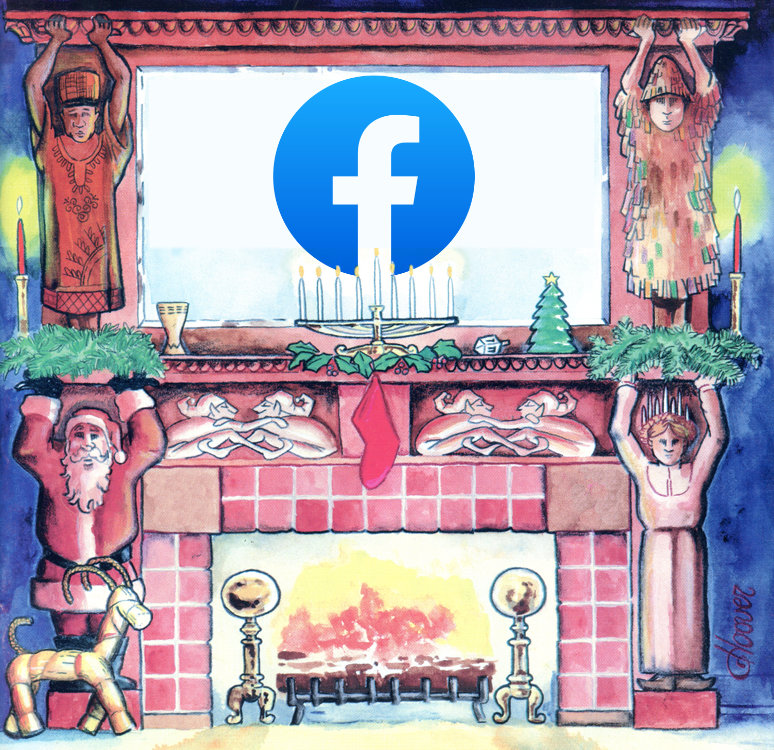 Take a long look at your postings around the winter holidays. Are they fairly Christmas-centric? Do Hanukkah and Kwanzaa feel like add-ons? Or worse, are they simply ignored? Some history organizations strive to strike a balance but most do not.
For nearly ten years each week as part of my work in the Local History Services office at the Minnesota Historical Society, I put out the e-newsletter 'Local History News.' Much of the e-newsletter functions as a digest of what local history organizations around Minnesota are posting on their social media accounts.
Each week, I review posts on over 300 history organizations with Facebook, Twitter, and Instagram accounts to capture news and events of what is happening in the world of Minnesota's local history community to add to the e-newsletter. Years of doing this have left me with some insights from the long view of seeing what is posted.
Another holiday season is behind us and in my years looking at posts I have noticed a pattern. Each holiday season, I see hundreds of posts on Christmas, yet little-to-no posts recognizing any other holiday during that time. This year I decided to do a little unscientific counting to see how posting on the holidays adds up. This shows some curious numbers.
I counted years from 2018 to 2021 doing simple keyword searches for each holiday. To keep my time and project manageable, I limited my scope to only searching Facebook and the 76 county historical societies that have a presence on that platform.
It is not surprising over four years Christmas dwarfs other holidays in the number of Facebook postings it gets - 1461 by my count. But what is surprising is the lack of acknowledgment by history organizations to other holidays of the season in their Facebook posts. The next highest is Hanukkah with only 13 posts and Kwanzaa (or Kwanza) gets a total of 7 posts over four years. Typically the postings are done by the same organizations. Usually, Hanukkah and Kwanzaa are in a message that ties it with Christmas such as "Merry Christmas and Happy Hanukkah!" rather than a stand-alone message about the holiday. Yule, which was mentioned 4 times was always tied to Christmas. Standalone  "Happy Holidays" messages occurred 49 times in four years.
Holiday Season Posts by County Historical Societies
YEAR
CHRISTMAS
EASTER
HOLIDAYS
HANUKKAH
RAMADAN
KWANZAA
(or Kwanza)
PASSOVER
YULE
2021
376
35
11
3
1
3
1
1
2020
333
25
10
7
0
4
2
2
2019
407
25
13
0
0
0
1
1
2018
345
14
15
3
1
0
0
0
TOTAL
1461
99
49
13
2
7
4
4
 
Average
365.25
24.75
12.25
3.25
0.5
1.75
1
1
Outside of the Holiday Season
If you're going hard into the Christmas season it is only fair to look at a few of the holidays outside of it. Enter: Easter, Passover, and Ramadan.
It can be said of Christmas it is a commercial holiday (similar to Halloween and Valentine's Day both of which also receive a lot of posts), and that reflects the majority of posts by history organizations, most being tied to events, gift sales, and requests for donations. Only a small amount of the 1461 posts can be considered non-commercial and posted in the true recognition of the holiday. The number of Easter posts gives a better idea of posting on the holiday rather than using it to raise funds. Between  2018 and 2021 I counted a total of 99 posts from county historical societies on Easter. Far less than the 1461 posts for Christmas. However, the other during that time Passover and Ramadan received only 4 posts and 1 post respectively from county historical societies.
Other Holiday Posts by County historical societies
YEAR
EASTER
PASSOVER
RAMADAN
2021
35
1
1
2020
25
2
0
2019
25
1
0
2018
14
0
1
TOTAL
99
4
2
 
Average
24.75
1
0.5
Holiday posts by the Minnesota Historical Society
If I am going to count the postings by county historical societies it is only fair that I include the Facebook posts by the Minnesota Historical Society. Between  2018 and 2021 I counted a total of 47 posts on Christmas using the criteria used for county historical societies; 10 posts for Hanukkah; 4 posts for Kwanzaa; 0 posts for Yule; 4 posts for Easter; 2 posts for Passover; and 1 post for Ramadan. Posts with Happy Holidays messages numbered at 9.
Holiday posts by the Minnesota Historical Society
YEAR
CHRISTMAS
HANUKKAH
KWANZAA
YULE
HOLIDAYS
EASTER
PASSOVER
RAMADAN
2021
7
3
2
0
2
1
1
1
2020
5
3
1
0
1
1
1
0
2019
16
2
1
0
4
1
0
0
2018
19
2
0
0
2
1
0
0
TOTAL
47
10
4
0
9
4
2
1
History organizations have goals beyond Christmas nostalgia, warm fuzzies, and income generation. Social media posting needs to reflect that. Don't stop celebrating Christmas or using it as a seasonal fundraiser as many do, but acknowledging other cultures in a diverse society is significant. History organizations work teaching local cultural information. In doing that work, it is important to bring attention to cultures, not in the mainstream and help examine cultural assumptions held by the local mainstream population. We are a Christmas-centric society where 90% of Americans celebrate Christmas (54% celebrate it as secular). However, your non-Christmas holiday posts can make observers of other religions outside of Christianity feel welcomed and celebrated by your organization. Posts on non-Christmas Holidays also acknowledge to your social media followers there are active cultural traditions different from their own in and outside their community.
How I counted…
The posts had to have happened during the holiday season they are associated with, postings such as "Christmas in July" were not counted. Comments in the posts where people mentioned the holiday when the post did not contain mention of the holiday were not counted either. The numerous postings of Christmas photos, Santa photos, Christmas tree photos, Christmas card images were not counted either if the post did not say Christmas in it (I suspect that it could double the Christmas count). Many other religious holidays, most notably in the fall, were not counted.
Looking for a list of holidays and religious observances? The University of Minnesota's Office for Equity and Diversity keeps a very comprehensive list »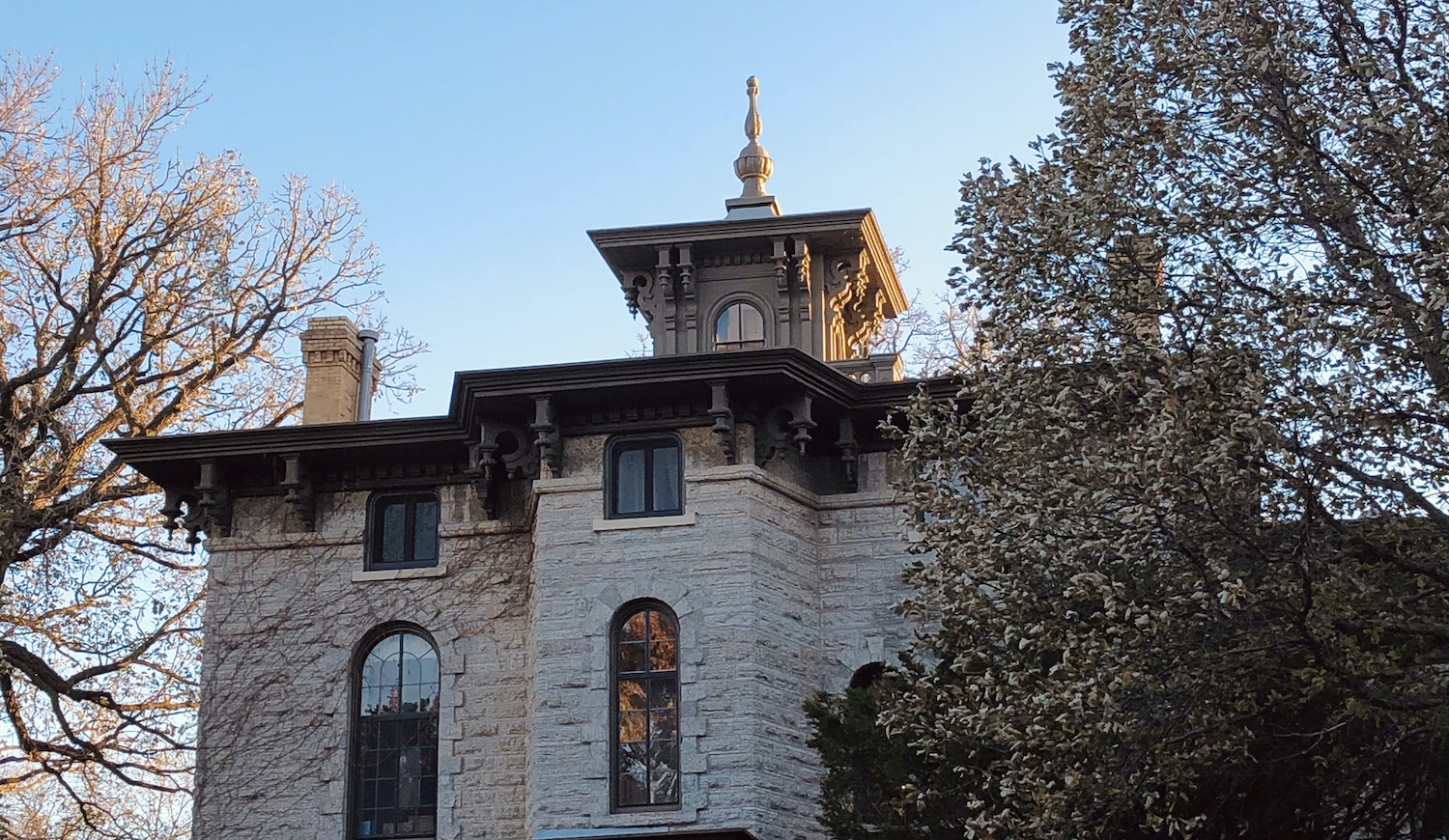 As a design reviewer at the Minnesota Historical Society, I am lucky that as part of my job I get to see a lot of interesting and varied architecture from around the state. I have enjoyed a front-row seat to some fantastic preservation projects. Helping people who are passionate about their built history and seeing those preservation projects progress and succeed is exciting and fulfilling. 
Another part of my job is being able to identify architectural features and read buildings. For me, this isn't merely a part of my job that I enjoy -- I feel it should be important to anyone interested in the history of their community or in built history in general. I'm passionate about preservation and I believe that the more we understand about architecture, the more we will realize its importance and will be invested in preserving it.
Why does this matter? 
You might ask "But wait, can this actually help me? Why should I invest time in learning about random architecture creatures?" There are actually a ton of benefits to being able to "read" architecture. Here are three (of the many) ways knowing how to identify architecture and recognize features can help you. 
1) It can help identify a general window date of construction.
2) It can help you identify construction methods and techniques 
3) It can help you understand the significance of the building 
Note: this blog post is focusing on exterior elements and features -- there is a mountain of information about the layout, plan, interior design and features of a building that also help to identify it. But that would be another blog post altogether.
Identify date of construction. Often there are papers, drawings, photographs or other documentation that can pinpoint the date of construction of a particular building. But sometimes there is no tangible documentation and so we have to rely on observation of the building to give us clues. (Side note: If you're planning on doing some major preservation work to your building, then we highly recommend consulting with a historic architect who has the expertise to analyze your building completely). But for an informal study of a building, if you have the ability to see key identifying features, then you can more often than not, place a building in a window of time when that architecture style was most prominent. For example, Second Empire (1855–1885), Craftsman (1905–1930), Queen Anne (1880-1910).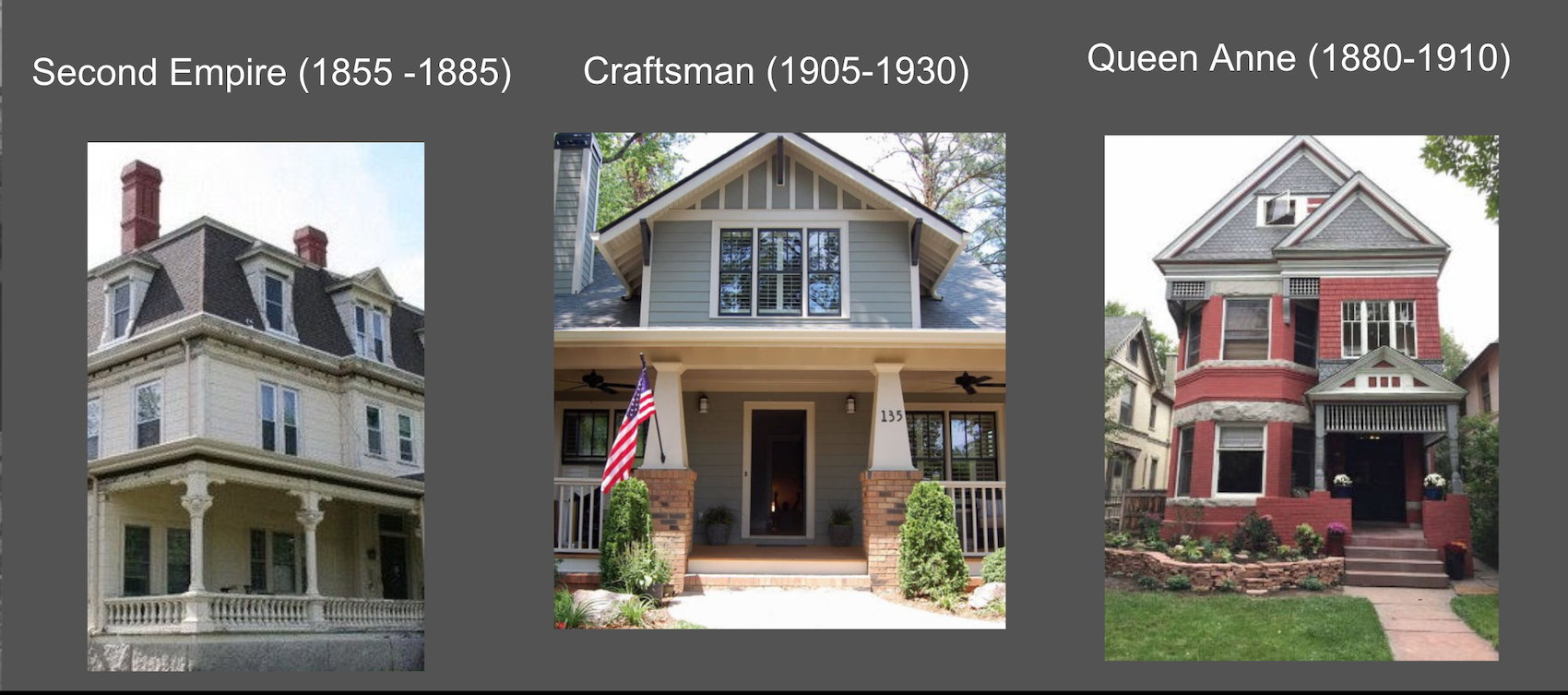 Construction methods and techniques. If you have an idea of the time period in which a building was built, then you have valuable insight into the construction of the building as a whole and techniques or materials that were likely used. Examples of this could be lath and plaster, roofing materials/techniques (such as slate, wood shakes or shingles, etc), different types of stone or brick patterns that indicate specific masonry techniques, mortar type, or asbestos-containing materials. All of this is valuable knowledge to those who are involved with historic architecture.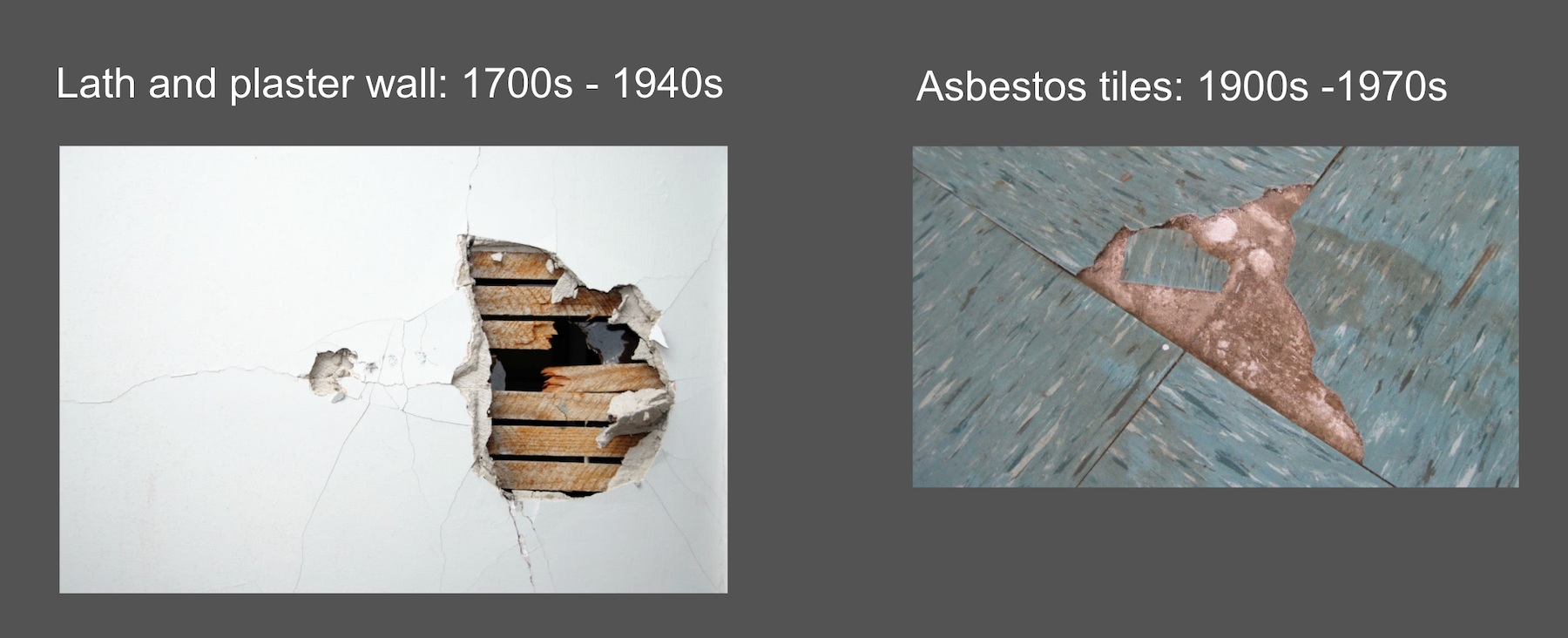 Understanding Significance. An important part of working with built history is understanding how the building interacts with and contributes to its surroundings. Does it contribute to an important time in the community? Does it represent some iconic art form? Does it provide physical evidence of a change or progression in the historic economy? These are all aspects of architecture that you can understand better if you know how to read the architectural elements of a building.
So, how does one get started in learning how to read historic buildings?
An easy place to start is to choose an architectural style that you like and learn some basics about it. You can start with a Google search or a reference book. Here are some great resources that may be helpful: 
Books: "A Field Guide to American Houses" Virginia Savage McAlester. "How to Date Buildings" Trevor Yorke. "American House Styles" John Milnes Baker. Digital resources: Architectural Styles of America and Europe (architecturestyles.org), Pevsner's Architectural Glossary (a mobile app), and don't forget Google! 
Let's take Gothic Revival for instance. After a quick read/search I can find a few key features of this architecture style: cross gable, steeply pitched roof, one-story flat-roofed porch, tall vertical windows, the classic gothic arch, and decorative barge-board detailing. There are many others, but these are a few of the most prominent.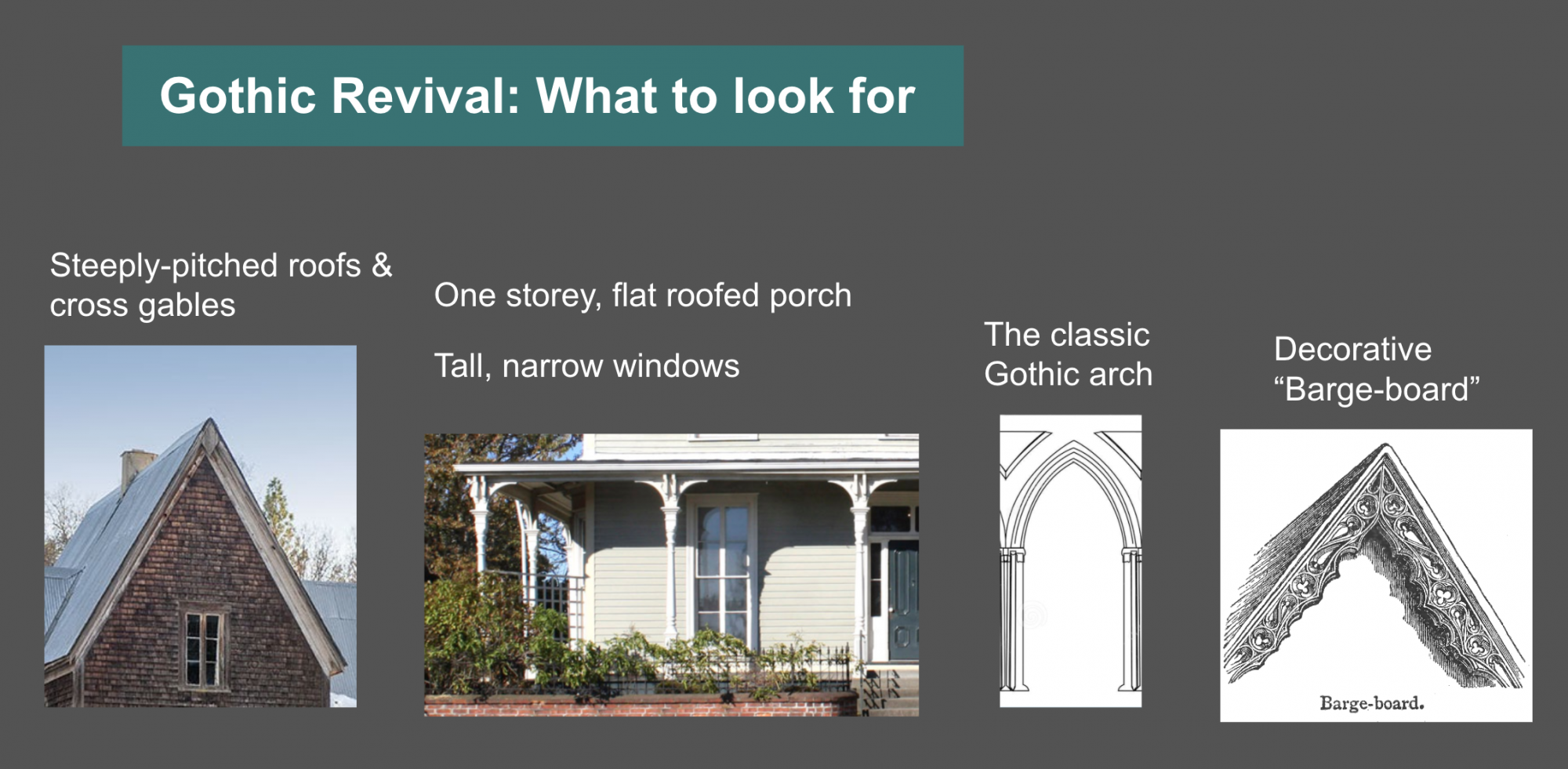 Once I know these few features I can practice identifying them on buildings, like this: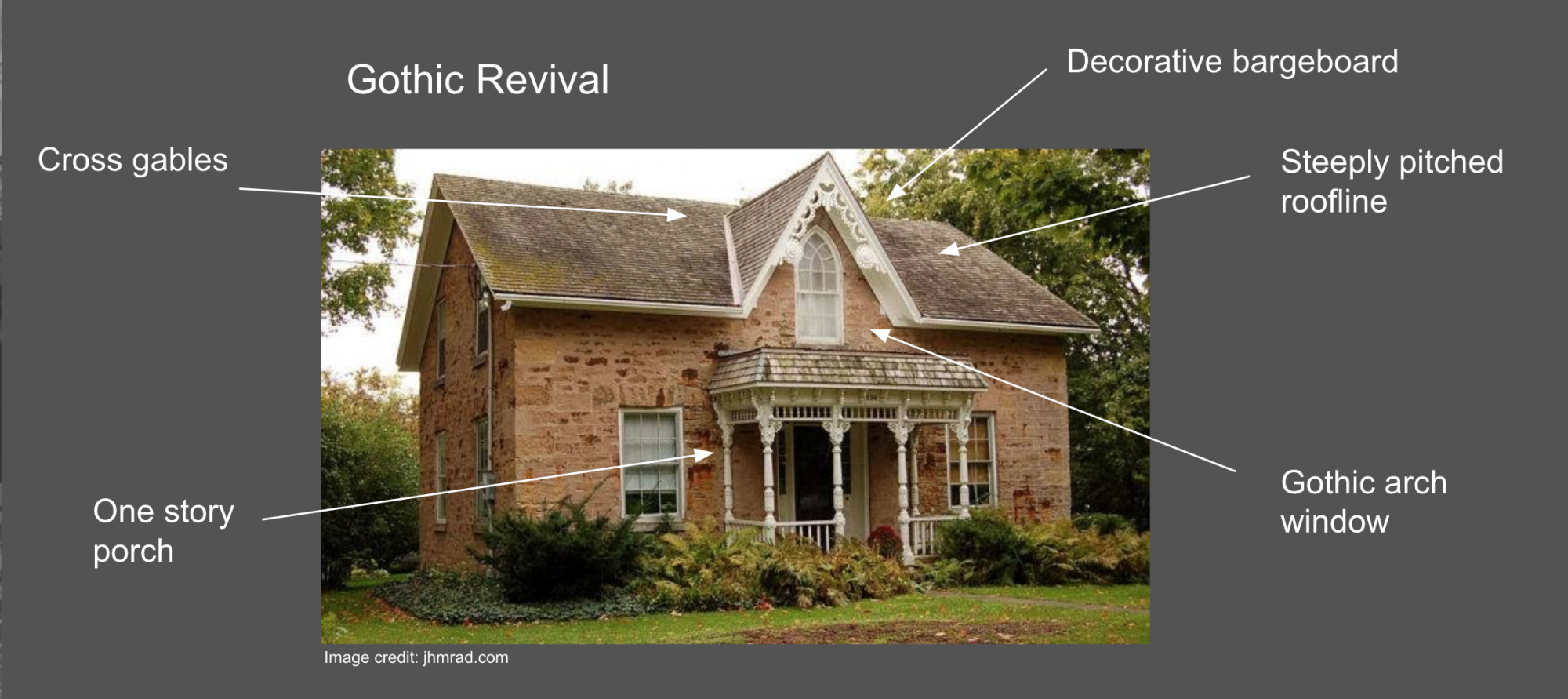 Note: reading/identifying buildings and their features is far from cut and dry. Often there are elements of several styles in one building. But if you know the basics, then you can learn to pick apart buildings and read their stories. 
By far the best way to start is simply to notice the architecture around you. Go on a walk, drive or run and look at the architecture that is in your neighborhood or town. You'll be surprised how easy it is to identify some buildings and many of their features. It's the best way to practice SEEING architecture because so often the architecture closest to us that we see every day is the same that we do not really see. Or at least do not notice. Also, look at your own house -- even if it's modern, you'll probably be able to see elements taken from older styles and nods to major architectural movements.  
You may have heard writers say they don't know what they think until they write about it -- or artists say they don't know what they've seen until they paint it. That is how I feel about architecture and having the words to describe and name features and building types, So often we don't know what we're seeing or experiencing until we can identify and name it.
-------------------------------------
Questions about this blog or requests for future blog posts? Contact us at localhistory@mnhs.org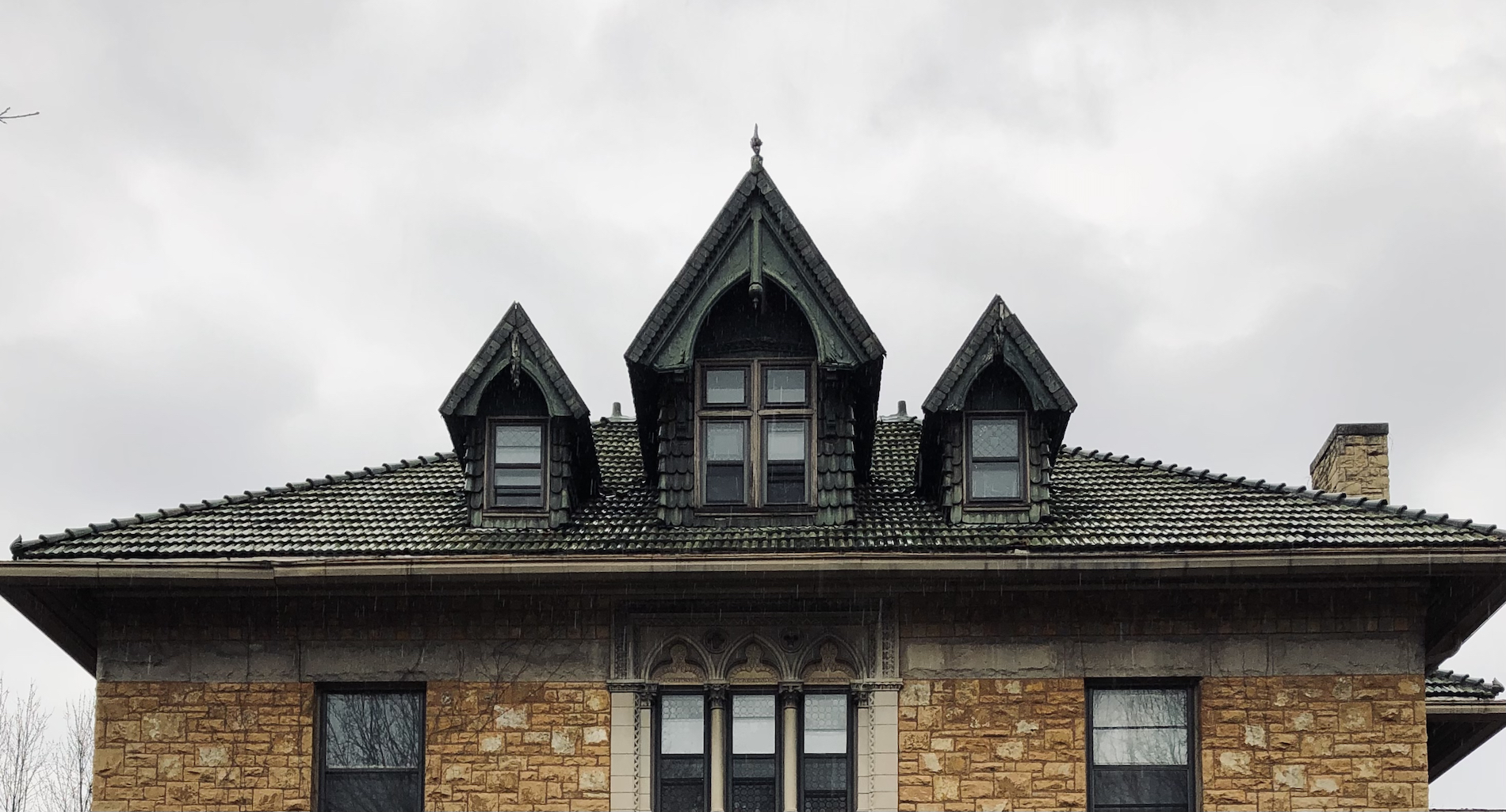 National Register Nomination: Why Get Listed?
Applying for listing in the National Register of Historic Places (National Register) can be a long process that often requires a significant amount of work and resources. Is it worth it? The short answer is that it depends on the building and its situation -- ownership, purpose, use, etc. But there are important benefits that can come with being listed. The purpose of this blog post is to highlight some of the benefits of being in the National Register and to give pointers for how to get started on the process of applying for nomination.
Funding. If you are at all involved with a historic building or historic preservation efforts, you know that funding is both scarce and essential, especially in the beginning stages of "saving" a historic building. Being listed in the National Register opens up opportunities for funding that otherwise would not be available, including the opportunity to apply for Legacy Grant funds. (Note: National Register listing is one of the requirements for eligibility for Legacy funds. Please see our website or Grants Manual for additional information and requirements.) 
History. The National Register nomination process requires extensive research into a property's history, design, physical features, condition, and its use by the community over time. This is invaluable information that will be an asset to your community and organization for purposes beyond designation. History from these documents is often used for walking tours, interpretation, tourism brochures, etc. 
Prestige. Let's be honest -- it makes a difference to the community or in the public eye if a property has been formally acknowledged to be historically significant. In some cases that can make all the difference between success and failure in preservation efforts. As a listed building, it may be easier to convince skeptics that the property is an important resource and asset to the community.
Preservation planning. Along with research that benefits your community/organization, the information about your property,  gained through the nomination application process, can be an invaluable resource when working to improve the longevity of the building by informing future preservation work.  
These are just a few of the benefits of listing in the National Register. So, is it worth it? In many, many cases it is. And we can help you get started! Check out this blog post for information about how we can help. 
Any questions? Shoot us an email at localhistory@mnhs.org (or our colleagues at grants@mnhs.org). If you have questions specifically about the National Register listing process, contact the SHPO here.