The Minnesota Historical Society's Local History Services helps Minnesotans preserve and share their history. This blog is a resource of best practices on the wide variety of museum, preservation, conservation, funding, and non-profit management topics. We're here to help.
 Subscribe in a reader
Seasonal Window Considerations and Treatments
Windows have of course long been called the eyes of buildings as they are usually a leading character-defining feature that transmit light but also illuminate an important component of the Industrial Revolution and construction. They tell us a lot about their host buildings, such as their owners and their tastes and interests, as well as styles, uses, and alterations over the years.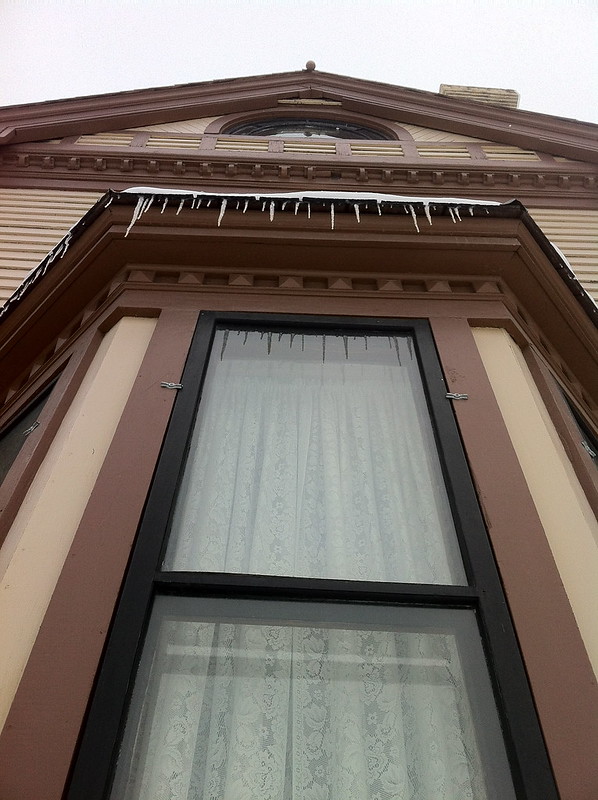 Comstock Historic House, Moorhead, Minnesota.  Source: MNHS.
This Minnesota Historical Society (MNHS) museum property was constructed in 1883 for a prominent Red River Valley family who was active in railroad and educational pursuits. Storm windows paired with regular sash windows help provide thermal protection from the prairie elements.
The multibillion dollar window replacement industry is able to dedicate considerable funding to try to convince people that only replacement windows will eliminate drafts. However, here in a state with weather as diverse and dynamic as Minnesota's, people have long thought of ways to make their buildings as weathertight as possible. These options allow people to continue to enjoy the effects of the painted wood frames and the unique types of window glazing like crown, cylinder, and faceted glass that would otherwise likely end up in a landfill.
"Unlike historic windows, new window assemblies cannot be repaired; they can only be replaced once again. The sustainable choice is to repair historic windows whenever possible." National Park Service 
Of course, the main requirements that window structural integrity rests on are regular observation and maintenance. Repairs should be made as soon as possible. Finding professionals who are experienced at window repair and rehabilitation is very important. National Park Service's Preservation Brief 9 and 13 along with Preservation Tech Notes Windows 1-22 are excellent starting resources when considering window care and weatherization. More effective than having weathertight windows is ensuring that, especially, ceilings and attics are insulated and, less so, exterior walls are insulated too. 
Storm Windows 
"A 2002 study confirmed that installing a storm window over a historic window can achieve a similar thermal performance to that of a new low-E vinyl replacement window. This experiment conducted by Lawrence Berkeley National Laboratory also noted that remaining air infiltration around the historic window and storm assembly is a matter of occupant comfort rather than energy efficiency." Weatherization: Windows and Doors National Park Service 
The use of storm windows, which have supposedly been around since the eighteenth century, can be effective year round, while only changing to screen windows the locations that need to be opened for ventilation during the summers. Thankfully, there are exterior and interior storm windows that come in a variety of materials, colors, and finishes that can complement historic buildings. Storm windows should match the overall style and color of the main windows they are serving. Speaking with a historic architect or building preservation professional can be of considerable assistance when navigating the many options to find suitable ones for the subject building. 
Sometimes, some of the storm window suppliers are from more obscure manufacturers. Often finding the most in-kind type of storm window may require contacting the manufacturer who will hopefully find the best match through a deep array of options. Existing storm windows should be retained, either on the building or in storage, as often as possible. Many of the finest historic storm windows even included true glass dividers of wood and stained glass margin lights. 
Storm windows significantly reduce the amount of sound that is transmitted through an opening. A single-pane historic window with a storm window provides greater noise reduction than a double-pane replacement window because there are two different systems instead of one; having two different systems provides a noise break. Some storm windows also integrate or have a basic surface for applying a UV-protection film or privacy glass, film, or safety glass.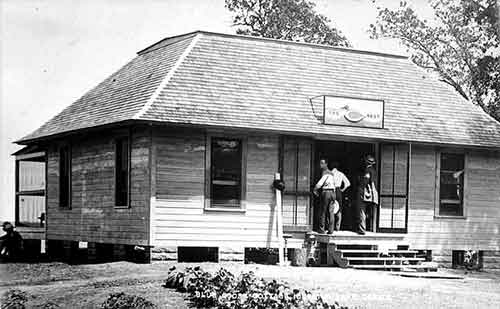 Blue Goose Cottage, Idlewilde, Lake Osakis, Osakis.  Source:  MNHS.
This 1940 photograph of this resort cottage shows how screen windows and screen doors were utilized in the summer months to repel insects while allowing cross ventilation.
Shutters 
Most commonly wood or metal, these devices, when closed shut over windows, can help weatherize the openings in a considerable way. However, they should not be utilized unless they were featured on the building historically. Adding features that were never there on the building creates a false sense of history. However, when there is photographic or physical evidence they had been utilized, there are regional manufacturers, repairers, and restorers of this feature, including here in Minnesota. 
Awnings 
Usually more useful in summer than in winter, these exterior window coverings are usually made of some type of cloth but also can be made of metal or other materials. They often keep out the sun in the summer but also can find a way to reduce wind and rain in the spring and fall. In commercial buildings, they would help keep interiors and window shoppers more comfortable and reduce HVAC costs.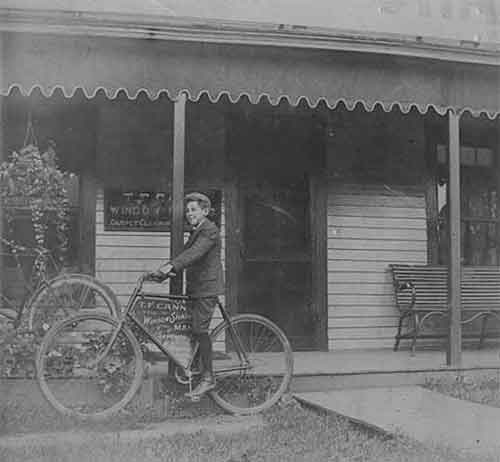 T.F. Cann Window Shades and Awnings, Seventh and Hennepin, Minneapolis. Source: MNHS.
This 1899 photograph shows an interesting scalloped awning on the porch of this building.
Treatments / Accessories 
Using drapes, curtains, and sheers, as appropriate, to minimize drafts and temperature fluctuations while providing privacy, defining views, and creating the right ambience has long been considered an economic option for reducing temperature changes, solar fading, and sound transmission within a building. 
Drapes
Drapes are usually of very heavy fabric that is tightly woven and effective at greatly reducing drafts and separating heat and cold.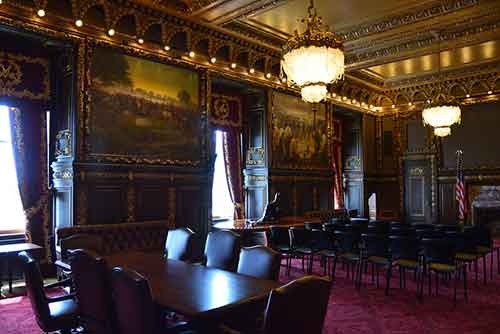 Governor's Reception Room at the Minnesota State Capitol, St. Paul, Minnesota. Source: MNHS.
The decorative drapery and pelmets (located at the tops of the window openings) provide for dramatic and decorative shading of light and weatherproofing in this landmark, which was constructed from 1896 to 1905.
Curtains 
Curtains are slightly more lightweight than drapes and can be effective for filtering light and sound and helping to provide a lesser amount of weatherproofing. Made of a variety of fabrics and fibers that have transitioned from natural to synthetic over the years, curtains also help provide decoration and privacy.
Sheers 
This thin gauzy material is more minimally effective at weatherization but is often considered beautiful in window treatments while providing some privacy. It is utilized together with curtains or drapes and is sometimes used all by itself. Historically, materials such as cotton and linen were used while in recent years polyester and nylon have been featured.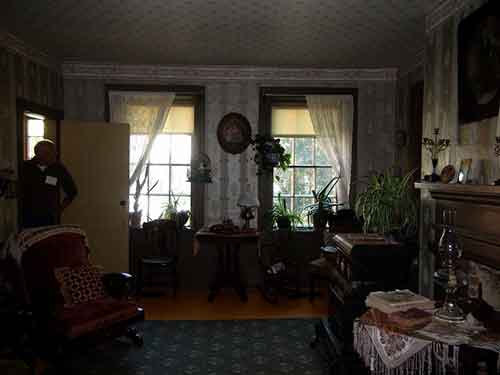 Historic Forestville, Minnesota.  Source: MNHS.
The sheer curtains and blinds provide a layered appearance that gives versatility to regulating temperature, light, and privacy in this decorative nineteenth-century space.