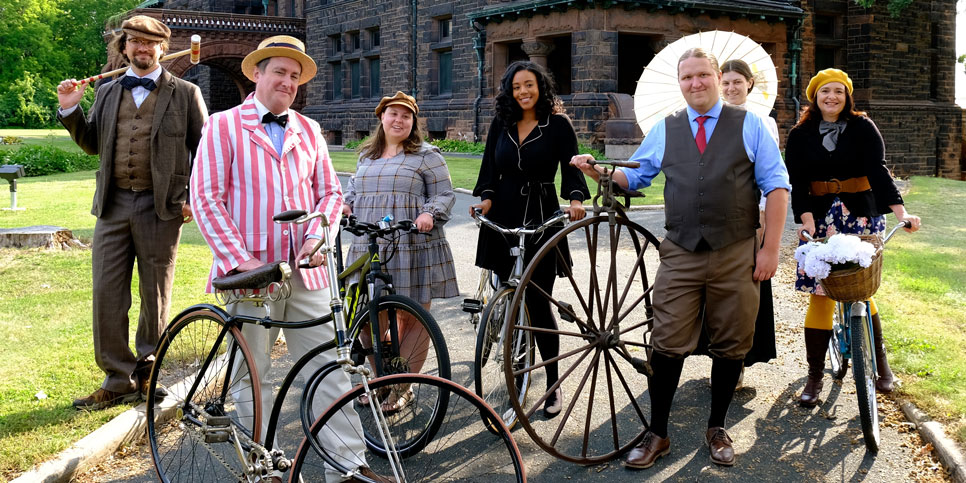 Twin Cities Tweed Ride 2023 and Lawn Party
240 Summit Avenue
St. Paul, MN 55102
United States
About This Event
Grab your bike and some vintage threads! Join us for a leisurely bike ride through some of the most scenic and historic areas of Saint Paul and Minneapolis.
Tweed Ride participants or not, all are invited to join us for the post-ride Lawn Party that starts at 3 pm at the frown lawn of the House and to shop the Minneapolis Vintage Market, which we are hosting in front of the House all day (9 am - 5 pm). Marigold, a local non-alcoholic bottle shop with two locations in the Twin Cities, is also setting up the pop-up storefront on our front lawn throughout the day. They will have fancy and delicious beverages for you to enjoy, whether you are heading out for the ride, or returning from the trip thirsty.
This event is FREE and open to all. Tweed Ride participants must register and sign the injury waiver form to participate. Registration to the Tweed Ride event does not include admission to the James J. Hill House, Mill City Museum, and Hennepin History Museum.
Vintage (1880s-1930s) fashions are encouraged but not required. Participants can join the ride from any point along our 23 mile journey—schedule below.
Ride Details:
The ride will kick off at the historic James J. Hill House with bike marshals from Farmstead Bike Shop. The James J. Hill House grounds will open at 9:00 am, and registered participants can enjoy coffee and light  refreshments as they wait for the ride to commence at 10:00 am. 
While we will have a bike parking attendant at break stops, please bring your bike lock for when you are parking your bike.
Join the after-ride Lawn Party at the Hill House front lawn at 3 pm!
Grab a drink from Marigold pop-up store, try your hands at playing some lawn games and enjoy live music by the Gritpickers. An Ice Cream Social will begin around 3:30 pm (free, while supplies last; courtesy of Sweet Science Ice Cream). Relax and unwind, and take a peek in the historic James J. Hill House (general admission required) to finish up your day.
The Minneapolis Vintage Market and Marigold (pop-up non alcoholic bottle shop) are open for all on the James J. Hill House grounds/front lawn from 9 am to 5 pm.
This event is FREE and open to all; admission to the James J. Hill House, Mill City Museum, and Hennepin History Museum not included.
Highlights include:
Cycling down Summit Avenue, one of the best-preserved stretches of Victorian mansions in the country
The route will cross the Mississippi River Gorge at Marshall Ave, then take a scenic loop across the Northern Pacific Bridge #9, and cross back again over the iconic 1883 Stone Arch Bridge
The ride will stop for a break at the Mill City Museum, where participants can grab a bite to eat, check out the Mill City Farmer's Market, or explore historic mill ruins
The ride resumes at 1:00 pm, leaving for the Hennepin History Museum
At the Hennepin History Museum, participants can check out the museum and enjoy refueling for the return trip with granola bars provided by P&TY Granola Co
The group will leave Hennepin History Museum at 2:00 pm to return to Hill House
There is ample street parking available if you plan to drive to the James J. Hill House.
The event is made possible by the generous help from following program partners and sponsors:
Minnesota Historical Society, James J. Hill House, Mill City Museum, Hennepin History Museum, Farmstead Bikeshop, Marigold, Minneapolis Vintage Market, Sweet Science Ice Cream, P&TY Granola Co.
Questions? Contact us.
651-297-2555