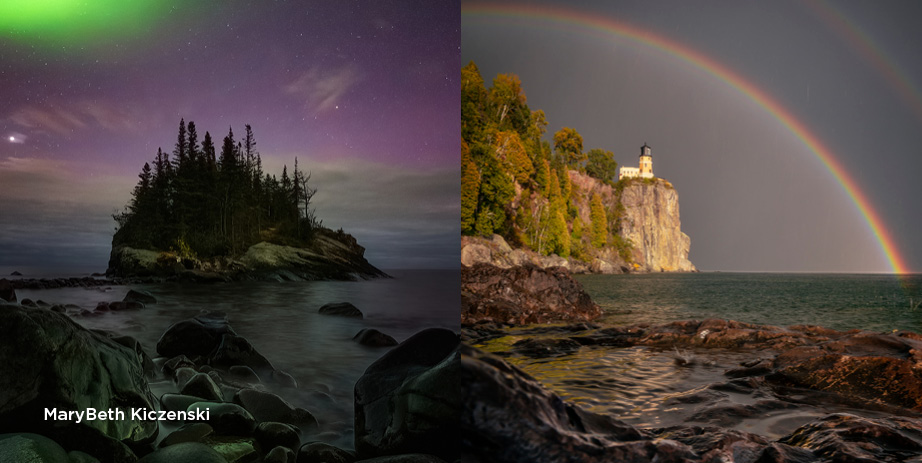 Photography & Art at the Rock
Featuring MaryBeth Kiczenski
3713 Split Rock Lighthouse Rd.
Two Harbors, MN 55616
United States
About This Event
"Photography and Art at the Rock," a rotating monthly exhibit in the lobby of the visitor center at Split Rock Lighthouse, showcases landscape and wildlife photographers and artists of the area. 
Our featured artist for the month of June is MaryBeth Kiczenski.
Meet MaryBeth and talk with her about her work and approach. Her photos will be on display at the visitor center from June 1 through June 30.
About MaryBeth Kiczenski
For the past decade, Marybeth has crisscrossed the country working for auto shows. This unique job allowed her to share her love for cars and landscape photography.
She enjoys finding the "little scenes." A bulk of her work features wide and low angle scenes, giving an up and close view of a smaller setting within a larger one. She is also a nightscape fanatic and uses a variety of tools to bring out the detail that can be hidden in the the night sky.
As an automotive enthusiast, outside of work she enjoys racing her 1995 Eagle Talon TSI AWD. This car she built taught her invaluable lessons in patience and perseverance. These traits are helpful when waiting all night for that elusive aurora borealis to show.
She has a degree in Creative Studies in Animation and Digital Media, but she found that photography is where her heart belongs with astrophotography being her absolute favorite.
Questions? Contact us.
218-226-6372