Historic Fort Snelling Press Kit
Historic Fort Snelling, Minnesota's first National Historic Landmark, resides on Dakota homeland at the sacred confluence of rivers known as Bdote. The restored 1820s fort and visitor center present the stories of those who crossed paths here over the centuries—from the Dakota, Ojibwe, and enslaved people, to fur traders, immigrants, and soldiers. The site is located at state Highways 5 and 55 overlooking the Mississippi and Minnesota rivers.
Historic Fort Snelling Presents Many Voices, Many Stories, One Place
New exhibit exploring real people's perspectives opens to the public September 16
ST. PAUL, Minnesota (September 5, 2023) – Thousands of years of complex history will be told through the perspectives of dozens of individuals whose lives intersected with the site now known as Historic Fort Snelling. The new exhibit, Many Voices, Many Stories, One Place, will share those stories starting September 16.
"Historic Fort Snelling is truly a site of converging histories. This new exhibit will create a
powerful engagement with the past by digging deeper into the history that is well known and also uncovering new stories many Minnesotans may have never heard," said Kent Whitworth, Minnesota Historical Society director and CEO.
The exhibit will teach visitors about
Bdote, sacred Dakota Homeland at the confluence of the Mni Sota Wakpa (Minnesota) and Haha Wakpa (Mississippi Rivers)
Native American history, Dakota knowledge, and contemporary Native perspectives
The military fort that played a pivotal role in our nation's history
Fur traders and the age of Minnesota's expansion
The legal battle over slavery that launched a national debate
A language school where thousands of Japanese-Americans worked during World War II
An all-Norwegian battalion organized to liberate Norway from Nazi occupation
"This is one of the most pivotal sites in Minnesota's history, and even our country's history," said Dr. Bill Convery, director of research at the Minnesota Historical Society. "We've been honored to work with dozens of community members, veterans, archeologists, tribal leaders, and historians to determine the most important stories and how to tell them in a way that will help people understand our shared history."
"This historic site brings a range of emotions for Native people, in particular, Dakota people," said Dr. Amber Annis, Director of Native American Initiatives at MNHS. "This exhibit is a powerful example of the importance of telling stories from the perspectives of those who lived them."
Many Voices, Many Stories, One Place is many years in the making, thanks to the work of research and exhibit teams at the Minnesota Historical Society (MNHS). It will be located in the Plank Museum and Visitor Center, which opened in May 2022 and is open to visitors year-round. This is the final piece of a two-year revitalization project at Historic Fort Snelling.
About the Minnesota Historical Society
The Minnesota Historical Society is a non-profit educational and cultural institution established in 1849. MNHS collects, preserves and tells the story of Minnesota's past through museum exhibits, libraries and collections, historic sites, educational programs, and book publishing. Using the power of history to transform lives, MNHS preserves our past, shares our state's stories, and connects people with history.
Former U.S. Army Cavalry barracks that had been converted into a VA outpatient clinic get new life in the year 2022. Welcome all to the new Plank Museum & Visitor Center at Historic Fort Snelling. Every detail and every square foot was researched and considered in the rehabilitation, in order to create a space designed for everyone and as the center for the historic site. Highlights of the new facility include:
More than 19,000 square feet of public accessible space including substantial exhibit and programming spaces throughout;
Lobby spaces on the main floor including the Sit Family Lobby, K.A.H.R Foundation Lobby and the Securian Financial Lobby on the second floor;
Two, private second-floor spaces that are available for rent along with a catering kitchen;
Large event spaces, meeting rooms and the Odegard classroom;
Expanded museum store with recommended learning resources, grab-and-go food and beverages for purchase, Native American art, and Historic Fort Snelling branded merchandise;
Improved accessibility with elevators, Americans with Disabilities Act compliant;
Restrooms on the main and second floors;
Huss Gallery and spaces for traveling exhibits; and,
Staff offices and storage in a waterproofed basement.
Revitalization
The interior of the building is a stunning transformation from when the rehabilitation began. Originally built in 1904 as U.S. Army Cavalry barracks and later converted to an outpatient VA Clinic in 1946, the building had served many purposes and many people. It sat vacant since 1989. It had no power, water nor HVAC. There was water damage throughout the building, from roof leaks before MNHS reroofed the building in 2012. Wood floors were warped and ceilings had fallen. Floor surfaces were covered in asbestos mastic and there was lead paint on many walls.
Now the building is safe, fresh and ready for visitors. It harkens back to its historic functions Notable design features of the revitalization include:
Rehabilitating character defining features such as wood windows, wood floors, plaster walls and ceilings, cast iron columns, slate roof and masonry – preserving each element was a labor of love and testament to tradespeople and their craft;
Remediating wood floors to remove layers of asbestos mastic, with some areas replaced that were too badly damaged, and lead paint removal;
Restoring wood floors and adding new wood floors with a darker stain, to indicate where walls had been in a previous footprint;
Painting with colors and using materials selected with historic precedent; and,
The use of wood and architectural details along with black metal accents that complement the beautifully rehabilitated floors.
Brief Timeline
It has been called Building K-12, Building 18A-B and a VA outpatient clinic. Following is a brief timeline of the building:
Between 1904 and 1907, cavalry stables, stable guardhouses, a drill hall and barracks were constructed at Fort Snelling. Each wing of the barracks was designed to hold 85 soldiers. The Fort Snelling Quartermaster records note that the building was constructed for $60,477.00 with brick walls, stone foundation, slate roof and wood floors.
In the 1930s, Building 18 housed machine gun companies of the Third Infantry. These machine gun companies may have occupied the building as early as the 1920s.
In the early 1940s, the building housed "companies in training."
In 1944, Japanese language classes began at the Military Intelligence Service Language School (MISLS). According to supplements to telephone directories c. 1944 and 1945, the MISLS School Battalion Company F is located in Building 18-B and the School Battalion Company E is located in Building 18-A.
In 1946, the U.S. Department of Veteran's Affairs begins converting the building into an outpatient clinic.
The building was abandoned in 1989.
MNHS reroofed the structure with slate, the same materials as the original. Reroofing was completed in 2012.
In July of 2018, Preservation Design Works, LLC presented a Historic Structures Report for Buildings 17 and 18.
Fall of 2019, revitalization of Historic Fort Snelling begins.
May 28, 2022, the building reopens to the public as the Plank Museum & Visitor Center.
About Historic Fort Snelling
Historic Fort Snelling, Minnesota's first National Historic Landmark, resides on Dakota homeland known as Bdote, at the confluence of the Mississippi and Minnesota rivers. The restored 1820s fort and new visitor center present the stories of those who crossed paths here—from the Dakota, Ojibwe, and enslaved people, to fur traders, immigrants, soldiers and veterans.
# # #
Resources cited: Historic Structure Report: Cavalry Barracks - Buildings 17, 18 and Link, Preservation Design Works, LLC, July 2018.
Historic Fort Snelling All Are Welcome: Revitalized Grounds Fact Sheet
Above the soil, below the soil and the soil itself reveals the history of Historic Fort Snelling. With revitalized grounds and improved interpretation, even the plants present an opportunity for learning and connecting to the site of Dakota homeland. Highlights of the revitalized grounds include:
Native Plant Nations
Savanna, woodland, prairie and wet meadow landscapes featuring native plants surround the new visitor center, parking area and pathway to the fort. Interpretive panels throughout the locations present the Dakota and common English names for many plants, plus how Native Americans have used those plants for medicinal and ceremonial purposes. As these landscapes continue to grow and mature, visitors are encouraged to revisit and observe this living history.
Interpretive Spaces
New Collective Voices interpretive panels feature six individual historical portraits with stories of service, sacrifice, hope, identity, pride and perseverance. Look for history topics that include World War I and World War II soldiers, Native American veterans, Japanese Americans and the Military Intelligence Service Language School as well as the Fort Snelling Memorial Rifle Squad.
Upon entry to the site just past the Hale Welcome Plaza, a panel presents the 1805 Treaty and how it laid the groundwork for an uncertain future between settlers and the Dakota people. A timeline shares historic moments on the site from 1820 to the present.
Past the parking area, a panel presents the story of Whiskey, a horse who bedazzled soldiers with his intelligence. The U.S. Army buried the horse on the site in 1944 with full military honors. Visitors will see a unique birdhouse and its story, built by Eagle Scout Johnny Her in 2012.
As visitors walk down to the historic fort from the visitor center, interpretive panels describe Fort Snelling's role in the U.S. Dakota War of 1862.
Gathering Places
Historic Fort Snelling has been a gathering point for 10,000 years. The site continues to welcome people to linger, reflect, celebrate and contemplate. New overlooks along the Wakpa Tanjka/Mississippi River offer opportunities to view natural and built surroundings.
Robert and Alexandra Klas Overlook: Built adjacent to the previous visitor center's location, this overlook provides sweeping views of the Mississippi River and Minneapolis Skyline. Interpretive panels provide information about prairie plantings surrounding the area, as well as a chronological overview of the site's history.
Gale Family Foundation Terraces: Relax at the Klas Overlook and enjoy the restored prairie, scenic view, and special musical events that transform the terraces into the best seat in the house.
Picnic Area: Located west of the Klas Overlook, this picnic area is a perfect place to enjoy a bite. The grave of Whiskey, Fort Snelling's most famous horse is nearby along with Johnny Her's birdhouse.
A Place to Remember: All are welcome at this spot: to pay tribute to the many lives shaped by this place and the generations who lived, labored, and learned here; to recognize the pain, loss, and sacrifice of those connected to this place; and to honor Minnesota's shared history, together.
Barbara and Michel Nelson Family River Overlook: Nestled behind Building 17 which was constructed in 1904, this overlook presents a unique view of the Mississippi River and bustling Highway 5.
Fort Snelling: The fort continues its tradition of cannon and musket demos, blacksmithing, and the Fife and Drum Corp. Visitors are invited to investigate the Commandant's House and South Battery. Climb the Round Tower or Half Moon Battery. See where Harriet and Dred Scott lived, and learn about the history of the many enslaved people at Fort Snelling. View exhibits on medicine and medical care and archaeology.
Walking Paths
Unpaved and paved paths with improved directional signage provide greater access and better wayfinding to newly revitalized and existing portions of the site. Visitors can meander along the Ecolab River Walk and stroll along the bluff with panoramic views of the river.
As visitors enter the site from the parking lot, the Jim and Sharon Hale Welcome Plaza presents an artistic representation of the confluence between the Minnesota and Mississippi Rivers etched in the concrete.
About Historic Fort Snelling
Historic Fort Snelling, Minnesota's first National Historic Landmark, resides on Dakota homeland known as Bdote, at the confluence of the Mississippi and Minnesota rivers. The restored 1820s military fort and new visitor center present the stories of those who crossed paths here—from the Dakota, Ojibwe, and enslaved people, to fur traders, immigrants, soldiers and veterans.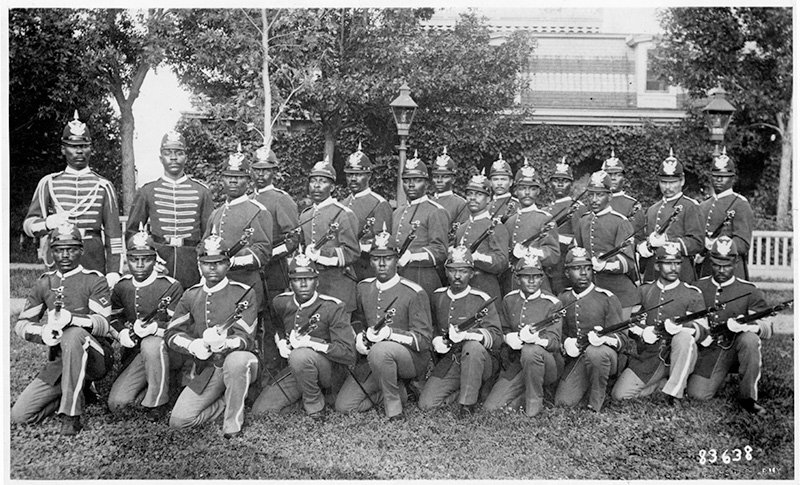 African American troops, Company I, 25th Infantry at Fort Snelling, 1883
Photo courtesy Minnesota Historical Society
Download high-res image (7.25 MB)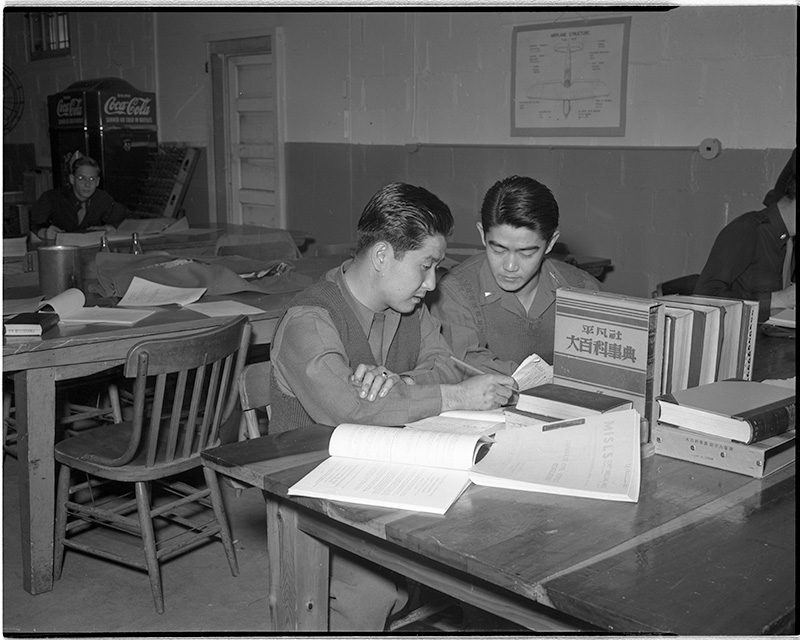 Military Intelligence Service Language School students at Fort Snelling, 1945
Photo courtesy Minnesota Historical Society
Download high-res image (9.86 MB)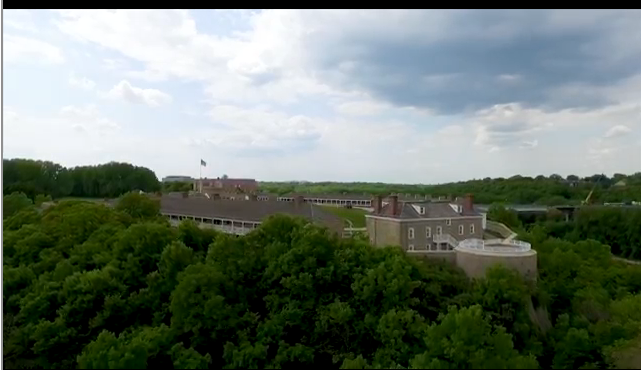 Shot List
0-0:27 - Aerial shots of the historic site
0:28-1:30 - School field trip (indoor and outdoor shots)
1:31-1:49 - Examples of historic content explored at site (Native American history, Military Intelligence Language School, military history, Dred Scott's story)
1:49-2:02 - Problems of old visitor center and shots of 1904 cavalry barracks pre-restoration into a new visitor center
2:03-end - Renderings of the site, including new visitor center, after revitalization project is completed