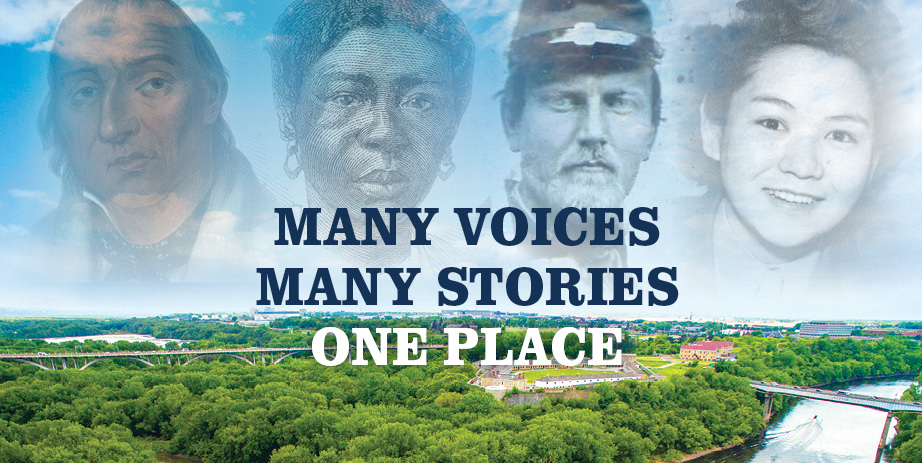 Many Voices, Many Stories, One Place: Exhibit Opening Day
200 Tower Ave
Saint Paul, MN 55111
United States
About This Event
Join us for the opening of the Historic Fort Snelling Exhibit, Many Voices, Many Stories, One Place, located in the Plank Museum & Visitor Center.
Through the perspectives of real people, visitors will learn about the many voices that shaped Fort Snelling, including Dakota and Ojibwe people, Japanese-Americans, immigrants, enslaved African American people, soldiers, and fur traders. Experience the site as a place to remember, reflect, and honor the past.
On this special day, there is something for everyone, including tours to the historic fort, live music, children's activities, historic games, and more:
Tour Many Voices, Many Stories, One Place
Join a Walk and Talk Tour to visit the Fort
Swing to the music of Brooklyn Big Band who will be performing WWII era tunes on the Klas Overlook from 11-11:45 am and 1-1:45 pm
Create a block print of a USCT (United States Colored Troops) Civil War soldier and learn about African Americans who enlisted in Minnesota during the Civil War
Color an activity from the MNHS Press Book, Mashkiki Road: The Seven Grandfather Teachings
Inspect WWI and WWII US Military uniforms
Event Type:
Music, Films, Performances

Tours
Questions? Contact us.
612-726-1171