Accessibility Workshop: Modifying Historic Properties for Increased Accessibility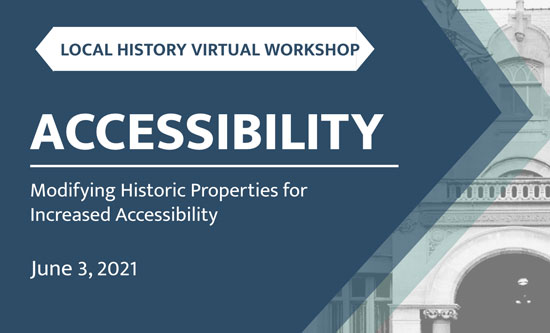 Historic Properties, National Park Service Preservation Briefs and local design ordinances. Work on historic properties also needs to adhere to the Americans with Disabilities Act (ADA) requirements and other building codes. The architecture and historic preservation fields look at accessibility as a way to provide not only code compliance but equitable access to spaces and experiences. This workshop will look at how accessibility to and in historic properties can be improved to meet the current knowledge and needs around accessibility. Four presenters in a series of three presentations will explain the basics of the ADA and best practices for creating accessible spaces, how to modify historic buildings to meet best practices and what some examples are of these practices being applied to spaces in Minnesota. Join the Minnesota Historical Society's Local History Services for this instructive workshop.
Cost: Free.
If you would like to request an accommodation please contact Todd Mahon at todd.mahon@mnhs.org. Please submit accommodation requests by May 20.
Date and Time of Event: Thursday, June 3, 2021 @ 9 a.m. to 1 p.m. CDT
REGISTER
Learning Units
This program has approved by AIA) for 3.0 HSW Learning Units. Attendees must attend and be engaged in all three presentations in order to receive this credit. Partial credit is not possible.
Presenters
David Fenley - ADA Director, MN Council on Disability
Ray Bloomer - Accessibility Specialist, Accessibility Support Program, WASO, National Park Service
Bill Hickey, AIA - Principal, Architecture, Planning, Historic Preservation, Collaborative Design Group
Bess McCollough, AIA - Architecture, Collaborative Design Group
Four Learning Objectives
Learn the basics of Americans with Disabilities Act (ADA) that includes not only the legal responsibility for building owners but advocates for best practices and understanding of how a space can be evaluated for better accessibility.
Understand the importance of updating historic buildings to provide equitable access to the building's spaces for occupants and visitors.
Identify elements of a historic property, such as historic fabric or interior spaces, that can be sensitively modified to create spaces that provide increased accessibility for occupants and visitors while following preservation standards.
Evaluate how to plan and employ design solutions for increased access through additions to historic properties including real-world case studies from the state of Minnesota.
Sessions
9 a.m.
Disability and The ADA: Cultural, Demographic, Legal and Technical Implications
Description: This session will discuss how disability and the ADA affects society and people's lives. It will provide a demographic and cultural analysis of disability while setting the stage for the technical application of the ADA.
Presenter: David Fenley, ADA Director, Minnesota Council on Disability.
David has been with the Minnesota Council on Disability since 2014. He transitioned from legislative work to ADA education and outreach throughout Minnesota. David, a certified access specialist, informs entities across the state about Disability awareness, ADA obligations, Minnesota's Accessibility Code, digital accessibility.
10 a.m.
Accessibility to Historic Sites; the Decision Process
Description: The process of deciding how to make historic structures and sites accessible to people with disabilities, must consider multiple factors. This session will discuss types of structures, types of changes to be considered, limitations and uses of the structures, along with what to do if all areas of historic structures cannot be made accessible. This session is intended to provide participants with guidance in order to successfully strike a balance between accessibility and preservation.
Presenter: Ray Bloomer, Accessibility Specialist
Ray Bloomer works with the National Park Service's National Accessibility Support Program. He has significant experience in training and consulting on accessibility in historic sites, both in physical and programmatic accessibility.
11 a.m
Lunch Break
11:30 a.m.
Strategies for Accessibility Improvements to Historic Properties
Description: This session will consider strategies for increasing physical access to historic structures. Universal Design concepts will be reviewed, with methods and construction approaches illustrated through review of case studies.
Presenter: Bill Hickey is Principal at Collaborative Design Group Inc.
He is an award-winning designer, and a leader of CDG's Preservation and Adaptive Reuse practices.
Presenter: Bess McCollough is an Architect at Collaborative Design Group Inc.
She is a Senior Designer and Project Manager at CDG, specializing in Preservation, Adaptive Reuse and Universal Design practices.
12:30 p.m.
Panel discussion
This workshop was made possible with the support of the Charlie Nelson Fund for Historic Preservation