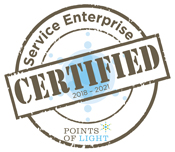 Volunteers are essential to the Minnesota Historical Society.
It's our goal to make volunteering as enjoyable for you as it is valuable for us. 
Volunteers contribute to the work of our mission. If you have enthusiasm, good customer service skills, enjoy history and exploring cultural organizational environments and are a lifelong learner, then volunteering at MNHS may be for you.
At MNHS, we don't just accept difference--we celebrate it, we support it, and we thrive on diversity for the benefit of our volunteers, interns, employees, our products and services, and our community. The Minnesota Historical Society believes that an inclusive culture among our team members is critical to our success as a historical society, and we seek to recruit, develop, and retain the most talented people from a diverse candidate pool. The Minnesota Historical Society is proud to be an equal opportunity workplace.