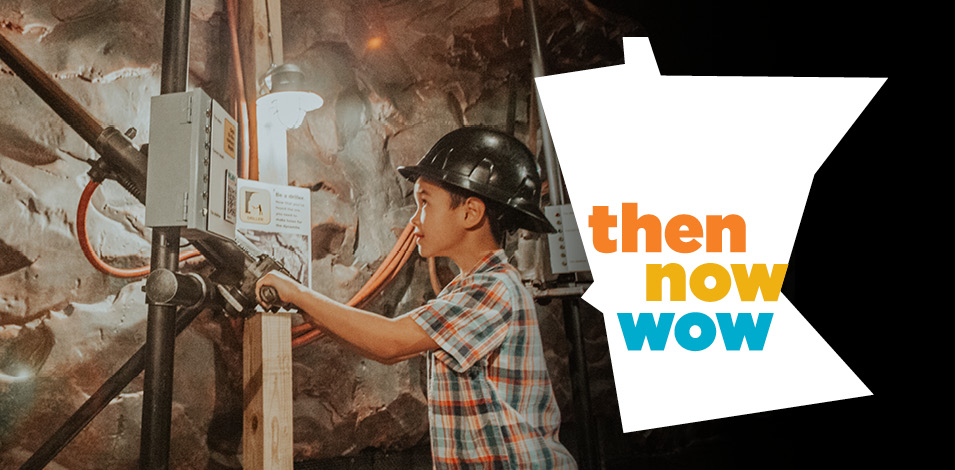 Come explore the "Wow!" moments that helped shape this state throughout history. This super fun, action-packed exhibit for kids and their families is the perfect year-round destination. Come play, learn, and discover Minnesota's one-of-a-kind history together.
Climb, crawl, wriggle, touch, explore, play!
The biggest exhibit ever created by the Minnesota Historical Society is designed for even the smallest of history lovers. Then Now Wow is designed especially for children to walk, climb, and wiggle through 14,000 square feet of Minnesota's history. The hands-on, interactive exhibit uses a wide range of story-driven features to explore immigration, transportation, family life, natural environments and Minnesota industries like fur trade, mining, and agriculture.
The exhibit combines "then" and "now" imagery in a number of unique ways. Entire walls feature modern photography of the Minnesota landscape, carpeting mimics the Mississippi River in color and pattern, and large scale Eames-style cards, feature bold images and historical content.
See, touch, and feel how people lived and settled in the state hundreds of years ago, from the Native Americans to the voyageurs to the pioneers on the prairie. Then take a close-up look at the people and vibrant communities who make up our cities, with their dreams, accomplishments, and passions that help shape the character of our state.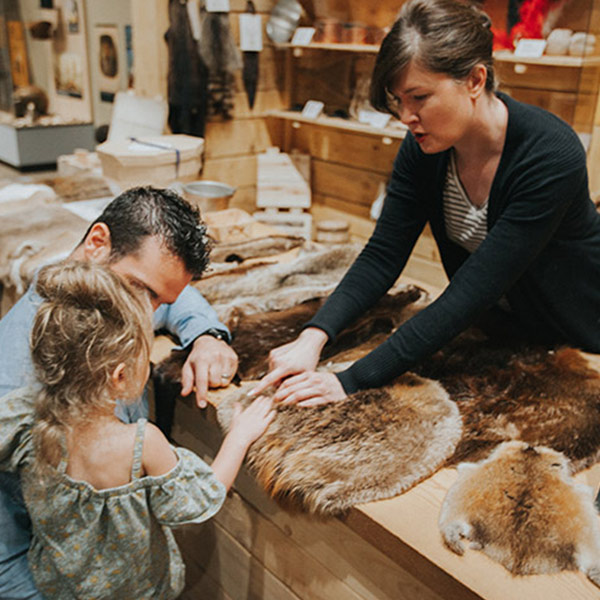 The fur trade
Beaver hats were popular across Europe from 1550-1850 because the soft yet resilient fur could be easily felted and pressed into hat shapes, including the familiar top hat. Demand eventually drove the animal to near-extinction, helping to bring an end to the fur trade. Thankfully, silk hats came into fashion and the beaver survived.
Wow! Kids can touch animal furs, try hauling a 90-lb voyageur pack used during the fur trade, and barter for goods inside a fur post.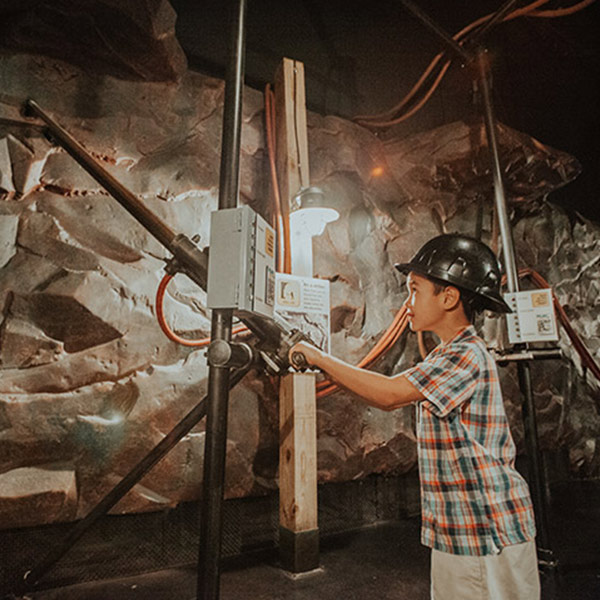 The Iron Range
Minnesota has three iron ranges: Cuyuna, Mesabi, and Vermillion. The Soudan mine, 1884-1962, is the oldest mine in Minnesota (now Soudan Underground Mine State Park) while the Hull-Rust-Mahoning mine in Hibbing was the largest open pit mine in the United States.
Wow! Kids can explore what life was like for Minnesota miners and try their hand at blasting for ore.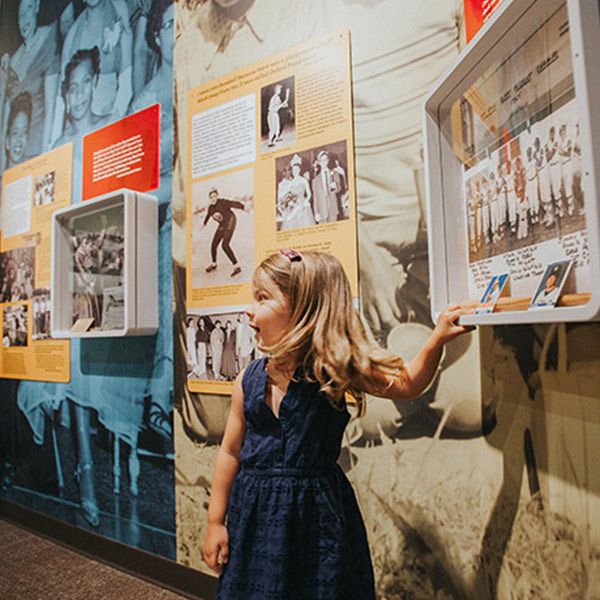 The cities
Rondo, a thriving African American community in St. Paul, was virtually eliminated by construction of the I-94 freeway in the 1960s. From this neighborhood came Toni Stone, the first woman to play major league baseball with the Negro Leagues, and Pilgrim Baptist Church, which was founded in 1863 by former enslaved and free men, women, and children who made their way to Minnesota in search of better lives.
Wow! Kids can walk along Rondo Avenue and visit stores, houses, and churches long gone by. "Travel" on a Twin Cities streetcar to hear and see stories as different eras and places pass by.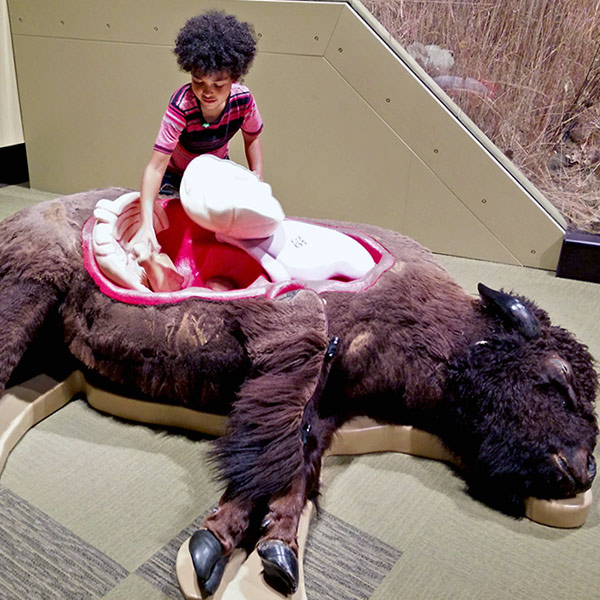 The bison
The bison is the largest land animal in North America. For centuries, Native Americans hunted it for food. They also carved horns and hooves into spoons and cups, used the bladder as a carrying sack, turned shoulder bones into hoes, used the hide for clothes and shelter, and laced rib bones together to make a sled.
Wow! Kids can see how the bison was like a walking grocery store by scanning parts at a checkout counter. Then step inside a modern tipi and learn Dakota history and culture from poet/artist Bobby Wilson.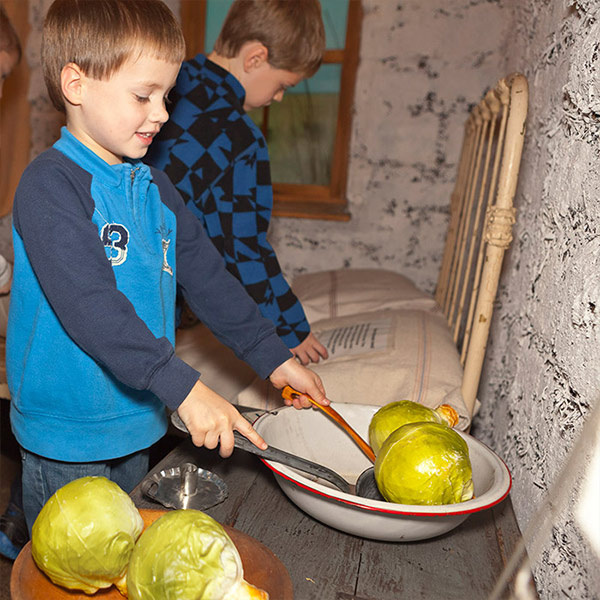 The prairie
The people who moved into the prairies in the last half of the 19th century had to answer questions such as "How do you build a house without trees?" and "What do you do when grasshoppers eat the clothes off your back?" When a grasshopper plague hit Midwestern farms for five summers between 1873-1877, the insects ate crops, wool from live sheep, and clothing off people's backs. As Laura Ingalls Wilder wrote, they came up quickly: "There was no wind. The grasses were still and the hot air did not stir, but the edge of the cloud came across the sky faster than wind."
Wow! Kids can visit a sod house and learn about prairie life.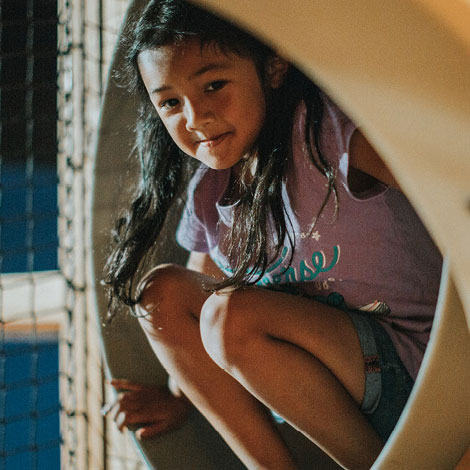 Grainland
Are you soy, or are you corn? You can choose! Experience the ups and downs of being a freshly harvested crop by climbing into a replica grain elevator where bins and chutes are replaced with steps and slides and curving nooks and crannies to explore. Then hop into the vintage 1900 farmer's wagon loaded with grain for market, or step into an authentic 24-ton Soo Line boxcar. The kid-size twists, turns, and tunnels will keep your little "crops" active while learning about how grain leaves the farm and ends up on your table.
Woof! Then Now Wow gets four paws!
Pick up a copy of the History Hound Activity Book featuring Then Now Wow at MNHS historic sites and museums around Minnesota. Fun for kids ages three to nine!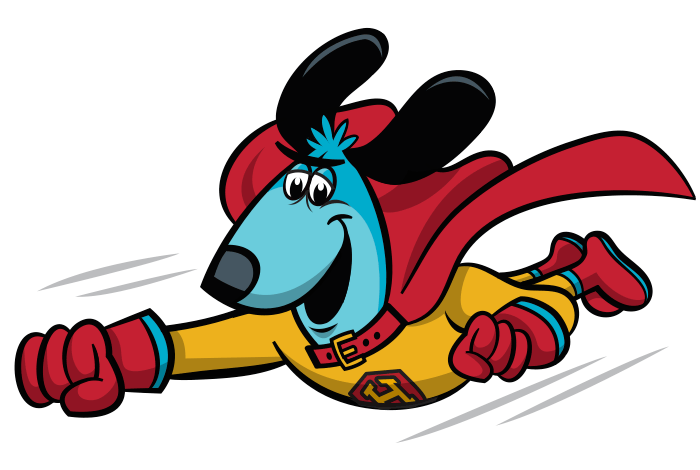 This exhibit is made possible by the Legacy Amendment through the vote of Minnesotans on Nov. 4, 2008. Major support provided by Target, the 3M Foundation, the Fred C. and Katherine B. Andersen Foundation, the Katherine B. Andersen Fund of The Saint Paul Foundation, and the Institute of Museum and Library Services. Additional support from the BNSF Foundation, Rosemary and David Good Family Foundation, Grotto Foundation, Hardenbergh Foundation, Dr. William F. and Hella Mears Hueg, Minnesota Corn Growers Association, Minnesota Soybean Research and Promotion Council, Carl and Verna Schmidt Foundation, and the George W. Wells, Jr., and Mary Cobb Wells Exhibition Fund.