Youth Movements (1903-2020)
Historical Context
Youth are powerful voices in past and present calls for justice. Highlighting the experiences of children, teenagers, and young adults in social movements emphasizes not only the presence of young people in the past, but also involvement in issues important to them.
This set highlights the experiences of various communities, including child laborers in the early 20th century, youth involved in the Civil Rights Movement, and environmental activists. This document provides additional context and resources.
Culturally Relevant Pedagogy Considerations
Before having conversations about injustice in the classroom teachers need to first build a community of trust and brave space in the classroom. This starts with teachers listening and understanding the multiple identities learners bring to the space. An important part of incorporating and using culturally relevant practices is critiquing the status quo, learners can be encouraged to dig deeper by cultivating a community of questioning.
It may also be helpful to learners to be able to identify types of action. Young learners have a deep sense of fairness, and teachers can help students process the history and sources they are seeing by helping them think of what they can do with their newfound knowledge.
As students may have strong emotions that come up while analyzing and learning about the history behind primary sources, it is important that teachers have strategies that they can share and practice with students to regulate how they are feeling. One method is to use the Courageous Conversations compass to see where learners are at in their thinking or feeling. "I feel" statements and an emotions gauge can also be helpful tools. Learners should have access to visual resources that help them process emotions as well as a way to reflect and share their thinking and feelings through writing or drawing.
This set was compiled by Angela Bianco, fourth-grade teacher in White Bear Lake.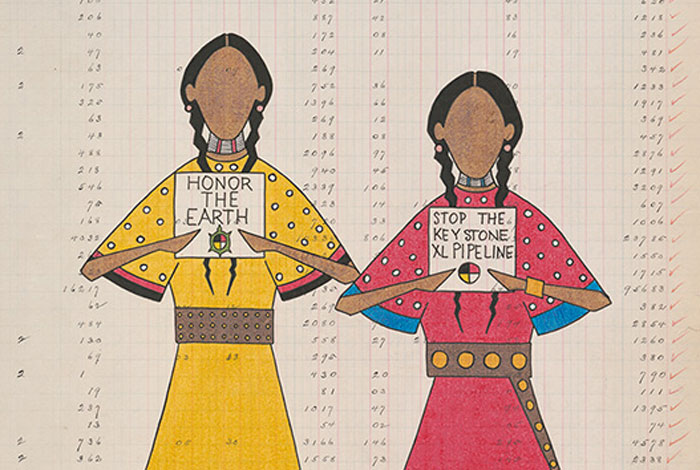 Date: 2014
Creator: John Isaiah Pepion
Type: Drawing
Contact
Meghan Davisson, grant director
Disclaimer: Content created and featured in partnership with the TPS program does not indicate an endorsement by the Library of Congress.