About
The Minnesota Historical Society preserves and makes available a wide range of materials chronicling Minnesota's history and culture. The goals of the Collections Department are to collect and preserve; provide access and interpretation; and engage in education and outreach. This blog is a tool to share these stories and let people know what is happening in the department.
See Collections Up Close Blog Archive
 Subscribe in a reader
A Soldier's Thanks

This thank you letter was sent by Private George L. Bucklin to the Saint Paul Chapter of the American Red Cross to thank them for everything the Red Cross does for soldier; from providing them with Comfort Kits to giving soldiers knit wear when things get cold, to welcoming soldiers to their new home and reminding them of their old ones.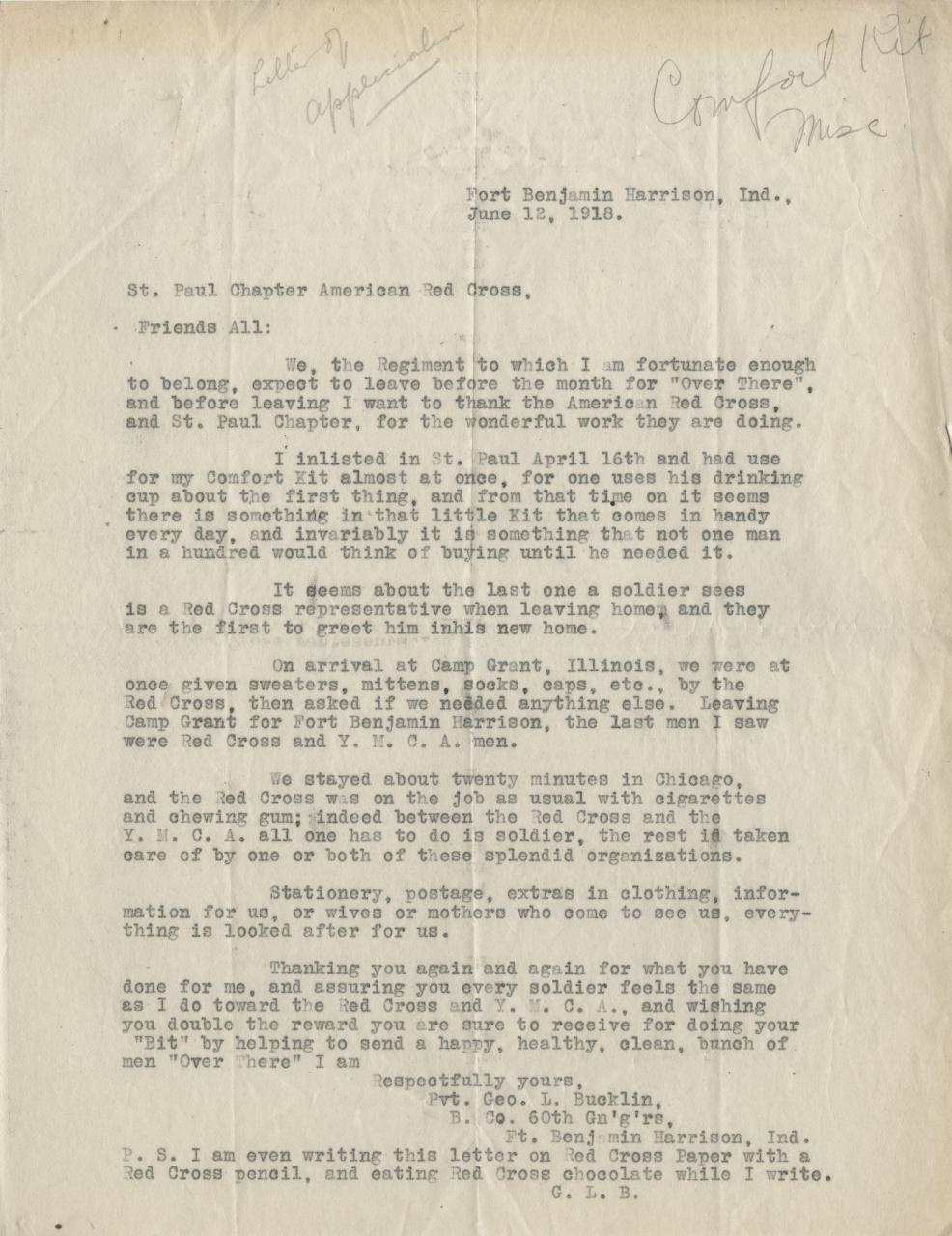 Fort Benjamin Harrison, Ind.
June 12, 1918.
St. Paul Chapter American Red Cross,
Friends All:
We, the Regiment to which I am fortunate enough to belong, expect to leave before the month for "Over There", and before leaving I want to thank the American Red Cross, and St. Paul Chapter, for the wonderful work they are doing.
I inlisted [sic] in St. Paul April 16th and had use for my Comfort Kit almost at once, for one used his drinking cup about the first thing, and from that time on it seems there is something in that little Kit that comes in handy every day, and invariable it is something that not one man in a hundred would think of buying until he needed it. It seems about the last one a soldier sees is a Red Cross representative when leaving home, and they are the first to greet him inhis [sic] new home. [...] Thanking you again and again for what you have done for me, and assuring you every soldier feels the same as I do towards the Red Cross and Y.M.C.A., and wishing you double the reward you are sure to receive for doing your "Bit" by helping to send a happy, healthy, clean, bunch of men "Over There" I am.
Respectfully yours,
Pvt. Geo. L. Bucklin,
[...]
Citation: American Red Cross, Northern Division, records, 1915-1921. Minnesota Historical Society, St. Paul, Minnesota. P781