About
The Minnesota Historical Society preserves and makes available a wide range of materials chronicling Minnesota's history and culture. The goals of the Collections Department are to collect and preserve; provide access and interpretation; and engage in education and outreach. This blog is a tool to share these stories and let people know what is happening in the department.
See Collections Up Close Blog Archive
 Subscribe in a reader
Aid for Discharged Soldiers

This letter from the American National Red Cross from February 5th, 1919, details the plans to aid discharged soldiers. It discusses small loans that have been given out and arrangements to have men stay at a local YMCA or in a hotel. However, it appears several men were taking advantage of this system, using Red Cross funds to tour a country.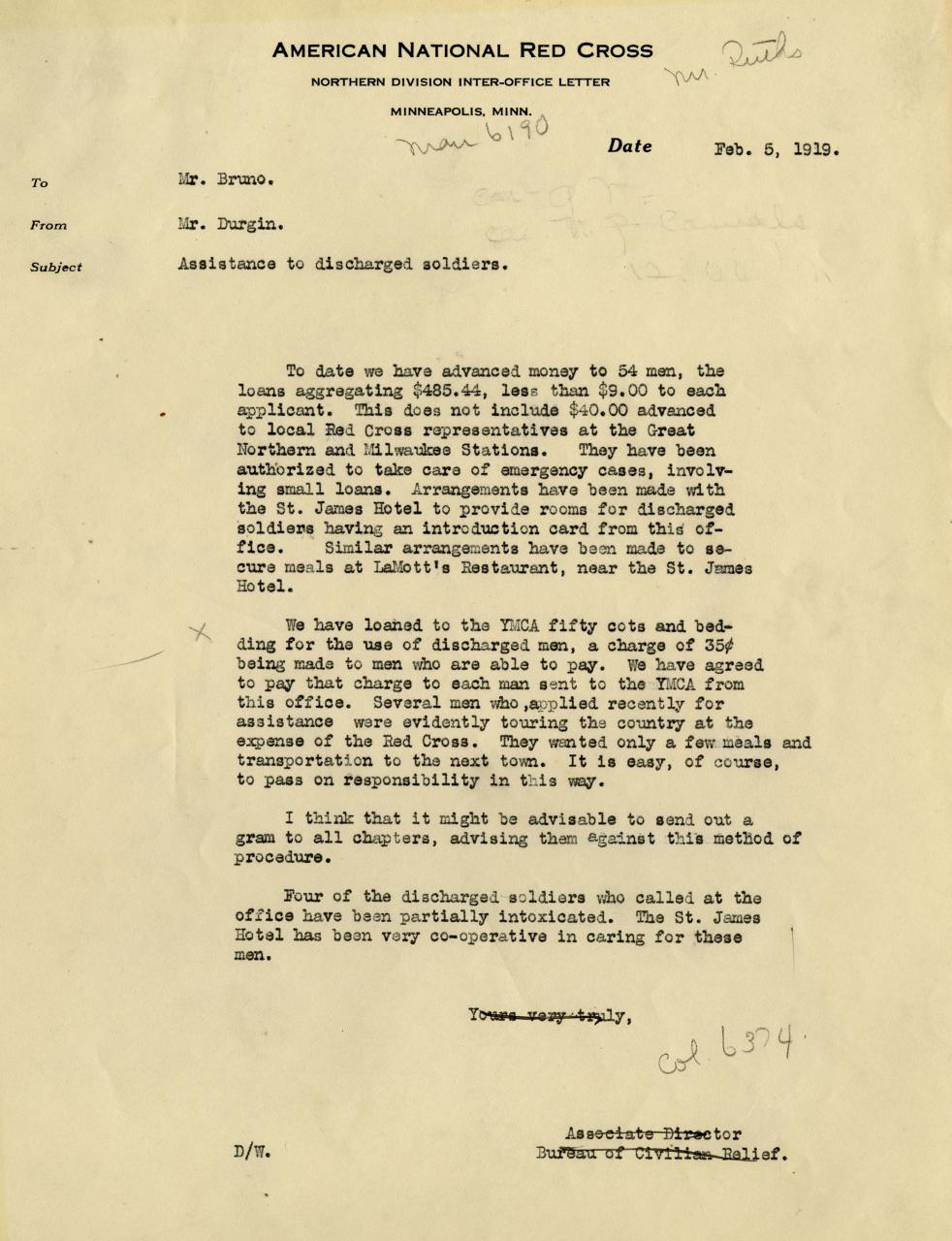 Feb. 5, 1919.
[...]
To date we have advanced money to 54 men, the loans aggregating $485.44, less than $9.00 to each applicant. This does not include the $40.00 advanced to local Red Cross representatives at the Great Northern and Milwaukee Stations. They have been authorized to take care of emergency cases, involving small loans. Arrangements have been made with the St. James Hotel to provide rooms for discharged soldiers having an introduction card from this office. Similar arrangements have been made to secure meals at LaMott's Restaurant, near the St. James Hotel. We have loaned to the YMCA fifty cots and bedding for the use of discharged men, a charge of 35¢ being made to men who are able to pay. We have agreed to pay that charge to each man sent to the YMCA from this office. Several men who applied recently for assistance were evidently touring the country at the expense of the Red Cross. They wanted only a few meals and transportation to the next town. It is easy, of course, to pass on responsibility in this way. I think that it might be advisable to send out a gram to all chapters, advising them against this method of procedure. Four of the discharged soldiers who called at the office have been partially intoxicated. The St. James Hotel has been very co-operative in caring for these men.

Citation: 
American Red Cross, Northern Division, records, 1915-1921. Minnesota Historical Society, St. Paul, Minnesota. P781