About
The Minnesota Historical Society preserves and makes available a wide range of materials chronicling Minnesota's history and culture. The goals of the Collections Department are to collect and preserve; provide access and interpretation; and engage in education and outreach. This blog is a tool to share these stories and let people know what is happening in the department.
See Collections Up Close Blog Archive
 Subscribe in a reader
Dr. and Mrs. Robbins Offer What They Have

Dr. and Mrs. Robbins of Minneapolis contacted the Minneapolis Branch of the American Red Cross offering to donate a work room between the hours of 1 and 5pm with electric sewing machines, tables, chairs, and other necessary supplies. The Robbins had already offered clinical and x-ray services to the Navy and Minnesota Infantry, and make it clear that they would happily provide any service that is needed and is in their power. The Red Cross responded in gratitude and appreciation that they will keep the offer in mind.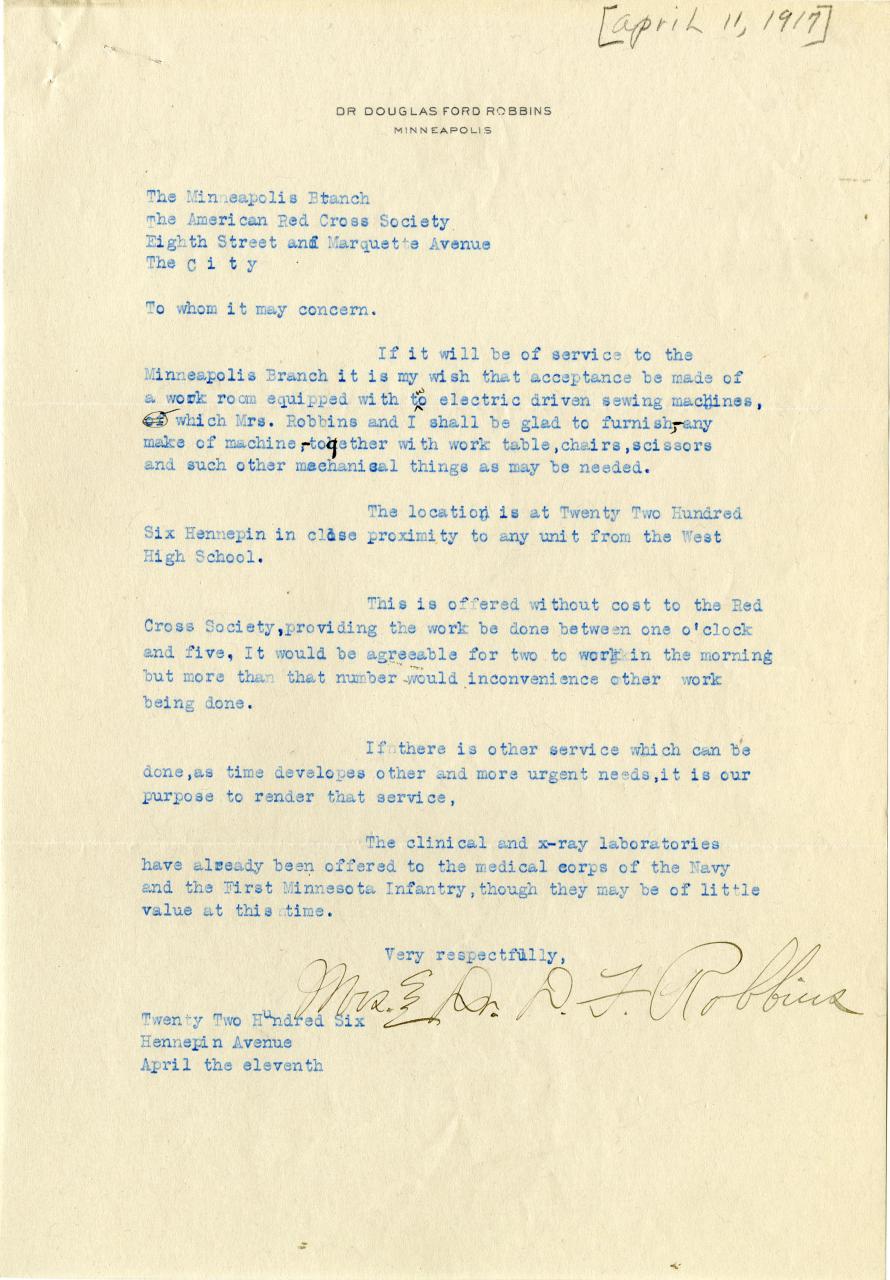 April 11, 1917
The Minneapolis Branch
The American Red Cross Society
Eighth Stree and Marquette Avenue
The City

To whom it may concern.
If it will be of service to the Minneapolis Branch it is my wish that acceptance be made of a work room equipped with two electric driven sewing machines, which Mrs. Robbins and I shall be glad to furnish, any make of machine together with work table, chairs, scissors and such other mechanical things as may be needed. [...] This is offered without cost to the Red Cross Society, providing the work be done between one o'clock and five. [...]
Very respectfully,
Mrs. & Dr. D.F. Robbins
Twenty Two Hundred Six
Hennepin Avenue
April the eleventh

 
Citation: American Red Cross, Northern Division, records, 1915-1921. Minnesota Historical Society, St. Paul, Minnesota. [P781]