About
The Minnesota Historical Society preserves and makes available a wide range of materials chronicling Minnesota's history and culture. The goals of the Collections Department are to collect and preserve; provide access and interpretation; and engage in education and outreach. This blog is a tool to share these stories and let people know what is happening in the department.
See Collections Up Close Blog Archive
 Subscribe in a reader
"Mothers" for the Soldiers - April 28, 1917

In this letter, Mrs. Charles Jerome offers Mrs. Lowry of the Minneapolis Branch of the American Red Cross the suggestion of vetting applications from women who would want to serve the soldiers by writing letters to them. Specifically Mrs. Jerome suggests that these "true women" serve as "mothers" for the soldiers abroad who do not have their own wives or mothers. The purpose of the letters would be to give "cheer and moral uplift to one who would otherwise be without this sympathy." Attached to the letter, Mrs. Jerome included a draft of the application the women could fill out, including name, age, religious preference, language, and a pledge to write at least once a week to their soldier.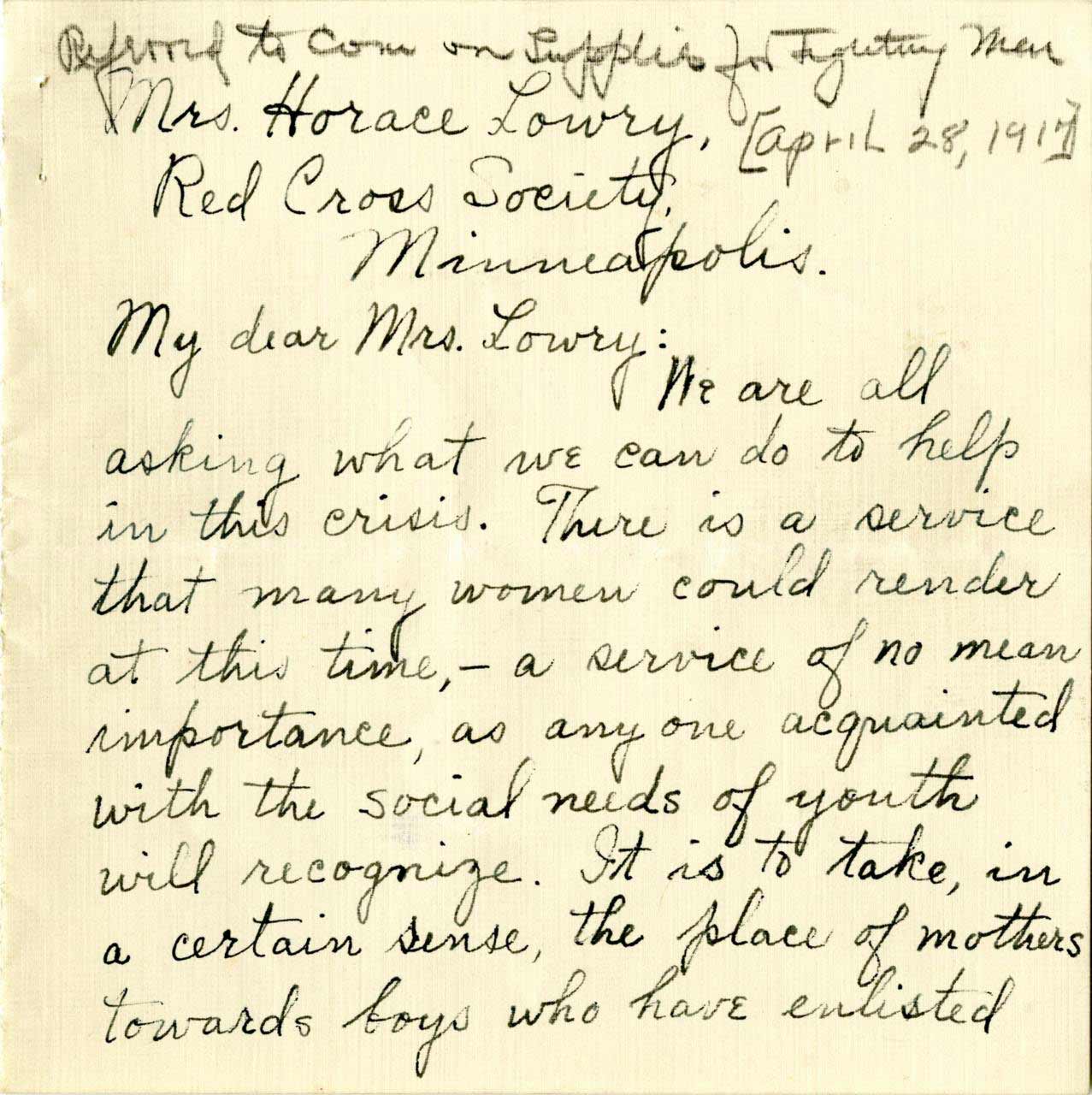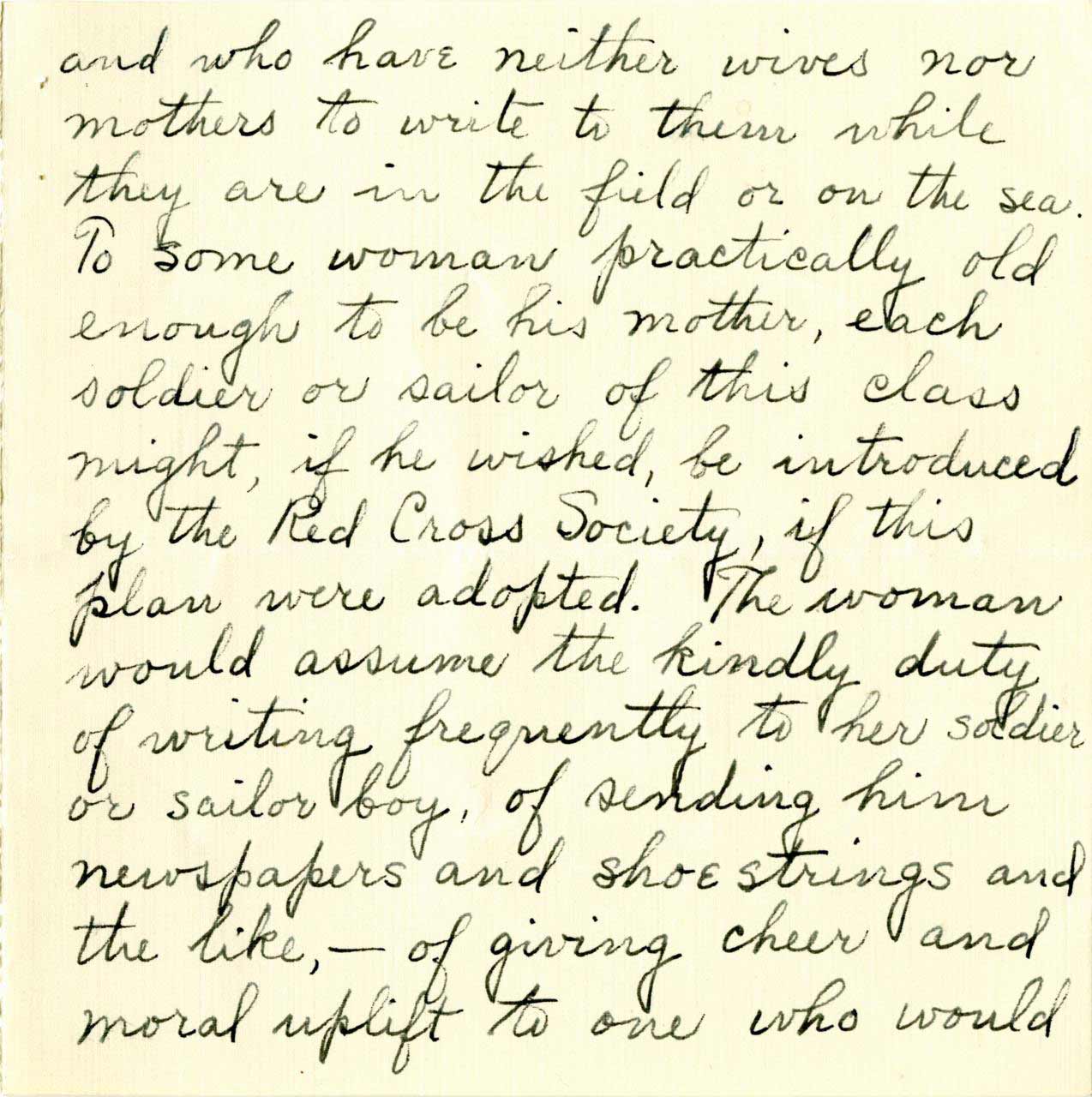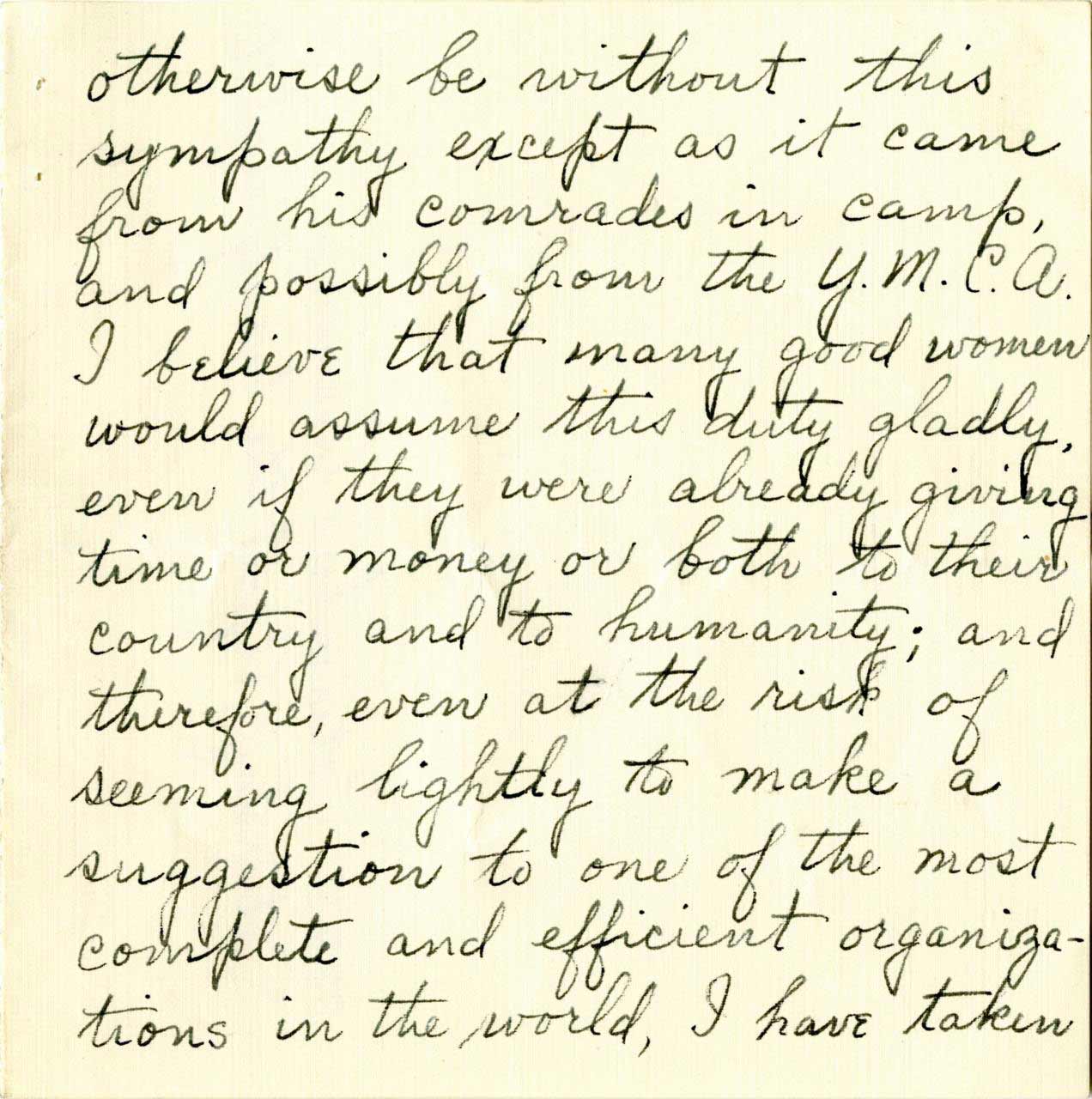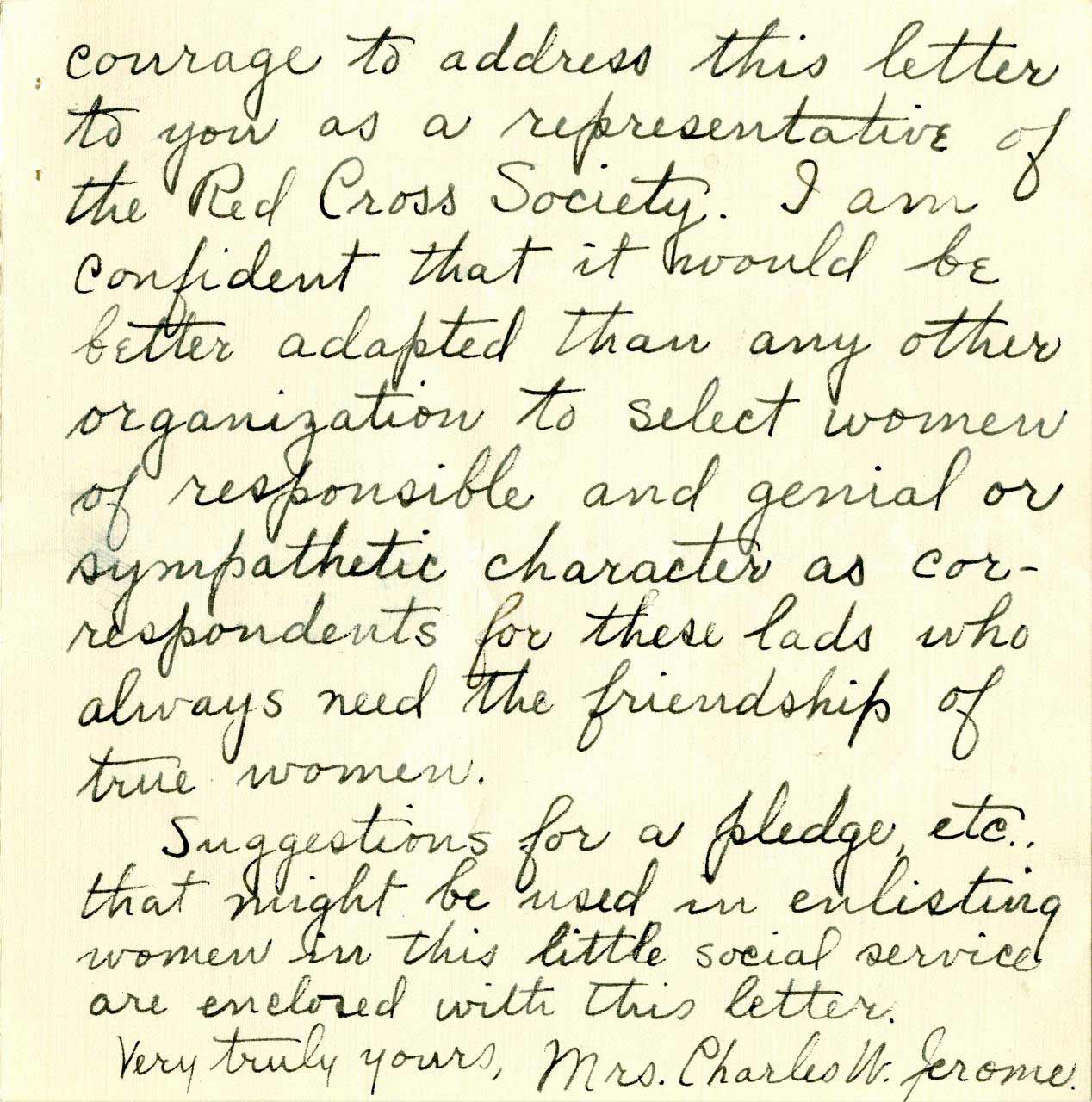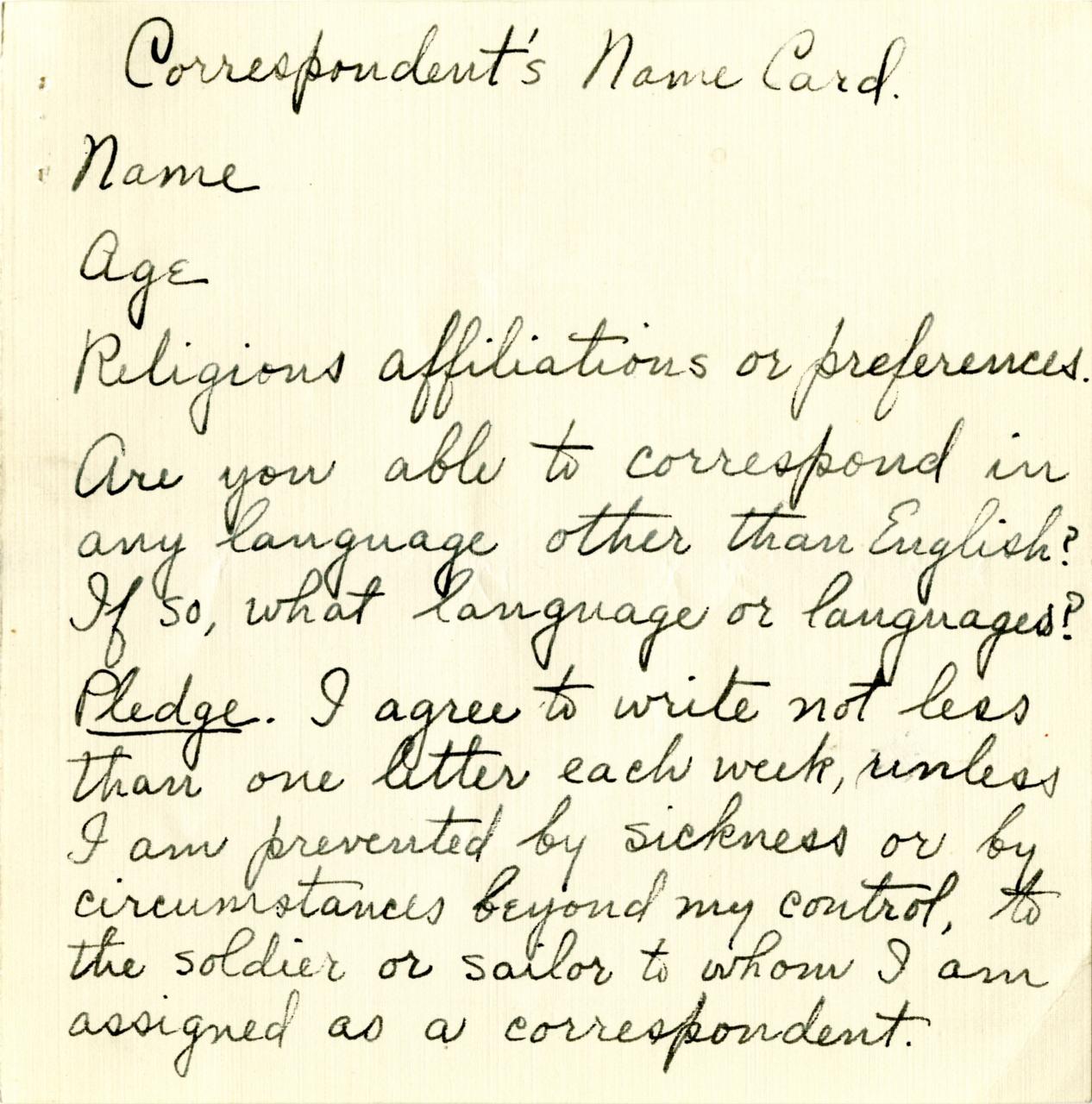 April 28, 1917
Mrs. Horace Lowry,
Red Cross Society,
Minneapolis.

My dear Mrs. Lowry:
We are all asking what we can do to help in this crisis. There is a service that many women could render at this time, - a service of no mean importance, as any one acquainted with the social needs of youth will recognize. It is to take, in a certain sense, the place of mothers towards boys who have enlisted and who have neither wives nor mother to write to them while they are in the field or on the sea. [...] The woman would assume the kindly duty of writing frequently to her soldier or sailor boy, of sending him newspapers and shoe strings and the like, - of giving cheer and moral uplift to one who would otherwise be without this sympathy except as it came from his comrades in camp, [...]
Very truly yours,
Mrs. Charles Jerome.

Citation: American Red Cross, Northern Division, records, 1915-1921. Minnesota Historical Society, St. Paul, Minnesota. [P781]