About
The Minnesota Historical Society preserves and makes available a wide range of materials chronicling Minnesota's history and culture. The goals of the Collections Department are to collect and preserve; provide access and interpretation; and engage in education and outreach. This blog is a tool to share these stories and let people know what is happening in the department.
See Collections Up Close Blog Archive
 Subscribe in a reader
You Have Now Been Selected for Immediate Military Service

On this day, Eber Berquist of Otter Tail County received a letter stating that he had been drafted into the US military. The letter states that he must report for duty on the 24th of February, giving him only 6 days to prepare and say goodbye to his friends and family. The letter is written in a way to emphasize the honor attached to being a part of the US military, so as to remind the men receiving the letters that they are heros during this perilous time.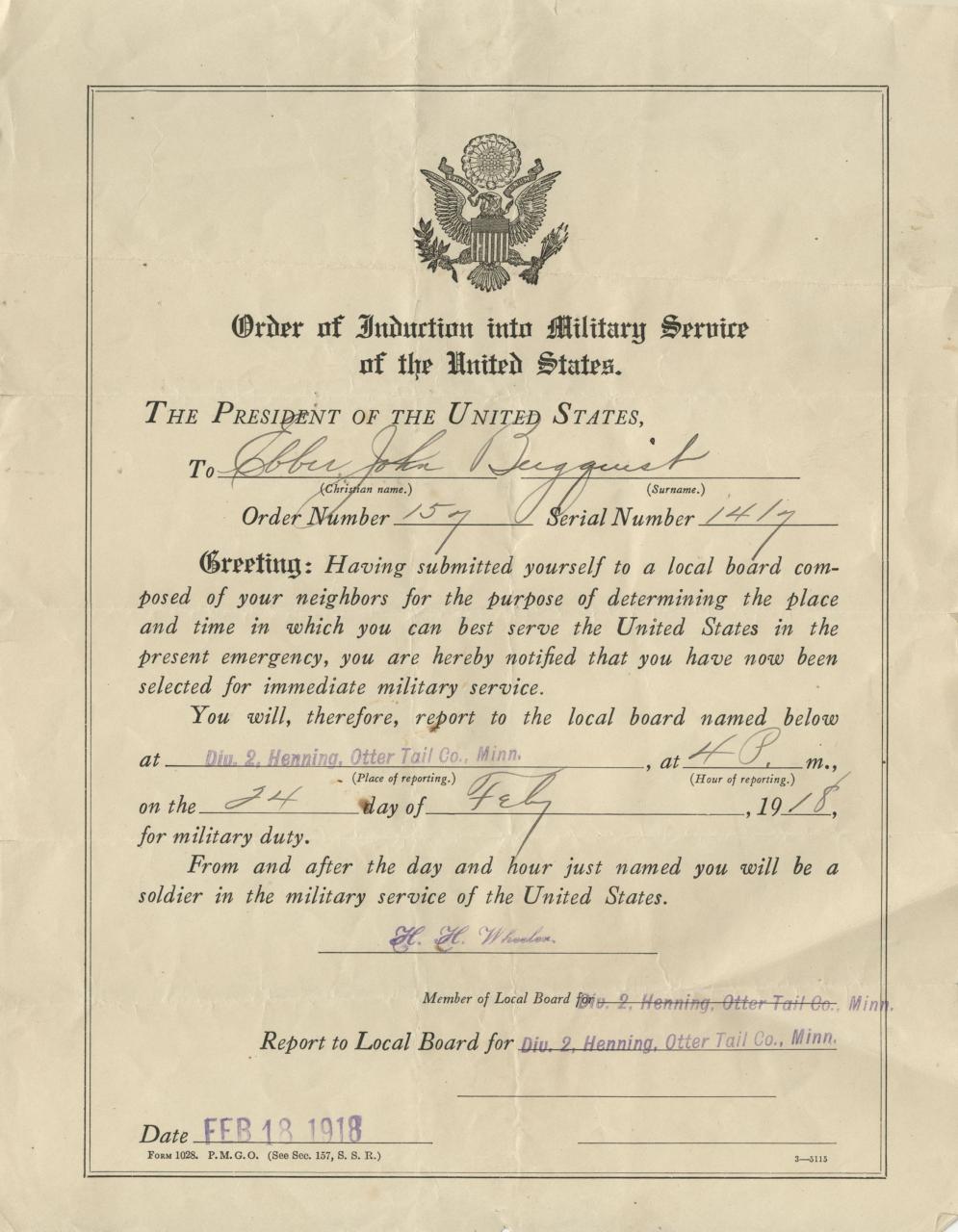 Order of Inductions into Military Service of the United States.
The President of the United States,
To Ebber John Bergquist
Order Number 157 Serial Number 1417
Greeting: Having submitted yourself to a local board composed of your neighbors for the purpose of determining the place and time in which you can best serve the United States in the present emergency, you are hereby notified that you have now been selected for immediate military service.
You will, therefore, report to the local board named below at Div. 2, Henning, Otter Tail Co., Minn., at 4 P.M., on the 24 day of Feb, 1918, for military duty.
From and after the day and hour just names you will be a soldier in the military service of the United States. [...]
Citation: Eber Berquist Papers. Minnesota Historical Society, St. Paul, Minnesota. P2786